We have listed the most famous beaches in Sydney in this article! Sydney, the most-recognized city in Australia in terms of population and area, is famous for its amazing beaches. It has another beautiful name, the "Harbour City," as called by the locals. Sydney is located on Australia's south-east coast of the Tasman Sea.
It is home to some of the rarest marine animals in the world. From the most endangered fishes to entirely unknown species of them, it is a hub for untouched sea beings. One can also find a large variety of shells and stones on the shores of Sydney's beaches. These are the proof of the mysterious and preserved life that is present in the blues of its waters.
Famous Beaches in Sydney
Sydney's beaches are amongst the best beaches in the world. There are over 100 beaches, many of which are ranked as the most popular among the world's best beaches. Some of the most amazing beaches in Sydney are listed below.
1. Palm Beach
Palm Beach in Sydney is a great beach for those who enjoy surfing and coastal walks. If you are among those who enjoy experiencing the best of these things, Palm Beach is the place for you.
It is amongst Sydney's most popular northern beaches. The wharf provides a perfect fishing spot for kids. It also contains waterside cafes where you can enjoy great food.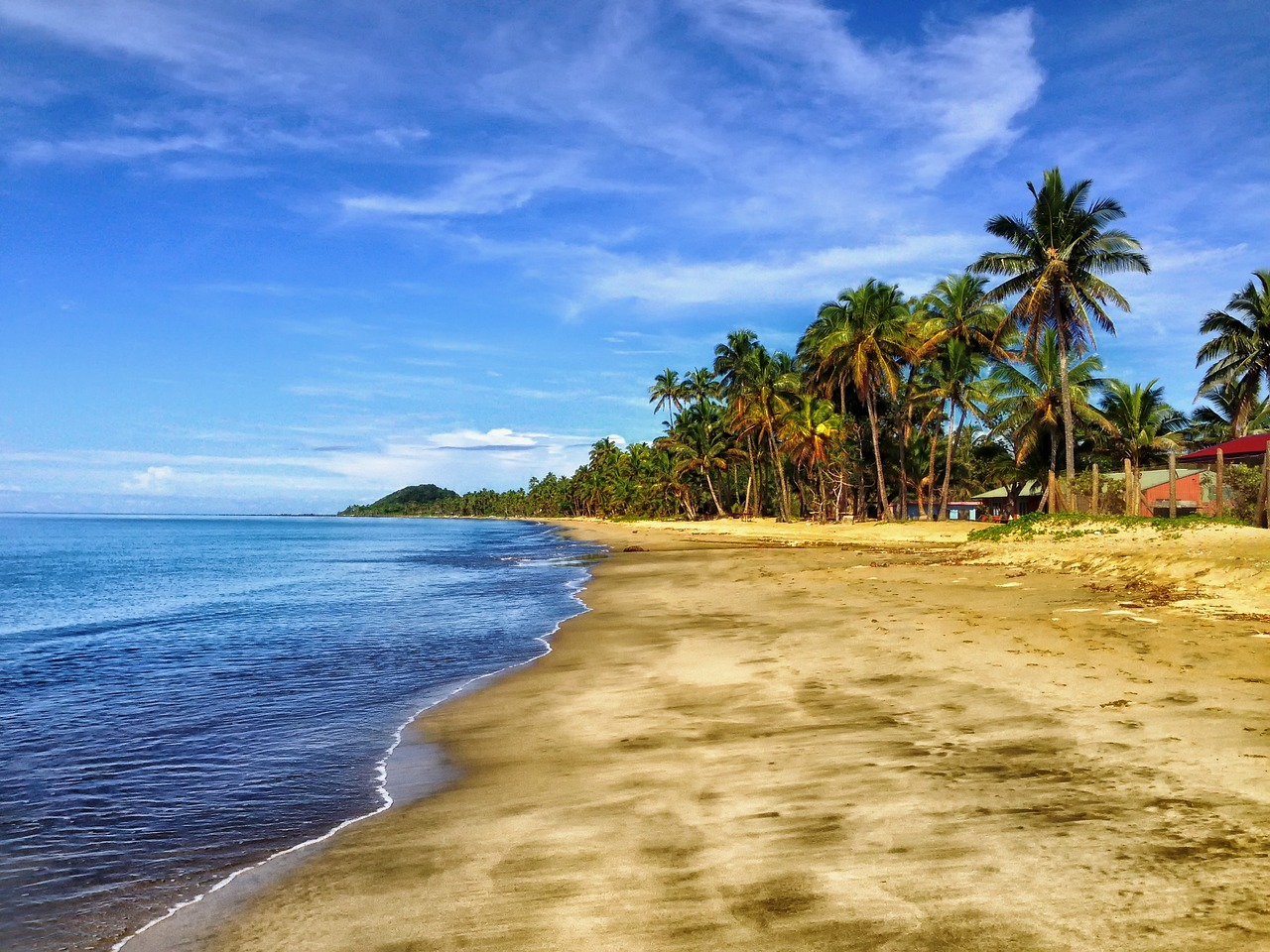 Palm Beach in Australia is amongst the most happening places in Sydney. The locals casually call it "palmy." One can find accommodations ranging from small cottages to grand estates, all near the beach area.
Many of these are owned by wealthy and influential people who also visit this beach to spend their holidays. The beach is often known for its turquoise-blue waters, tall pine trees, and glittering white sand.
People here can be seen having family picnics under the shade of the tall pine trees. Every fourth Sunday, a palm beach market is organized here from where one can buy things for their loved ones.
Some must-visit places in/near Palm Beach are :
2. Manly Beach 
Manly Beach is another one of the magical beaches in Sydney. It has something for everyone. From those who want to surf to the ones who wish to sit and enjoy the beach sight, it is suitable for all.
Surfers and swimmers are free to take risks and test their capabilities as the beach is patrolled by lifeguards. The beach covers a very large area spanning around 3km. Therefore, it provides enough space for beachside walks and cycling.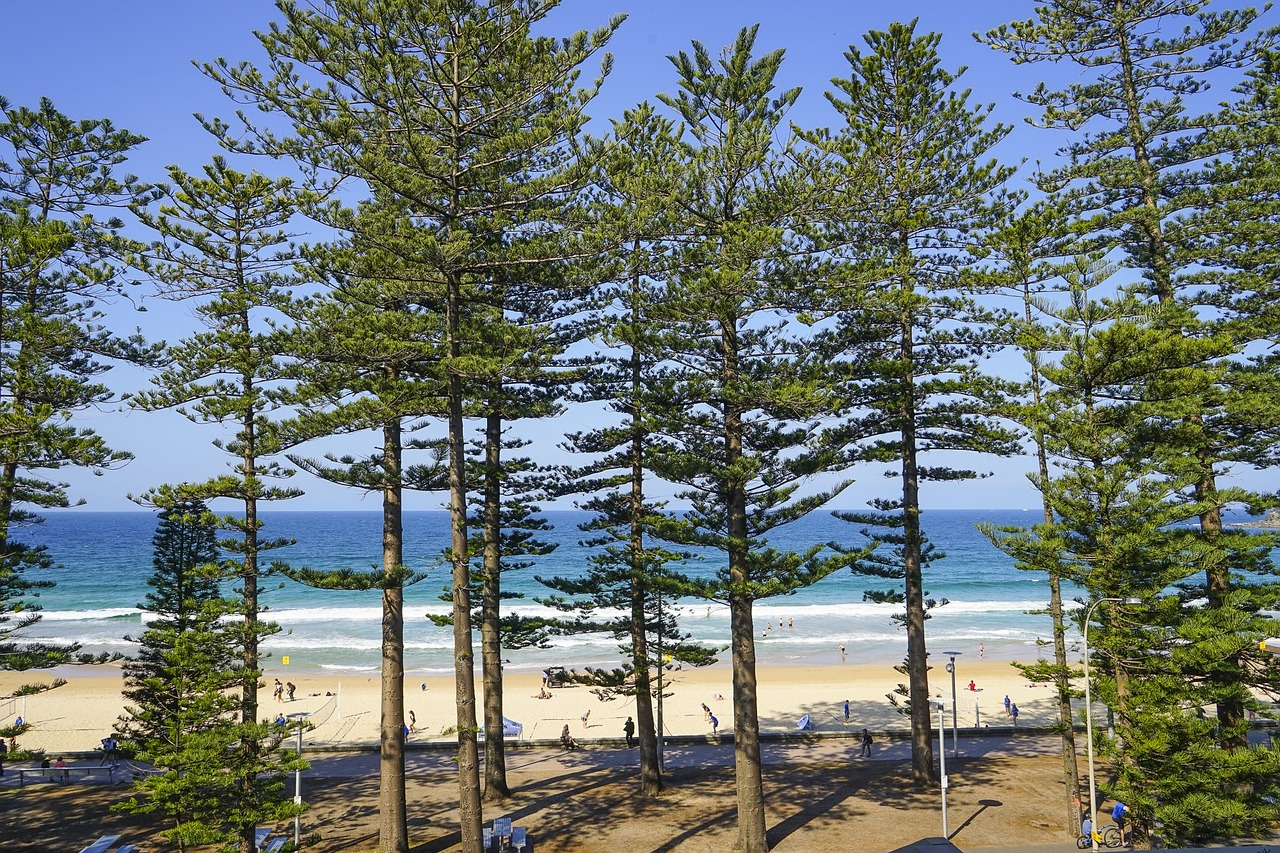 It is one of the most popular and loved beaches in Sydney. Manly Beach was the host of the first-ever surfing competition in the world. This was held in the year 1964.
Located at the end of Sydney's northern beaches, this beach is bounded by the sea on three sides. This beach acts as a  leading path for tourists to visit all the other beaches present in the northern region. This beach is best known for being great for surfers.
3. Resolute Beach, Ku-ring-gai National Park
If you are fond of wild and secluded beaches, Resolute Beach is the best option for you. It is a beautiful secluded stretch of land covered with sand. The beach is present in a section of Ku-ring-gai National Park. It is at the western edge of the park. Opposite Resolute Beach, lies the Barrenjoey Headland.
It seems like a small tropical heaven consisting of beautiful views and emerald-green waters. It is another of the most famous beaches in Sydney. The beach is always quiet, and so, it is nothing less than a dream paradise for people who need to calm their minds.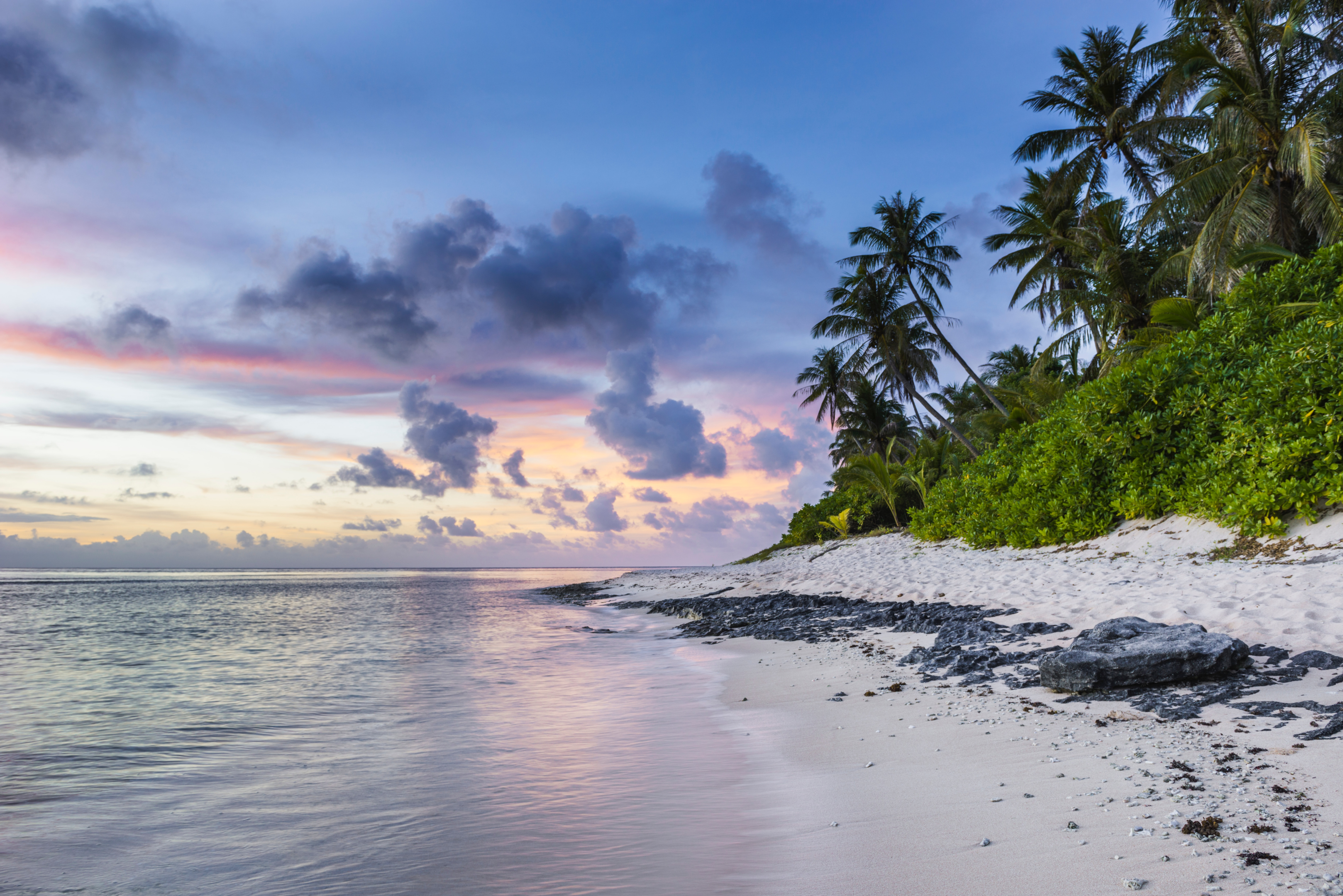 One can get the first glimpse of the Resolute beach from the walking high tracks above it. During the daytime, when the sunlight falls over the golden sand, the view looks magical. Being secluded and wild, unlike other beaches, very few people are seen here. And so, it is an ideal place for families to come, laugh, play, and enjoy a good time together.
4. Garie Beach, Royal National Park
Garie Beach is another excellent place to enjoy a picnic and spend quality time with your family. The beach is great for swimming, fishing, whale watching, and seaside walks. It is located at the Southern end of Royal national park in Sydney and is surrounded by the South Coast.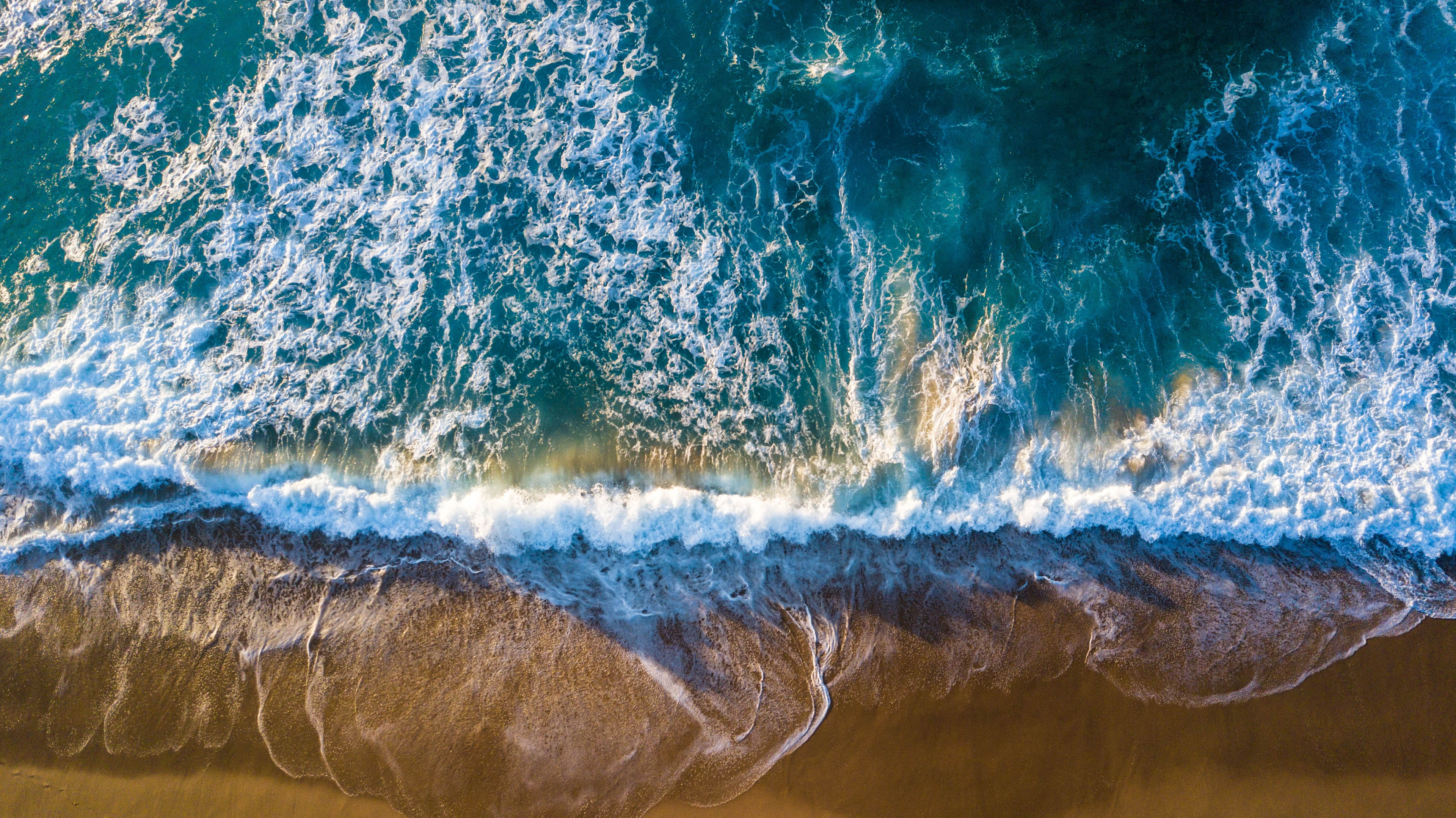 It acts as a quick holiday fix basin beach and a perfect picnic spot for the people of Sydney. It is also amongst the three patrolled beaches of the park. Being guarded by lifeguards, it is safe for surfers and swimmers.
Garie Beach is accessible via Garie Road, the parking and restroom facilities are available here. It also has a security and safety center to ensure the safety of visitors. The picnic area, present here increases its beauty and perfection by multiple times.
Garie Beach is amongst the best beaches in Sydney when it comes to surfing. The lifeguard club of this beach provides the best facilities for safe surfing.
5. Shelly Beach
Shelly Beach is located in a protected reserve aimed at protecting vulnerable sea beings and their natural habitat. It lies adjacent to the north head and Fairy Bower. The water here is relatively shallow, with a maximum depth of 12 meters. The place is popular amongst scuba divers.
It is a habitat for many unique and one of their kind marine animals. The less depth of water here allows the visitors to observe these beautiful sea beings. The presence of shark traps and lifeguards makes it safe for swimming and surfing.
One can take long walks along its bush line and enjoy the amazing sights of the northern beaches. The sunsets here are like paintings that reflect nature's palette. Shelly Beach is an amazing picnic spot.
It has facilities like showers, toilets, and a beachside cafe which also has two electrical barbeques. With all these facilities one can enjoy a perfect and calming holiday.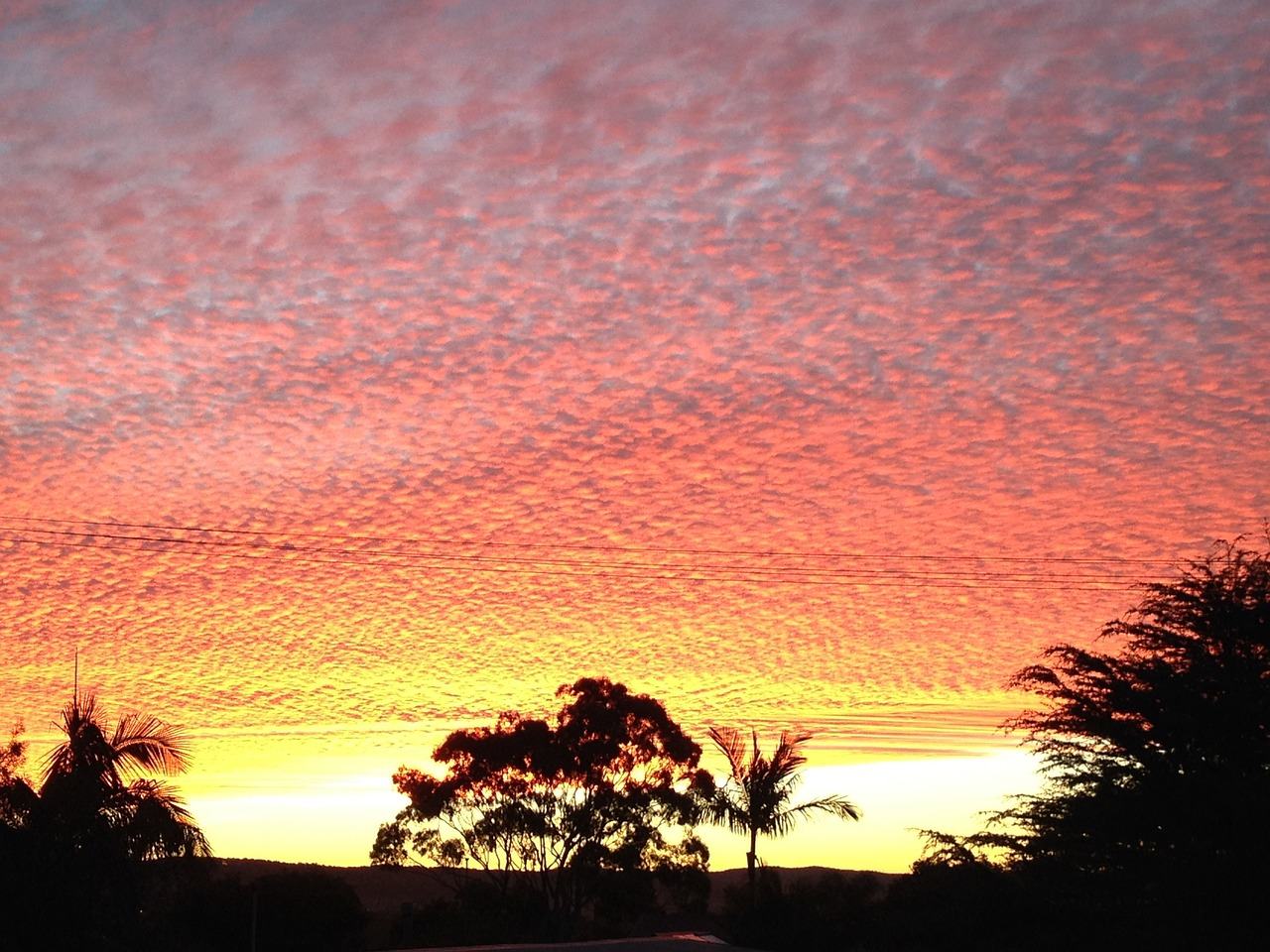 If you are more into formal dining experiences, there is a cafe named The Boathouse that you can opt for. The beach has a pay-and-display ticketing system which is easy to use.
6. Balmoral Beach
Balmoral Beach is home to a large number of whales. It is located in the Mosman region of Sydney. It is known as a jewel amongst the crown of Sydney harbor bridge beaches.
The beach has an expansive coastline and stunning calm waters which makes the seaside walking experience heavenly. It is generally accepted that the harbor beaches in Sydney are even more beautiful than the surf beaches.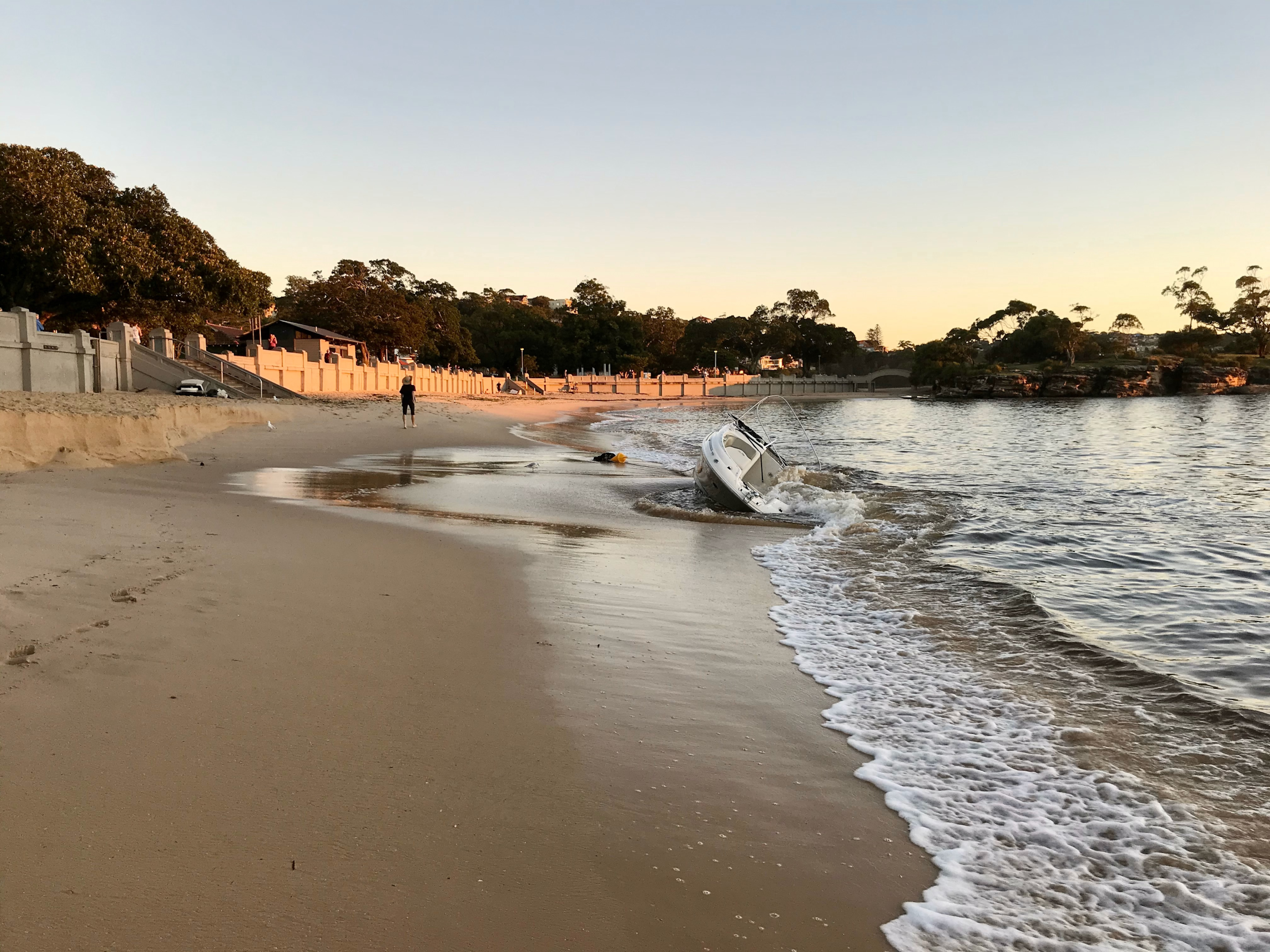 The water at Balmoral Beach is exceptionally calm. Being a part of the ocean, it has its own unique benefits. One can go for activities like snorkeling, kayaking, standup paddleboarding, and sailing.
You can hire stand-up paddle boards and enjoy the ocean pool experience with ease. Along with all these things, scuba diving equipment is also available.
7. Burning Palms, Royal National Park
Burning Palm Beach in Sydney is a surf beach located in the Royal National Park. The only way to reach here is by walking as no vehicle can possibly go there. Therefore, it is never crowded though it might be pretty busy on some days.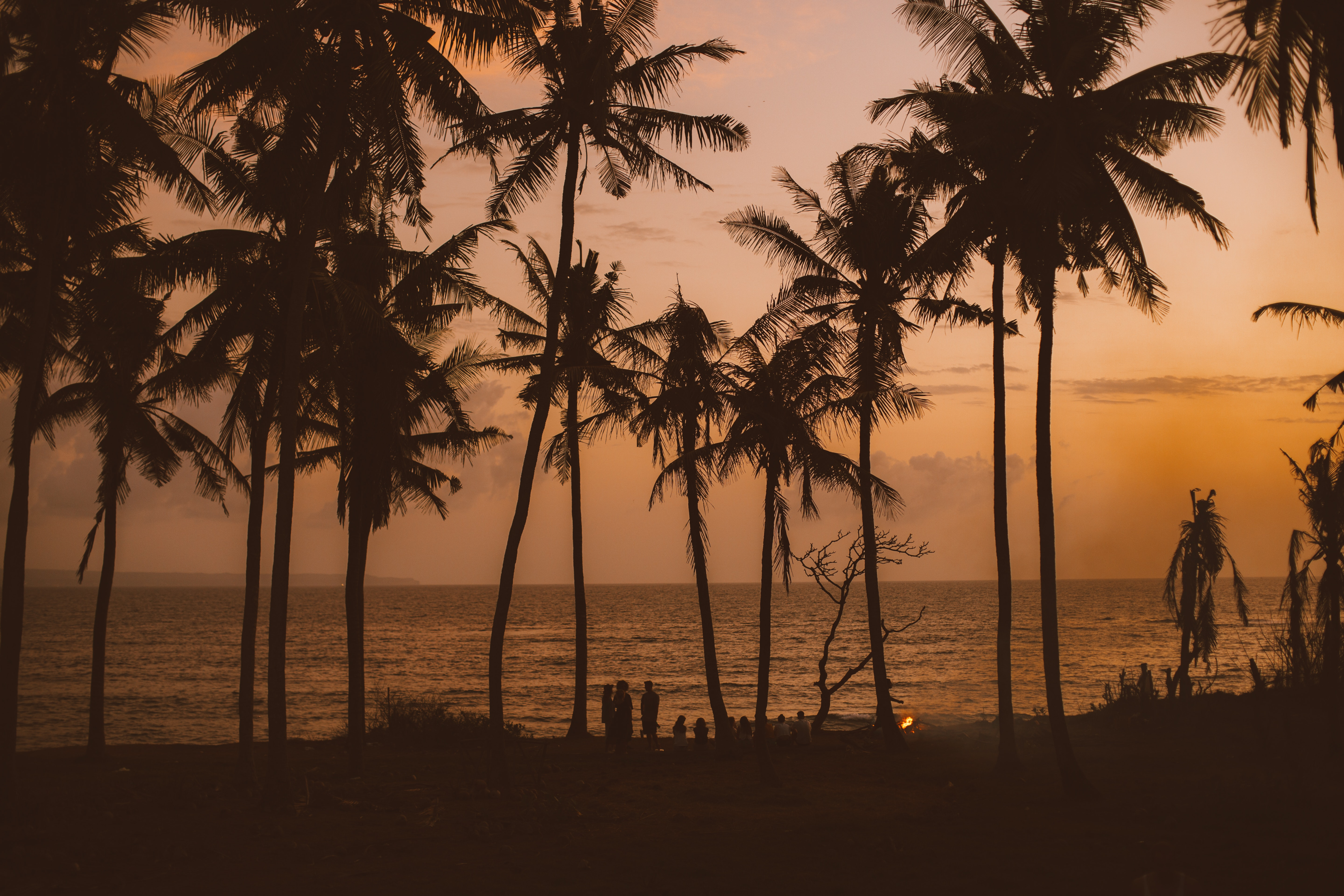 The beach contains around 20 heritage shacks. It also has a life-saving club founded in the year 1939. This club ensures the safety of swimmers and surfers. Patrolling is generally done every Sunday or public holiday. The beach allows visitors for a seven-month period every year.
The beach is 500 m long and experiences waves of around 1.5 m on average. It is considered suitable for surfing but can be hazardous for swimming. Therefore for beach lovers who enjoy surfing, it is a good choice.
8. Freshwater Beach
This beach is present in New South Wales, which is an integral part of Sydney. It is a family beach with good surfing conditions and body boarding at the south end. The beach has great sunset views, which can light up your day.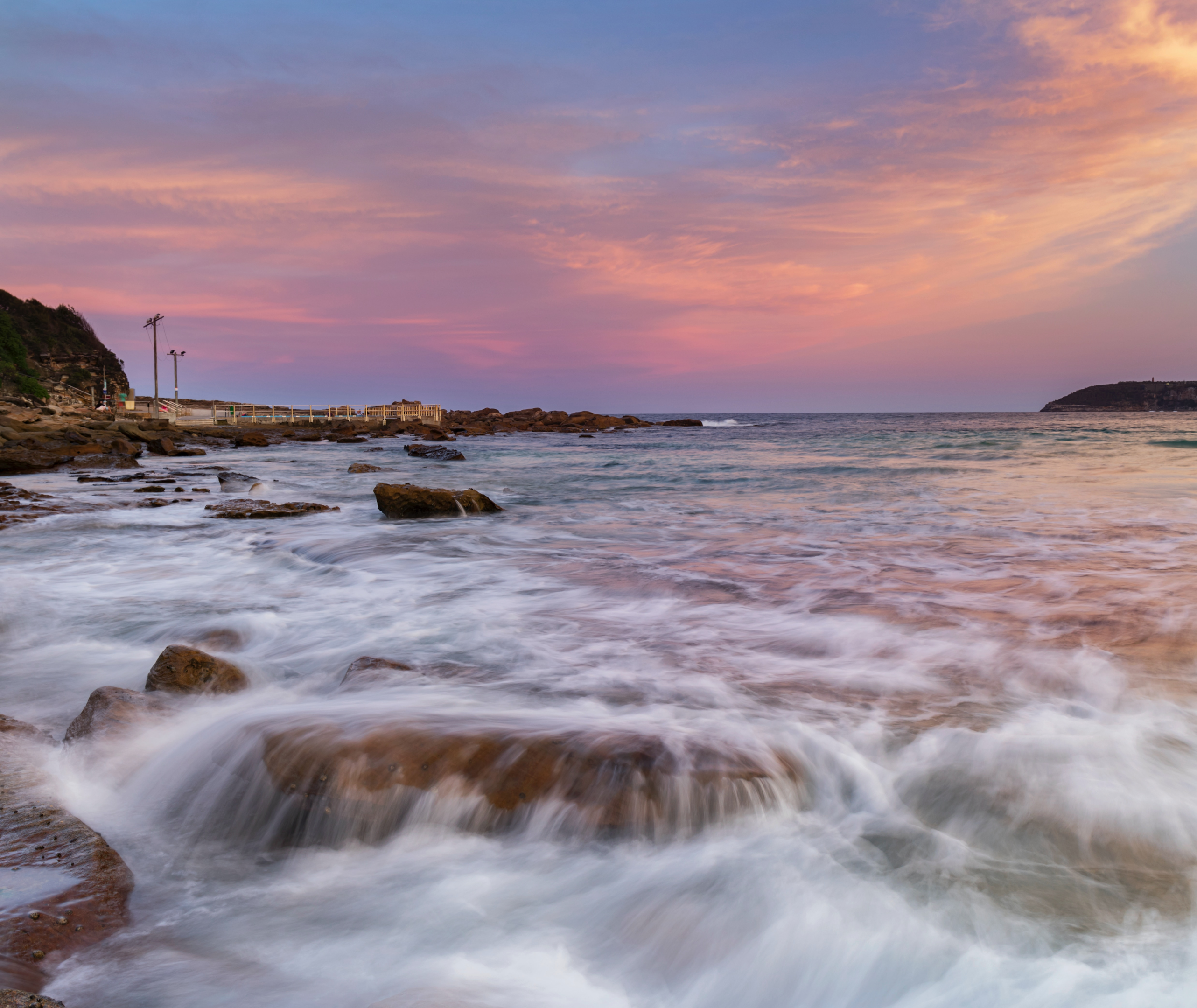 It is a family-friendly beach, mostly busy with families and friend groups who come here for surfing. With an approximate wave height of 2 meters, the beach is good for surfing. Ideal surfing spots for less experienced surfers are also available here.
There might not be enough challenging waves for experienced surfers, but they can easily get some good practice here.
One can reach this beach by bus or car. A free parking facility is provided here.
9. Bilgola Beach
Bilgola Beach is located in the northern suburbs of Sydney beaches. It is a 500m long beach facing towards the southeast direction and is bordered by Bigola Head. The beach is considered good for surfing. The surf has one bar. It has an amazing cafe having both indoor and outdoor seating, various drinks and great food.
The facilities in Bilgola Beach are public toilets, showers, picnic facilities, rock pools, a kiosk, a fishing area, car parking, etc. It is amongst the few Patrolled beaches in Sydney.
10. Shark Beach
Shark Beach is amongst one of the harbor beaches in Sydney. Its name dates back to the colonial period when a large number of sharks were spotted here. The beach is sheltered, the water is calm, and the waves are gentle. Therefore, it is not a surf beach.
Although the name may seem to be different, in reality, this is a very safe beach. Shark nets are there, which ensures the safety of the beach. It is a calm beach situated in Neilesen Park. People usually come here to spend some quality time with their families.
11. Bondi Beach
Bondi is a gorgeous beach with the finest waves. It also has some excellent lifeguards who protect a large number of visitors from possible accidents.  It has white sand which makes its view magnificent. There is plenty of space for sunbaths. But, since the beach is very busy, it is always recommended to swim within the provided signs as it might not be easy to identify a drowning person in that much crowd.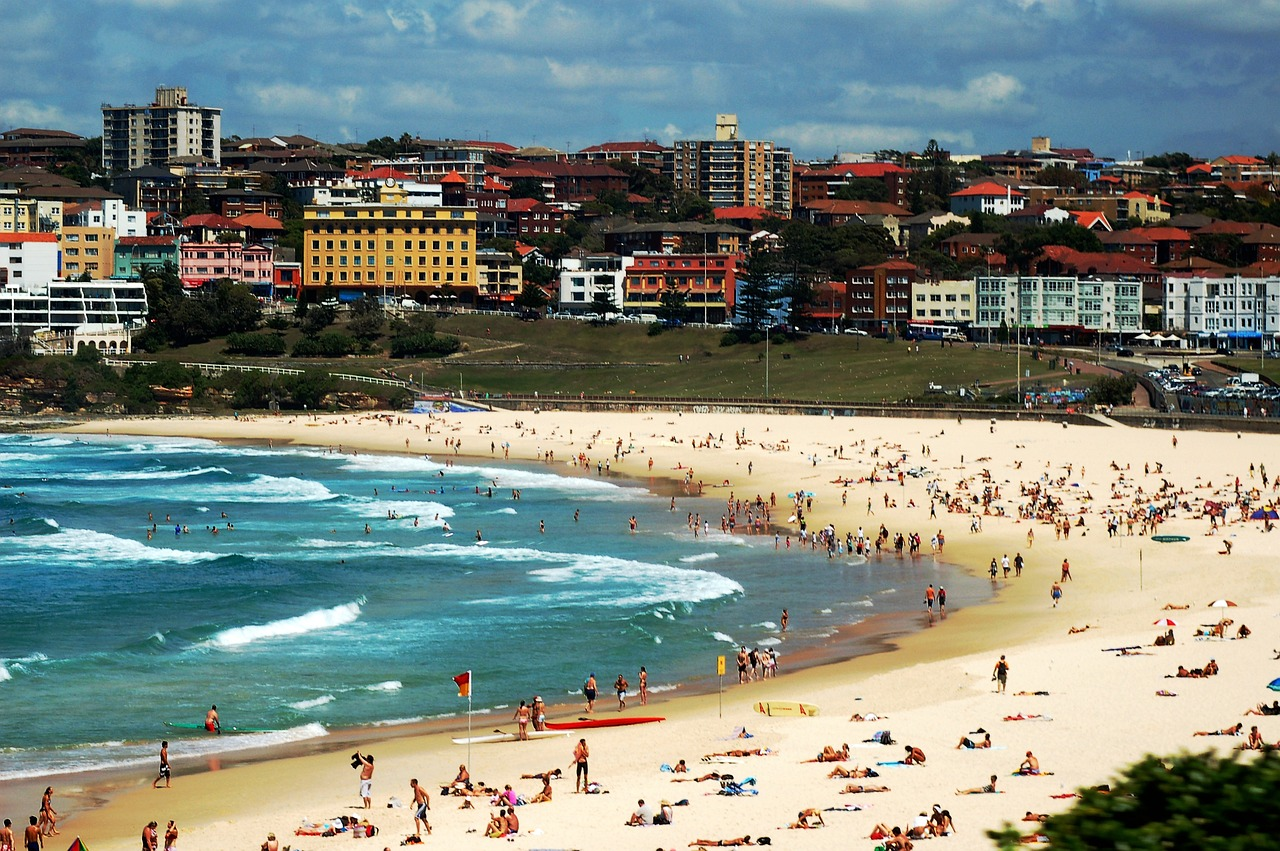 The waves are quite big, and the beach is great for surfers. It has all the necessary installations required to have a good holiday experience. It is a great picnic spot for families and friends to visit. Since it is so famous, it is usually seen to be a bit overcrowded.
12. Washaway Beach
Washaway Beach is situated at a height of 80 meters above the Harbour City. It offers a beautiful view of the Harbour and the eastern suburbs.
People usually come here to enjoy sunbathing, and therefore the beach does not have any lifeguards. The beach was formerly known as a nude beach. Many people still prefer to lie here without any clothing.
The beach is famous for sunbathing and swimming and not for surfing. Although the facilities here are pretty less as compared to the others, this is still a good choice for many beach lovers.
13. Maroubra Beach
Maroubra Beach is the dream of every surfer. Being the longest beach in the eastern suburbs of Sydney, it is famous for its consistent and playful waves. Surfers wait for hours to get a chance to surf among these waves. It is suitable for both skilled and amateur surfers.
Maroubra Beach in Sydney is amongst the safest places to swim. Though it might get dangerous if you don't follow the rules, swimming within the flag marks is usually safe.
Along with the swimming and amazing surf clubs, facilities like showers, toilets, cafes, and barbeque are also available. Free parking and a lot of seaside grass are also present, which makes it a perfect picnic spot.
14. Bronte Beach
Bronte Beach is located around 2km south of Bondi Beach. Although it is smaller than other beaches or the region, it is still among the favorites of many tourists and locals.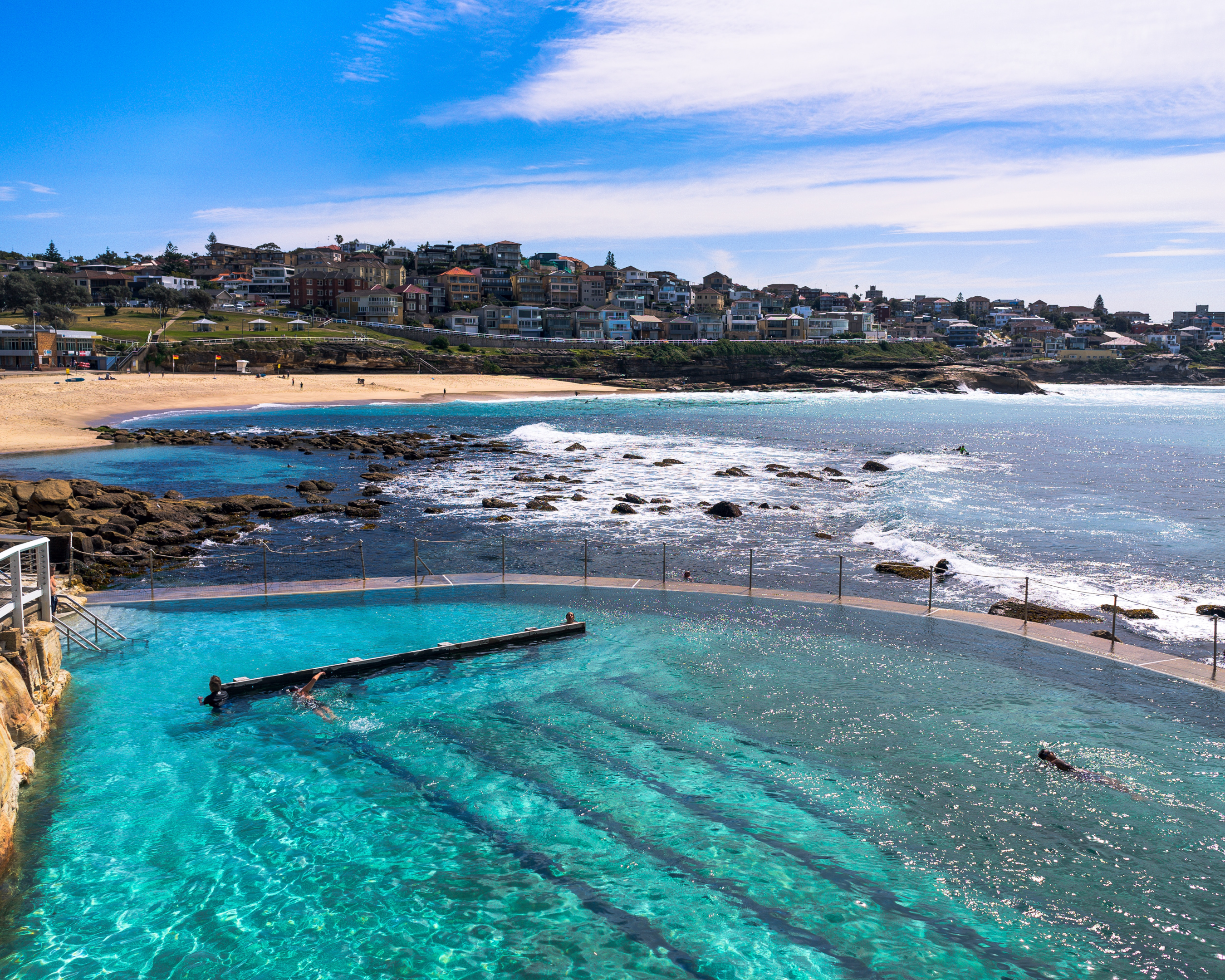 Being covered with rocks and sand, the beach provides a delightful sight to the eyes. This beach was originally owned by a Colonial Architect, Mortimer Lewis, in the 1830s. It was then sold to a man named Robert Lowe, whose heritage bungalow still stands here.
The beach is well suited for seaside walks and swimming. It is also amongst the top choices of beginner surfers.
15. Tamarama Beach
Tamarama Beach is located 1km south of Bondi Beach. It is a popular stop for people walking through the coastline of Bondi Beach. This beach is often called the "Glamarma" due to the presence of beautiful and glamorous people flocking through its shores.
Being amongst one of the smallest beaches, it only has a shore length of 80m. The beach is good for both swimming and surfing.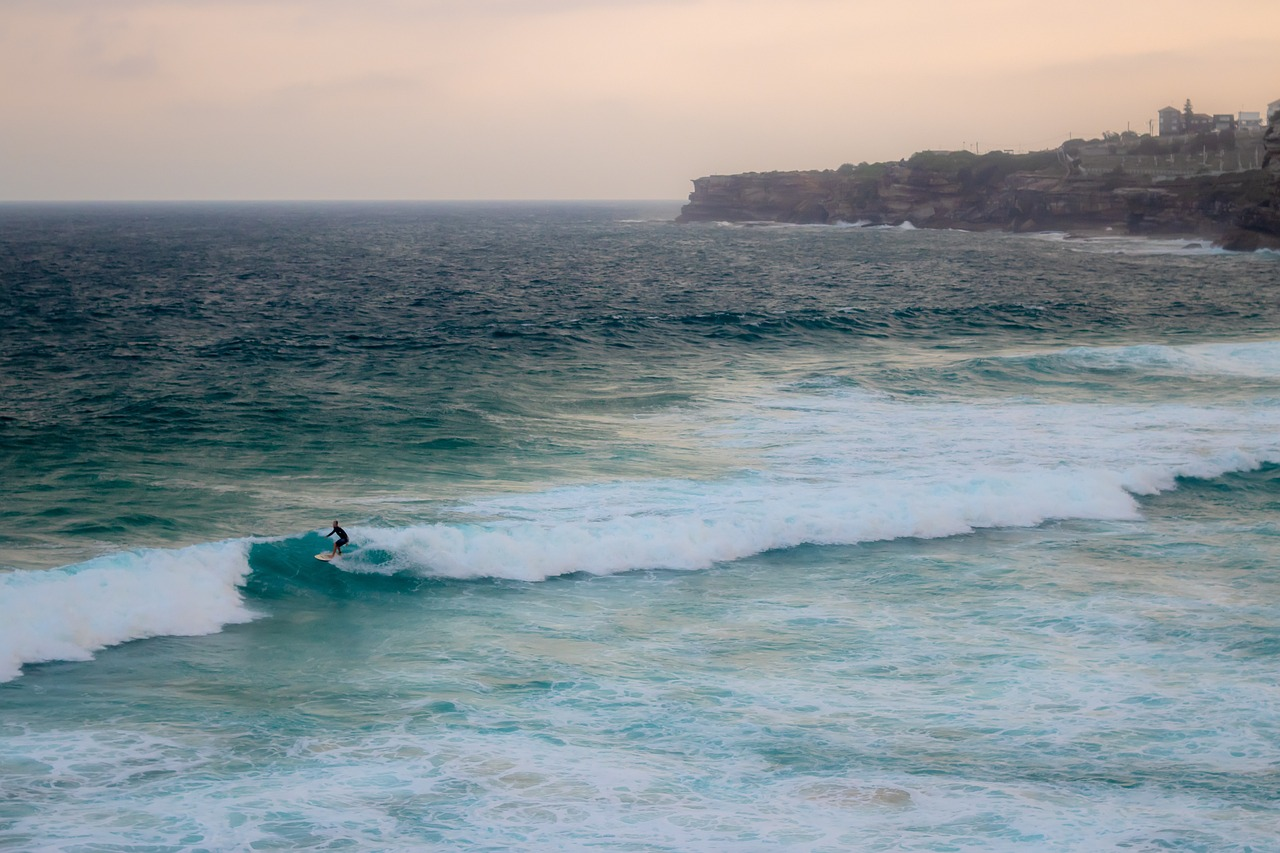 Even though it has a very limited area, it is still among the most eye-catching and photogenic beaches in Sydney. The astonishing view of all the other beaches around Tamarama Beach makes it a unique blend of all of these.
It has an essence of beauty and nature that never fails to win the heart and minds of visitors.
The sand here is known as "magical." It is full of mystery as every few years in winter, the rocky land near the sea automatically changes into deep sand. This "magic" draws a lot of curious visitors who want to get answers from the beautiful and mysterious nature.
16. Coogee Beach
Coogee Beach is situated between the famous walk from Bondi Beach to Maroubra Beach. In the 1800s, this beach was used as a place for day-trippers. From that to being one of the beaches in Sydney, its journey is full of great things. Today it is known for its big waves, which excite enthusiastic surfers to come and face the challenge with their surfboards.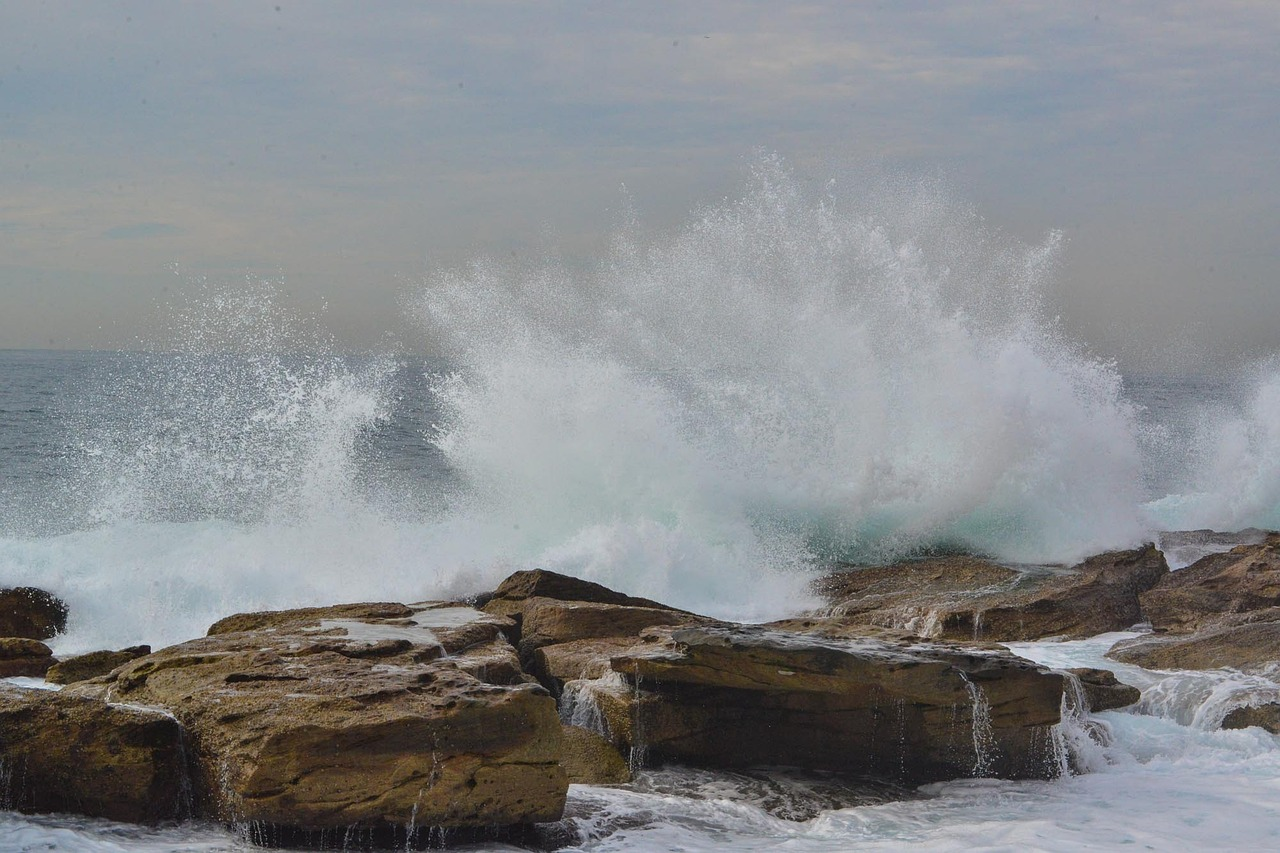 It is known for holding Australia's first swimming championship. It is also known to be one of the first places to have a common swimming area for mixed-gender swimming.
The meaning of the word coogee comes from a native Australian language which means bad smell. The name reflects how to the beach started, and the crowd here shows the turn it has taken.
17. Cronulla Beach
Cronulla Beach is one of the most popular beaches in Sydney, especially among surfers. It offers a great variety and quality of waves, making it a go-to spot for surfing. The beach has great learning spots for beginners. It also has some good challenging spots for experienced surfers.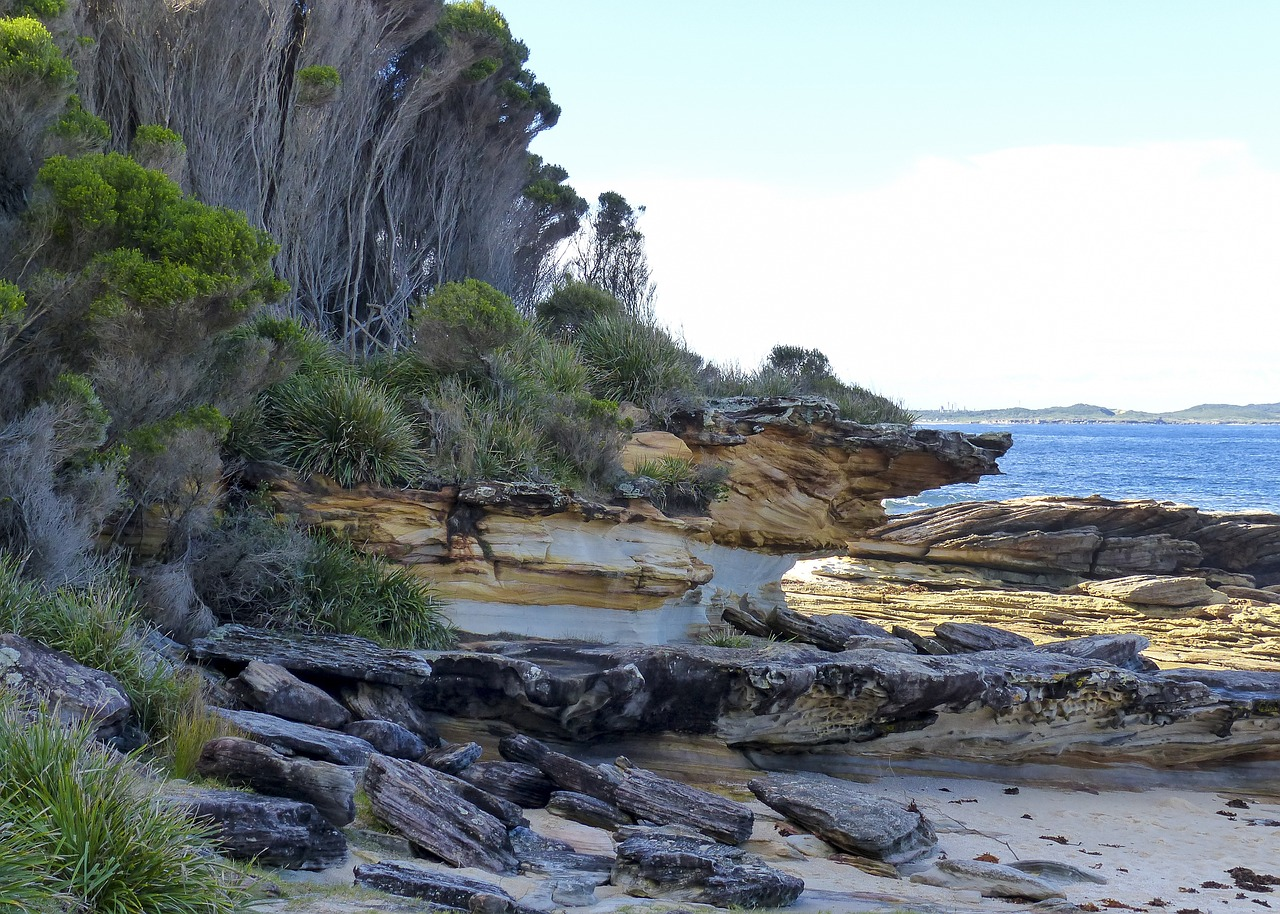 The beach got its name from an Aboriginal word, "kurranalla," meaning "place of pink sea shells." It is the only beach in Sydney that can be reached by train. Therefore, you don't need to worry about the availability of the car parking facility. The beach is the most protected beach in Sydney beaches as it is patrolled throughout the year.
Cronulla Pavilion and Cronulla surf club are two buildings situated near this beach. These buildings also have cafes that serve delicious food and refreshing drinks. The beach is perfect for swimming. It is suitable for surfing too. Along with all the basic facilities, this beach also has facilities like wheelchairs and toilets for the disabled.
18. Clovelly Beach
Another famous beach in Sydney's eastern suburbs is Clovelly Beach. The foreshores of this beach are covered with concrete. This was done as a way of employing unemployed men during the colonial period.
Clovelly Beach is amongst the shallower beaches in Sydney, with a maximum depth of 6 meters. It is home to generations of "bluey" fishes, which are often hand fed by the visitors.
Conclusion
If you live in or near Sydney, a beach holiday is a must for you at least once a year. From kayaking, walking, swimming, and sightseeing, to making sand castles you are free to have the most unique beach experiences.
These beaches are truly the places that people talk about when they discuss the beauty of water bodies. Just lying down in the arms of mother nature and observing the beautiful canvas of the sky is something that brings you peace.
There are more than a hundred beaches in Sydney. Each of these beaches has an essence that cannot be found anywhere else except here. These beautiful beaches come together and make Sydney a heaven of beaches. From sandy beaches to rocky shores, one can experience everything nature has gifted to Sydney, Australia.
So, just choose the beach that perfectly matches your soul's needs, whether surfing, swimming, kayaking, paddling or even just lying down for a sun bath. Just choose one of these heavenly beaches and make the best out of your free time.