Australia is famous for its various attractions, including enjoyable places. Australia's theme parks are among the world's most prominent attraction parks. These parks are full of exciting roller coasters and beach houses. They offer lovely water slides to the visitors.
1. 6 Best Theme Parks In Australia
Following are the six best theme parks in Australia.
1.1. Warner Bros. Movie World
Warner Bros. Movie World is situated in the Gold Coast, Queensland, Australia. The park was opened to the public on June 3, 1991.
Movie World is managed and owned by the Village Roadshow Theme Parks. However, it is among the oldest theme parks of Warner Bros. Further, it is the only theme park related to the movie world in Australia. Its popular attractions include various rides.
1.1.1 Family Rides
Junior Driving School (Mini-cars)
Justice League: Alien Invasion 3D (An Interactive Dark Ride)
Looney Tunes Splash Zone (Water Play Area)
Unnamed Wizard of Oz Coaster (Suspended Family Coaster)
Unknown Wizard of Oz Coaster (Racing Family Boomerang)
Road Runner Roller Coaster (Vekoma Junior Coaster)
1.1.2 Thrill Rides
Unnamed Surfrider Relocation (Half-Pipe Coaster)
Batwing Spaceshot (Space Shot)
Wild West Falls Adventure Ride (Log Flume)
Green Lantern Coaster (El Loco)
Doomsday Destroyer (Suspended Twin Hammer)
DC Rivals HyperCoaster (Hypercoaster)
Superman Escape (Accelerator Coaster)
Scooby-Doo Spooky Coaster (Indoor Wild Mouse)
1.1.3 Children's Rides
Yosemite Sam's Railroad (Miniature Railway)
Looney Tunes Carousel (Carousel)
Speedy Gonzales Tijuana Taxis (Children's Car Ride)
Marvin The Martian: Cosmic Boom (Drop'N Twist)
Sylvester and Tweety Cages (Aerial Carousel)
1.1.4 Shows and Entertainment
Streets Star Parade (Street Show)
Batman Legacy (Film Exhibition)
Tom and Jerry Meet and Greet (Meet and Greet)
JL 52 Batmobile (Photo Opportunity)
Hollywood Stunt Driver 2 (Stunt Show)
Roxy Theatre (4D Film Theatre)
New York Film Academy Australia – Hot Sets (Film Set Tour)
1.2. Sea World
Sea World is a theme park as well as a marine mammal park. The park is situated on the Gold Coast, Queensland, Australia. It was opened to the public on October 30, 1971.
Village Roadshow Theme Parks owns the marine park. Moreover, it has a total of fourteen attractions. These attractions include animal exhibits, amazing rides, and saving orphaned wildlife.
1.2.1 Attractions and Rides
Leviathan (Wooden Coaster)
Vortex (Top-spin Ride)
Storm Coaster (Mack Rides Water Coaster)
Castaway Bay (Children's Area with several attractions)
Nickelodeon Land (Themed zone for kids)
The Reef (Splash Zone)
Sea World Monorail System (Monorail System)
Jet Rescue (Steel Roller Coaster)
1.2.2 Marine Attractions in the Park
Polar Bear Shores (Polar Bear Exhibit)
Penguin Encounter (Antarctic Penguin Exhibit)
Seal Harbour (Seal and Sea Lion Exhibit)
Shark Bay (Shark's Lagoon System)
Ray Reef (Ocean's Inhabitants Exhibit)
Dolphin Nursery Pool (Dolphin Breeding Program)
Penguin Point (Little Penguins Exhibit)
1.2.3 Famous Shows in Sea World
Paw Patrol on Holiday (Live Stage Show)
Our World of the Dolphin (Educational Presentation)
Seal Guardians (Sea Lion Presentation)
Affinity (Dolphin Show)
Jet Stunt Extreme (Jet-Ski Stunt Show)
Turtle Power (Live Show)
1.3. Adventure World
Adventure World is one of the best theme parks in Western Australia. It is situated on Bibra Lake near the Perth, Western Australia. The park was opened on November 30, 1982. There are a total of 36 attractions in the park.
1.3.1 Attractions in the Adventure World
Kingdom Falls (Water Play attraction)
The Kraken (Tornado Waterslide)
Kahuna Falls (Water Playground)
Mat Slides (Water Slides)
Inferno (SHOT'N DROP Ride)
Sky Lift (Chair Lift)
Abyss (Euro-Fighter Roller Coaster)
Goliath (Intamin Gyro-Swing)
Rocky Rapids (Tube Slide)
Tidal Wave (Racing Mat Water Slide)
Tunnel of Terror (Tube Slide)
1.3.2 Previous Attractions in the Park
The Rampage (Moser Maverick)
Whistle Stop Train (Train)
Turbo Mountain (Jet Star)
The Haunted Castle (Display Wax Work Figures)
Paddle Boats (Paddle Boats)
Bounty's Revenge (Pirate Ship)
The Luge (Downhill Sled)
1.4. Wet 'n' Wild Gold Coast
Wet'n'Wild Gold Coast is a water theme park. It is located in the Oxenford, Gold Coast, Queensland, Australia. The Village Roadshow Theme Park owns and manages the park.
Moreover, the park has four pools, 17 water pools, and 2 Kid's sections.
1.4.1 Attractions and Rides in the Park
Blackhole (two-tube dark slides)
Kamikaze (U-Shaped Half Pipe Slides)
Tornado (Funnel Slide)
River Rapids (Four Body Slides)
Mammoth Falls (Two Raft Slides)
Wet'n'Wild Junior (Kid's Slides)
Giant Wave Pool (Wave Pool attraction)
Skycoaster (Sky Coaster Ride)
Whirlpool Hot Springs (Pool)
Super 8 Aqua Racer (Mat Racer Slide)
Calypso Beach (Lazy River Attraction)
Flowrider (Wave Loch Flow Rider)
AquaLoop (Looping Body Slides)
Constrictor (Water Slide)
White Water Mountain
Double Flume Speed Slide
Terror Canyon II
Extreme H2O Zone (Attraction)
ZipLine
Double Barrel
Kaboom!
1.5.  Luna Park Sydney
The Luna Park Sydney is one of Australia's best theme amusement parks. It is situated at 1 Olympic Drive, New South Wales, Australia. Also, it is a heritage-listed amusement park. It was opened on October 4, 1935.  Luna Park Reserve Trust is a government agency that owns this park.
The Park's Layout includes a Park Entrance, Midway, Crystal Palace, Big Top, Coney Island, and Luna Land. It has 23 attractions and four roller coasters.
1.5.1 Attractions at Luna Park Sydney
Ferris Wheel
2nd Tango Train
Loopy Lighthouse (Zamperla Jumping Tower)
Carousel
Big Dipper III (Single Rail Coaster)
Boomerang (Shuttle Coaster)
Volaré (Swing Ride)
Rotor
Dodgem City (Dodgem Hall)
Freaky Frogs
Bug (Mini Ferris Wheel)
Little Nipper (Mini Coaster)
Hair Raiser (Drop Tower)
Wild Mouse (Roller Coaster)
Silly Sub (Crazy Bus)
Cloud Nine (Balloon)
Sledgehammer
1.5.2 Previous Rides in the Park
Big Dipper II (Steel Roller Coaster)
Octopus (Octopus Ride)
Geronimo (Jet Star 2)
Ghost Train (Ghost Train)
Spider (Break Dance)
Tango Train I (Music Express)
Tumblebug (Troika)
Flying Saucer (UFO)
Moon Ranger (HUSS Ranger)
U-Drive (Kid's Ride)
Whirly Wheel (Mini Ferris Wheel for Kids)
Crazy Cars (Teacup Ride)
Mini Pirate Ship (Mini Ship Ride)
1.6. WhiteWater World
The WhiteWater World is a seasonal water theme park on the Gold Coast, Australia. Its owner and manager is Ardent Leisure. Its theme is based on the Australian Beach Culture.
The park's general manager is Greg Yong. It was opened on December 8, 2006. Moreover, the park's operating season lasts from September to April. The park is the sister park of the Dreamworld, Australia.
The park has two pools, 2 Children's sections, and 16 water slides.
1.6.1 Attractions at WhiteWater World
Wiggle Bay – Body slides & a kids play section (2006)
The Shell–Shaded Eating Area (2006)
Fully 6 – Body Slides (2019)
The BRO – Octopus Multi-Lane Racer (2006)
The Little Rippers – Bowl Water Slides (2007)
Super Tubes Hydrocoaster – Water Coaster (2006)
Cave of Waves – Wave Pool (2006)
The Wedgie – Drop Slide (2010)
Fully 6 – Slides 2 & 3 – Speed Slides (2019)
The Green Room – Funnel Water Slide (2006)
Triple Vortex – Water Slide (2014)
Pipeline Plunge – Body Slides and Kid's Play Section (2006)
The Temple of Huey – Inline Tube Slide (2006)
The Rip–Bowl Water Slide (2006)
FlowRider – Flow Rider (2006)
2.  List of Amusement Parks in Australia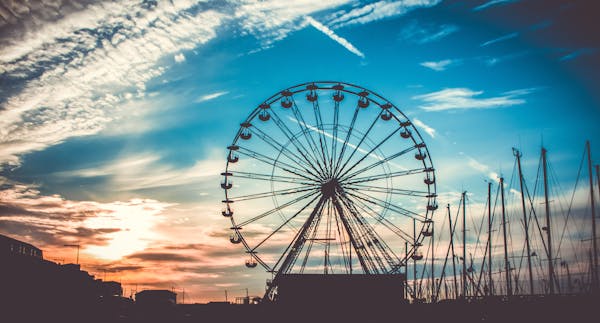 Below is a list of some of the most famous and best amusement parks in Australia.
Dreamworld (Queensland)
Wet'n'Wild Gold Coast (Queensland)
Warner Bros. Movie World (Queensland)
Sea World (Queensland)
Fun Field Theme Park (Whittlesea)
Luna Park Sydney (New South Wales)
WhiteWater World (Gold Coast)
Adventure World (Bibra Lake)
Westside Water Park (Queensland)
Jamberoo Action Park
Luna Park Melibourne (Melbourne)
Aussie World (Queensland)
Magic Mountain Merimbula (New South Wales)
Big Splash Waterpark (Canberra)
The Big Banana Fun Park (New South Wales)
The Beachouse (Adelaide)
The Wheel of Brisbane (Queensland)
Nickelodeon Land (Gold Coast)
Bluewater Lagoon
Raging Waters Sydney (New South Wales)
Gumbuya World (Victoria)
Paradise Country (Gold Coast)
GC Aqua Park (Broadwater Parklands)
Adventure Park Geelong (Victoria)
The Ginger Factory
Kryal Castle (Leigh Creek)
Coffs Harbor Butterfly House
Yallingup Maze & Mini Golf
Tiger Island (Dreamworld, Queensland)
3. Conclusion
Australia is a renowned place for travelling in the world. Many visitors from all over the world come here to explore this beautiful place. One of the best attractions of all is its theme parks. These parks are water theme parks, amusement theme parks, and more.
You will find many spectacular theme parks here. These parks are designed so everybody can enjoy the beauty and fun of the parks, whether you are a kid, teenager, or an adult. Also, you are a thrill-seeker or want to enjoy peace. Moreover, these amazing theme parks have something for everyone who visits them.
Most themes are based on beach culture, movies, water, and famous characters. The rides here are for all ages. These parks facilitate the Kid's section and adult zone with thrill rides. Rides vary from low thrill to high thrill. Engaging with these parks and having fun is an adventurous activity.
Narayani Bhardwaj is a young and ambitious part-time Web Content Writer in the Icy Tales company. She completed her BCA in Computer Science. Currently, she is pursuing MCA at Chandigarh University. In addition with, she visited a several places and wants to tour the best of the world. She is passionate about travelling either it is natural phenomenal places or the downtowns across the countries. She writes with her passion and desires of travelling the beautiful places in the world. The places merely not include only travelling, the articles she writes, are strictly professional with a touch of an individual's sincerity and feelings on what they are looking for. She has upskilled herself in the field of writing for her audience, and ensures the quality of the content which is relatable in executive as well as distinctive manner. Narayani has worked with a several companies before as a Content Writer and Subject Matter Expert. She has more than a year of experience in the field of Content Writing. Looking forward for great and more opportunities to expand her skills and knowledge.