Among the world's best beaches, Gold Coast beaches are known to be some of the very best. They are more than just endless stretches of sand.
Australia's highly visited tourist destination is none other than the Gold coast beaches. They are known for their beautiful scenic beauty, famous surf beaches, and much more. There are a lot of oceans on the Gold Coast Coastline.
Let's keep reading to get to find out more about these beautiful beaches. Who knows you may find your next favorite gold coast beach on the list.
Top 11 best beaches Gold Coast Beaches
Gold coast beaches are known to have some of the most gorgeous beaches in Australia. Whether you are here to surf, swim, or simply relax, you would find a perfect beach for the same.
1. Tallebudgera Creek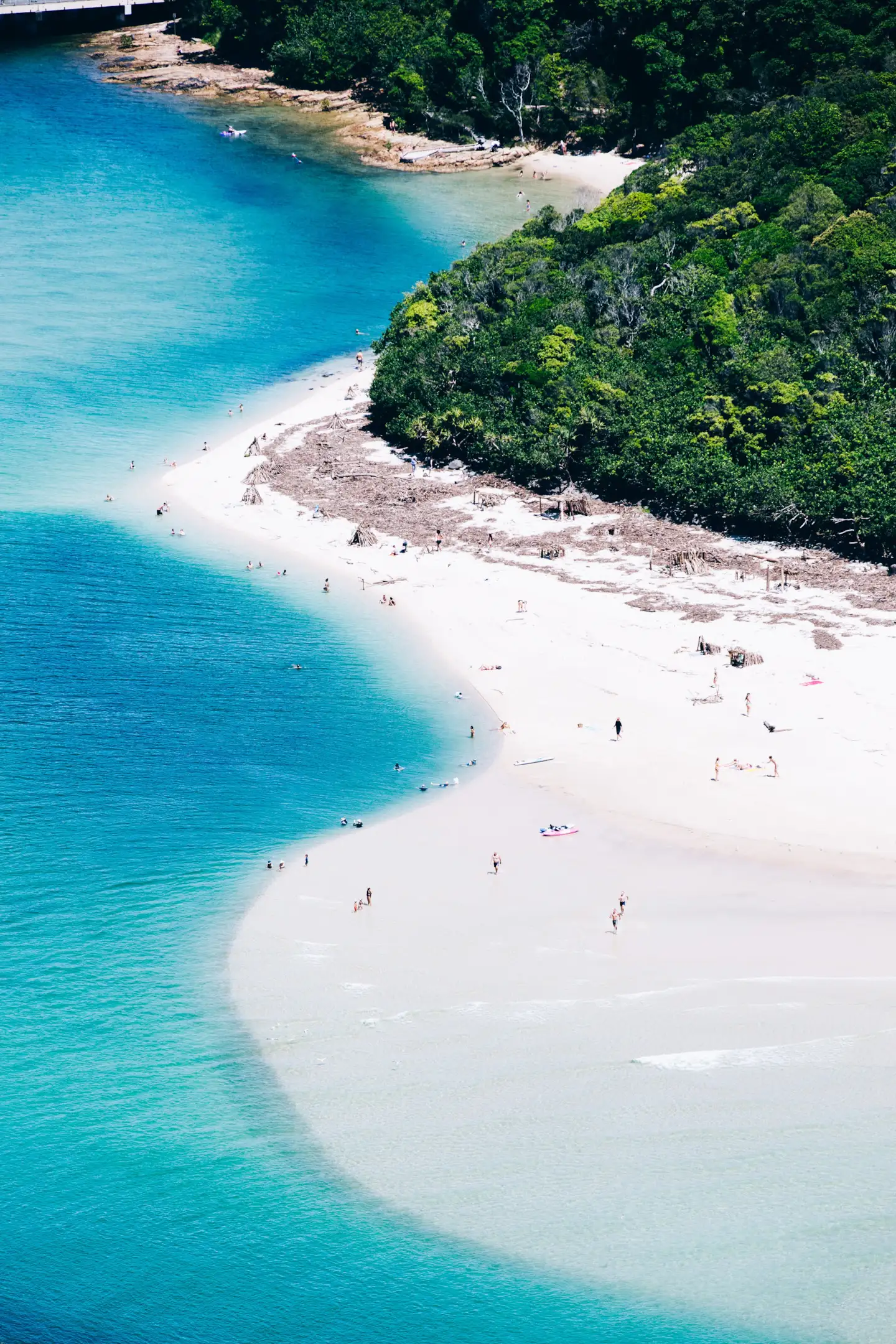 Starting the list with one of the best and most eye-catching beaches among all the gold coast beaches, Tallebudgera Creek is located in the South East of Queensland, Australia. It stretches over 98 sq km. It is known for its sparkling Creek and the family-friendly atmosphere. It is also known for its sparkling water and is framed by the Burleigh heads national park.
Tallebudgera Creek is said to be the best place to bring your family to enjoy a weekend together. Here, you can enjoy swimming, paddling, and just resting peacefully without worrying about any high tides or waves.
This is a major reason why people prefer to come here out of other gold coast beaches with their children of all ages and enjoy themselves making it popular.
Transportation
To get to Tallebudgera creek, you can take buses 700 (GGUH Station), 764 (Currumbin park), 765 (Robina Town Center), and 777 (Broadbeach South Station).
In case you are someone who has driven yourself to the beach, you need not worry. A car park is available.
Food Nearby
While some people may be ready with family picnics, others might be looking for places to eat at. Worry not, we have got you covered with some recommendations.
To enjoy good Mediterranean food, Rabbath is known to be one of the best places, enjoy seafood at Pick Shores, and in case someone needs something to drink, Nook Espresso got you covered.
2. Nobby Beach
If you need a quiet place, away from the hustling and bustling of the main city, Nobby beach out of the other gold coast beaches got you covered. In the north of Miami located at the foot of Nobby's Bluff is Nobby beach.
You can even call this gold coast beach a swimmer's favourite as it is patrolled throughout the year-round which makes it safe.
The full length of the beach also makes it possible for all surfers to surf as they like. The beach also offers a park nearby which is suitable for both adults and children. The facilities of toilets, beach showers, public barbeques, picnic tables, etc make it the perfect picnic spot. Fishing is also a popular thing at Nobby Beach.
Transportation
To get to Nobby beach, there are various methods and bus stops you can get on depending on where you reside.
You can take the buses 11(Charlestown to Newcastle via Jesmond), 13 (Glendale to Newcastle via Cardiff & John Hunter Hospital and 14 (Swansea Heads to Newcastle via Belmont, Charlestown, and Kotara), and 23 (Wallsend).
You can also take a light rail station near Nobby's beach in Newcastle east named the Newcastle Beach Light Rail.
Food Nearby
Nobby's Beach Surf Club is one of the only beachfront restaurants on the beach, making it very convenient for the people visiting. It offers a great variety of food along with great beach views.
The Arc at Hobby's is also known for good food, offering wood-fired pizza and spicy braised pork belly. Bine Bar and Dining offers great dining to allow you to enjoy afternoon beverages.
3. Burleigh Heads
Burleigh Beach is known for its safe swimming and surfing conditions. Burleigh Heads is a suburb in the city surrounded by restaurants, cafes, and shops nearby. It is one of the best swimming and surfing beaches.
The beach is patrolled regularly and stays protected from southerly winds and swells. There are several barbeques and cricket matches held near the area which makes it an ideal spot for people to visit.
The Burleigh Heads Beach area is one of the popular gold coast beaches especially when the surf is up and there are people around. Providing a pleasant atmosphere, Burleigh beach is not just known for its safe swimming and surfing but also for the Quiksilver Pro professional surfing contest that is held every year-round. The beach also provides toilets and beach showers for all the people present.
Transportation
To get to Burleigh heads beach, you can take the regular service buses route 700 (Burleigh heads) & 777. In case you have come to the beach by car, there is plenty of parking space too.
Food Nearby
When you get hungry, check out Burleigh Pavillion which offers casual beverages for people to drink after a dip in the ocean along with wood-fired pizza and much more.
Paddock bakery offers coffee and yummy pastries along with mains for breakfast and lunch. Their dippy eggs are known to be people's favorites. Commune offers breakfast through lunch with a menu focused on the hot weather favorites like an acai bowl and much more.
4. Main Beach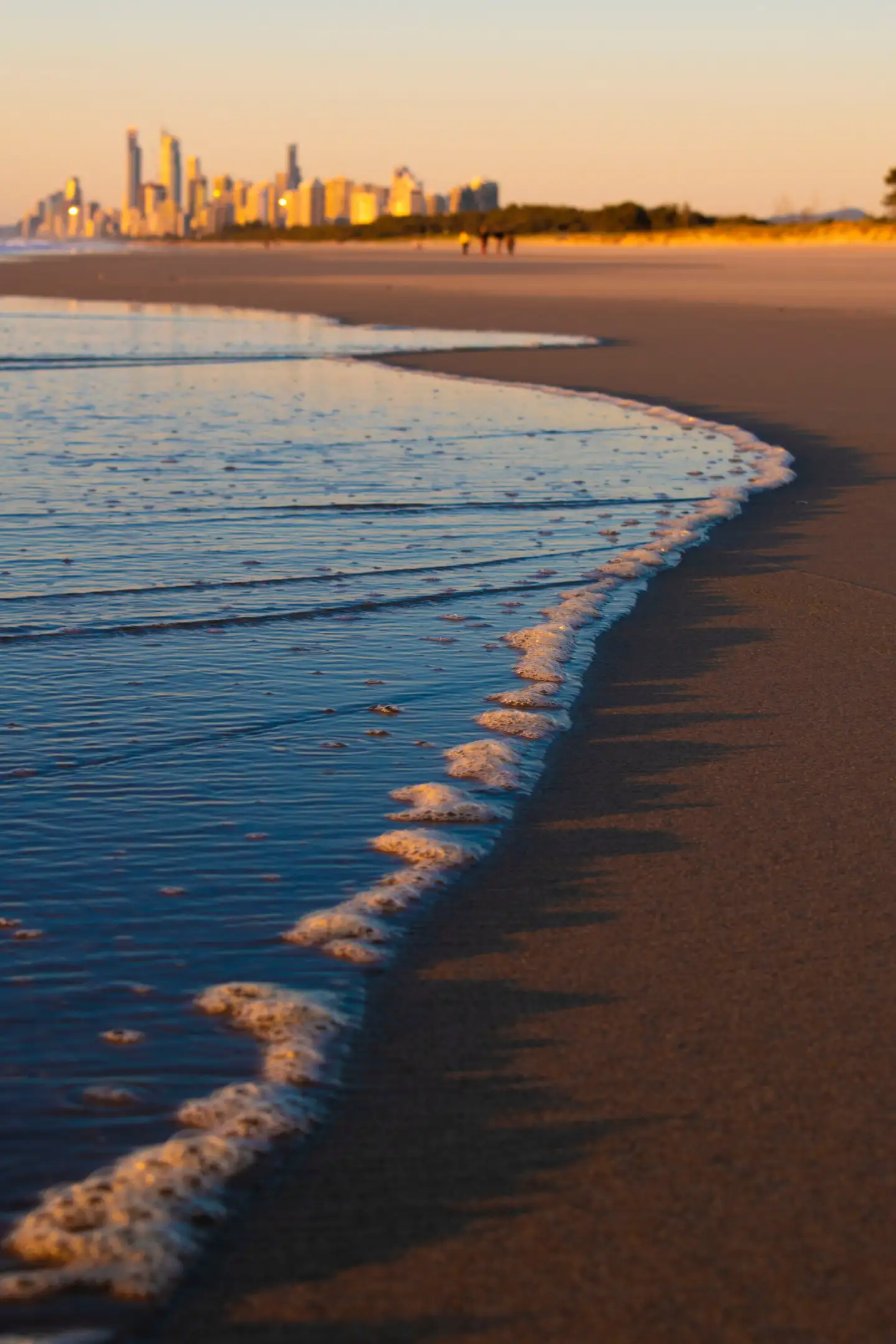 At first, this beach was named Main beach for the town nearby but later on as developments kept on happening it became a suburb on its own.
The main beach is primarily a surf beach but with time it has become a chilling spot for people to rest and enjoy at.
It is surrounded by restaurants and cafes nearby which makes it perfectly accommodated. The beach is fringed by dunes too. Luckily, lifeguards patrol the main beaches all year round. The main beach is also good for cycling and walking along the beach.
Transportation
To get to the Main beach you can take the busses 704 (Sea world) and 705 (Broadbeach South Station). You can also travel using the G: LINK light rail.
Food Nearby
You can enjoy the best beach food, fish and chips seaside, or dine at multi-award-winning Omeros Brothers Seafood in Marina Mirage precinct. Seafood is unsurprisingly one of the best things to eat near Main Beach.
5. Rainbow Bay Beach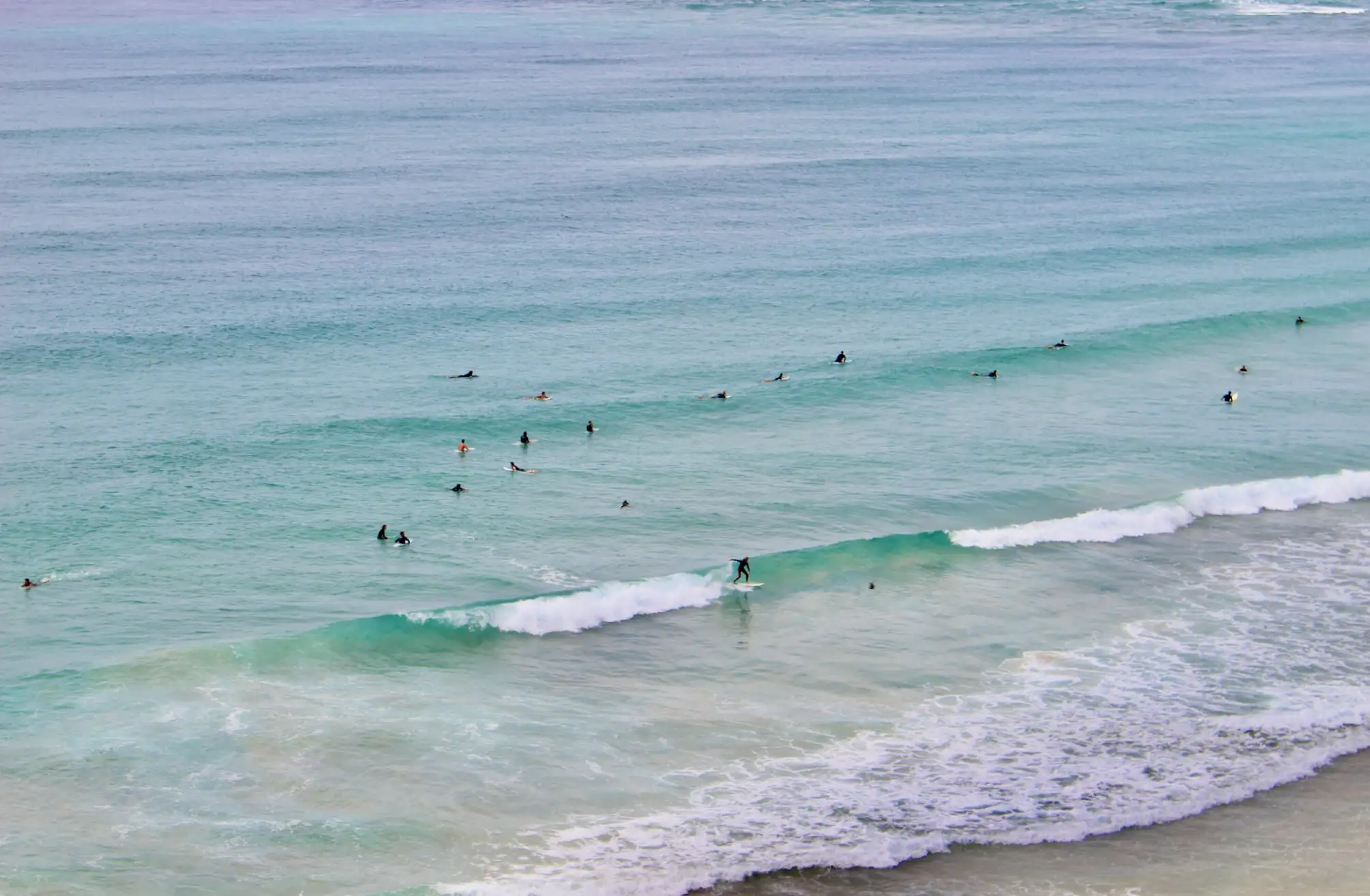 If a family-friendly beach where you can swim safely in a relaxing atmosphere is what you are looking for, then Rainbow Bay beach on the gold coast beaches is what you need to visit.
It was previously known as the Sharks Bay but after a request for re-naming which happened back in 1925, it was changed to Rainbow Bay Beach. One thing to notice is that it is also one of the few north-facing beaches.
Among other gold coast beaches, Rainbow bay is also one of Australia's best beaches for families and surfers alike. Rainbow Bay was made famous by Snapper Rocks which hosts some world-class events.
If you are here at the right time, you might be able to experience seeing world-renowned surfers like Joel Parkinson. The beach is also part of the World Surfing Reserve which makes it also home to the city's most famous point break.
Transportation
To visit Rainbow bay, you can take the busses 700 (Broadbeach Via Burleigh Heads), 777 (Robina Via Airport, Varsity Lakes), and 768 (The Pines Via John Flynn Hospital)
Food Nearby
To fulfill your hungry stomachs after a day of swimming, surfing, and maybe just relaxing, you can check some of these places out.
The Sunset Cove And Rainbow Room is a place where you can enjoy some good quality pizza and seafood because eating seafood after a beach day is a must (unless you cannot) and to enjoy some Caribbean and Bahamian food you can check Front Porch.
No visit to the Southern end is counted as completed if you do not enjoy frosty beverages and cheap good quality food at Rainbow bay SLSC.
6. Currumbin Beach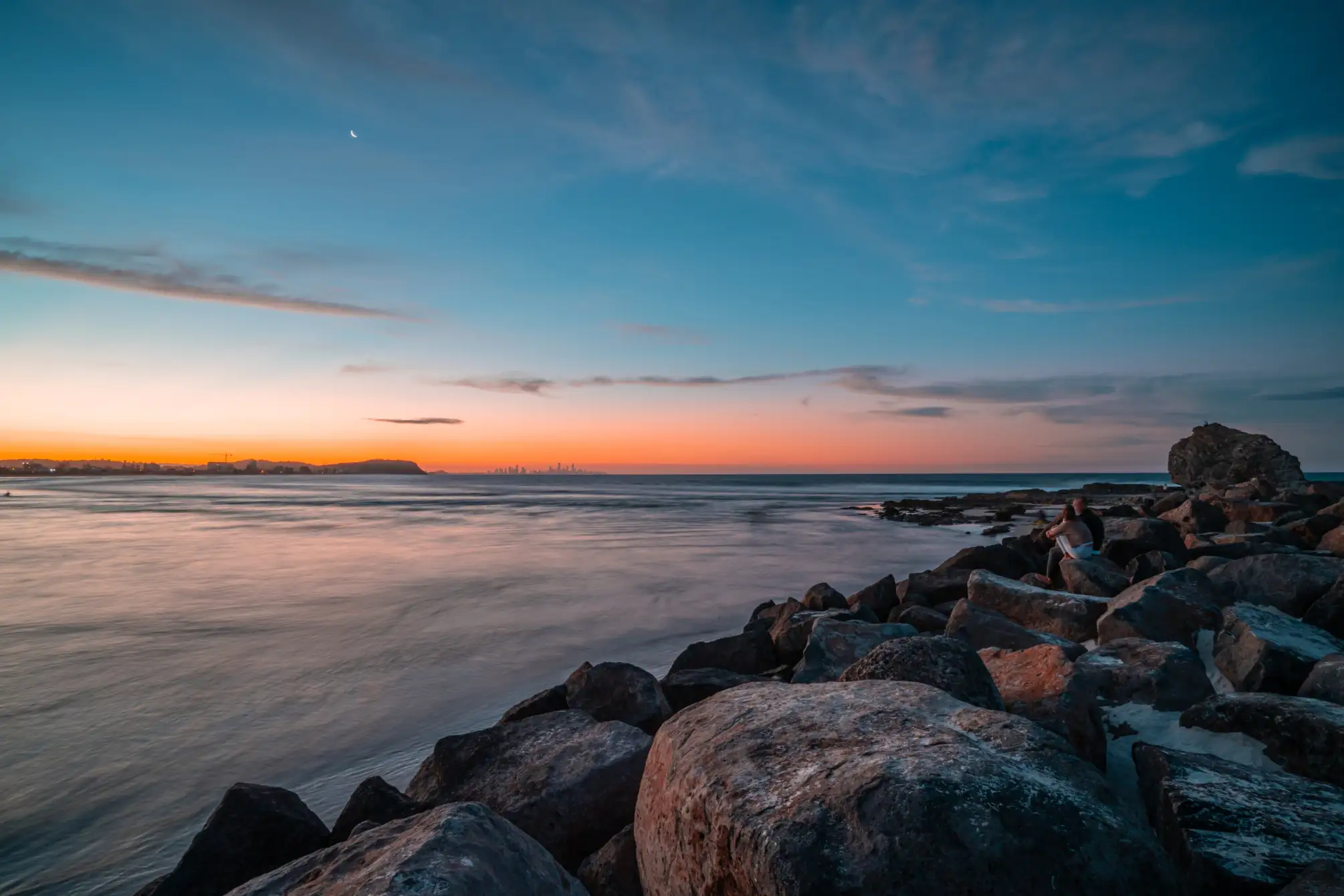 To any and every country-town feel beach lover out there, you must not miss out on Currumbin beach. This gold coast beach also provides a space for longboard riders and surfers. It also provides plenty of waves to challenge all experienced surfers.
Currumbin beach is patrolled by lifeguards regularly which makes it a safe place for swimmers, surfers, and all types of water sports. The entrance of Currumbin beach is a scene to see as it spills in and out to the Pacific Ocean.
The family-friendly and countryside aura of this gold coast beach makes it a nice place for families to get together and enjoy along the walking paths. Besides the water sports, people can also fish here.
Transportation
To get to Currumbin beach, you can take bus 700 (GGUH Station) or 760 (Tweed Heads). In case you have come to the beach by car you must not worry as there are enough parking spots.
Food Nearby
Currumbin Beach Vikings is a good place to eat at. It provides a beach view along with good food and beverages. They offer good Viking food like big breakfasts, waffles, eggs, and much more.
7. Surfers Paradise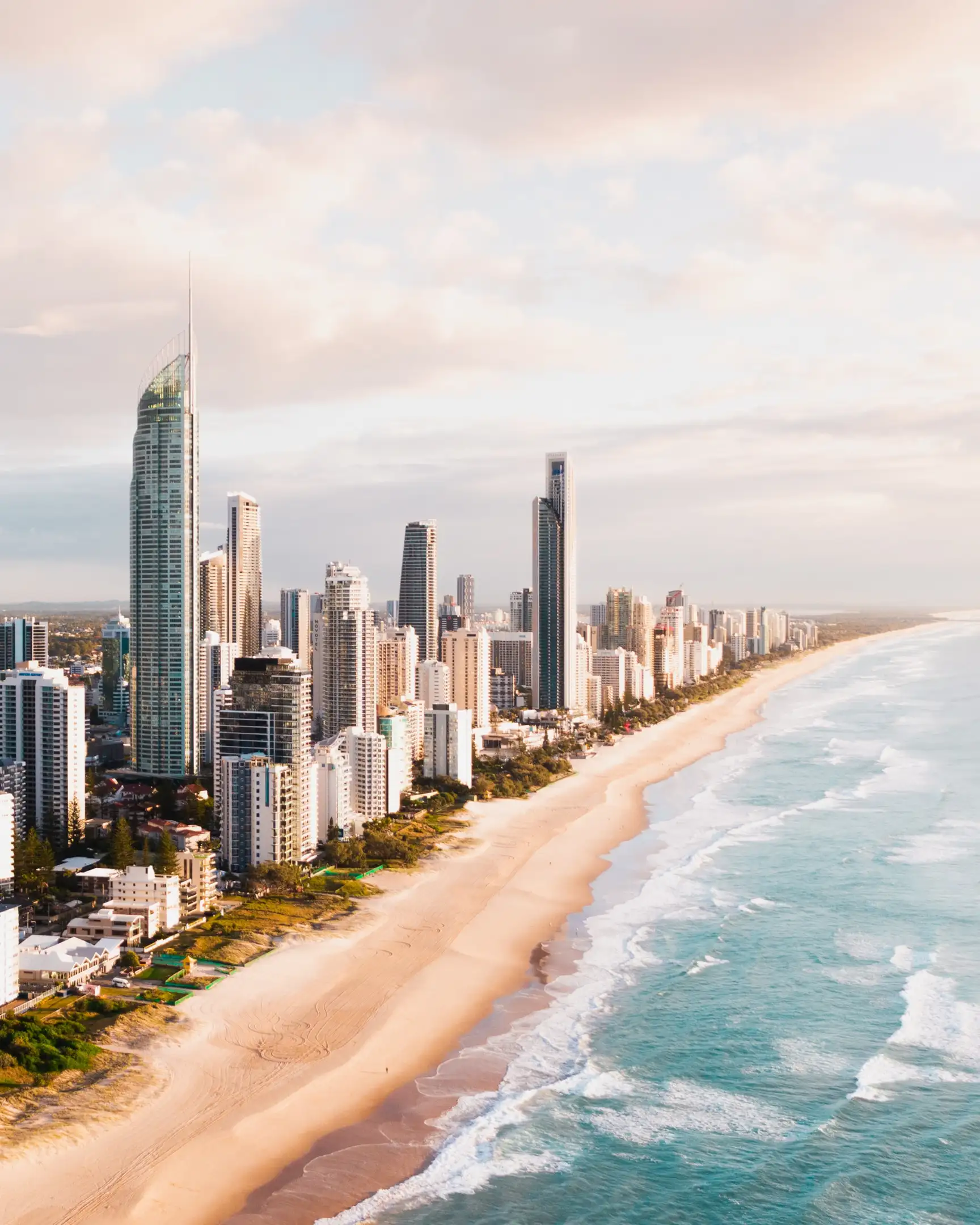 Queensland's best-known gold coast beach, Surfers Paradise is also the longest beach with a 16km length. It is said to be one of the most popular beaches in the area.
Surfers Paradise is the most famous beach among the gold coast beaches. Offering almost two kilometers of golden sand and rolling surf. Surfers Paradise has over twenty thousand visitors every day. Surfers Paradise beach is one of the patrolled beaches and is also framed by pristine white sand.
The Surfers Paradise beach also holds many surf life-saving competitions under which people perform various tasks that are done by the lifeguards. Many other local events take place too. You can enjoy the natural beauty of this gold coast beach as you rest and enjoy everything happening.
Transportation
If you are traveling by car, there is pay parking available but you must remember to be patient as this parking fill up fast given the fact that Surfers paradise beach is one the most famous beach.
Food Nearby
When you are near or in Surfers' paradise, you can never go wrong with the BMD Northcliffe Surf Club which offers amazing food and exquisite seafood. The Island Rooftop is another local place for visitors to come in, dine and enjoy good food.
8. Palm Beach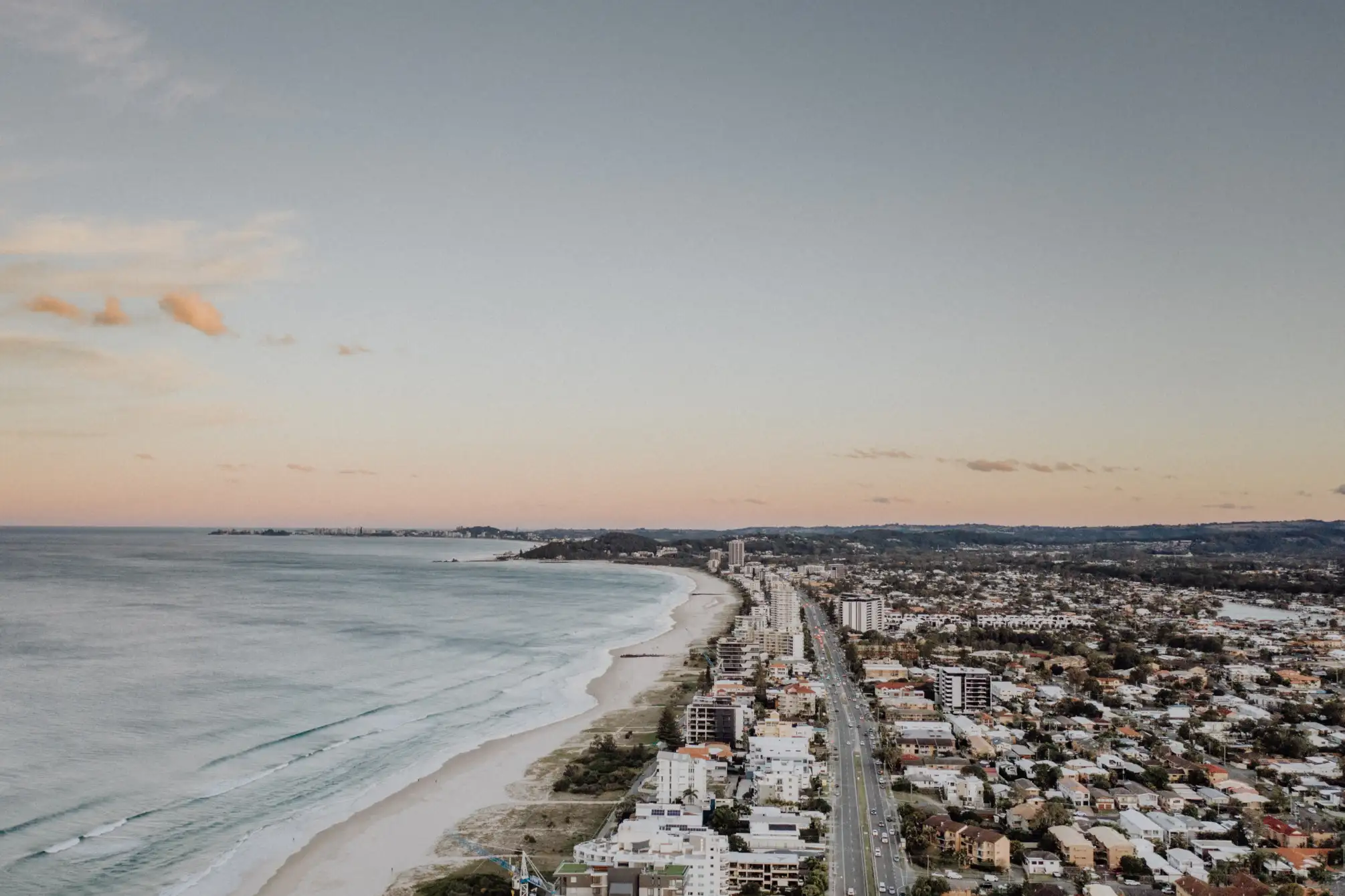 Palm Beach is a coastal suburb in the city of the gold coast. It is also the cleanest beach out of every single gold coast beach. Palm Beach has an extensive 4 km beach filled with golden sand. Some area of the Gold Coast Beaches has also become World Surf Reserves. Palm Beach is a patrolled beach and even provides a dog exercise area for visitors with pet dogs.
People can also take long walks on palm beach. Some areas are also flagged for swimming so people can take a dip in the ocean and enjoy swimming. Palm Beach also provides toilets, BBQ places, picnic tables, beach showers, and even shades for visitors.
Transportation
To visit Palm beach, you can take the busses 700 (Burleigh heads) and 777. In case you are visiting by car, there is enough parking near the beach surf and street-side parking is also available.
Food Nearby
If some old-school burgers are what you need then you must check out Burgster. Another famous place that serves good Italian food is Balboa Italian Restaurant.
9. Mermaid Beach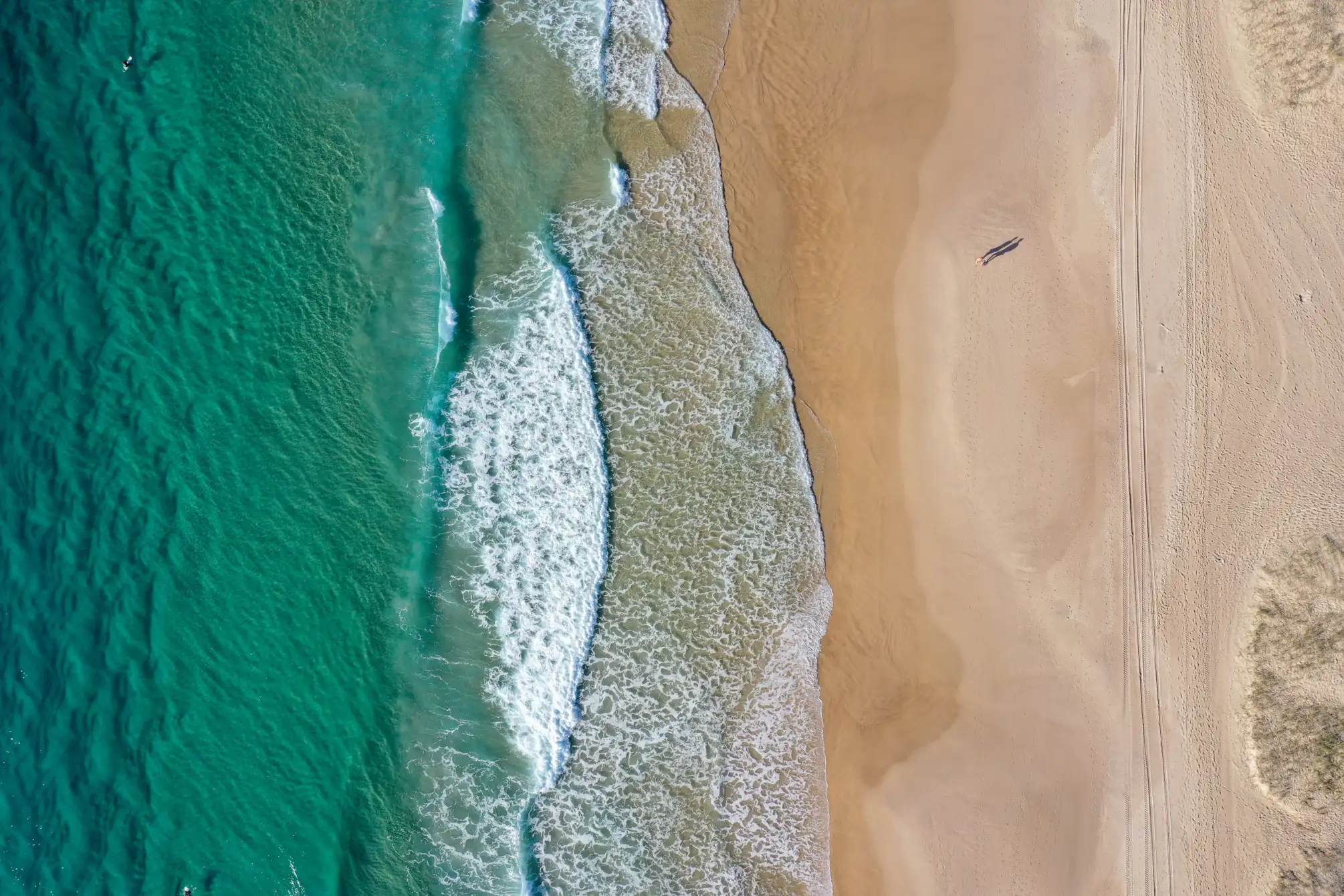 If you are looking for a relaxing beach amongst the gold coast beaches where you can lay back down to relax, enjoy simple watersports and just sight see then Mermaid beach is one of the best beaches.
Mermaid beach is home to splendid surfing conditions along with walking paths that get engaged with families year-round.
When you are at Mermaid beach, you must not miss out on things like putt putt mermaid beach. It is a mini golfing experience that should not be missed by tourists. Try surfing, when you are in a country where surfing is one of the best sports, missing out on surfing seems illegal.
Transportation
You can take the easiest way by booking a cab to the beach. You can also take the bus from Gold Coast Airport and arrive at Crescent Avenue.
Food Nearby
The Mermaid Beach Surf Club Restaurant and Bar offers good food along with beverages. You can also visit Bonita Bonita if you want some good cocktails, in case you are into Korean food and especially BBQs then the Korean Charcoal BBQ Restaurant is the best place for you to visit.
10. Tugun Beach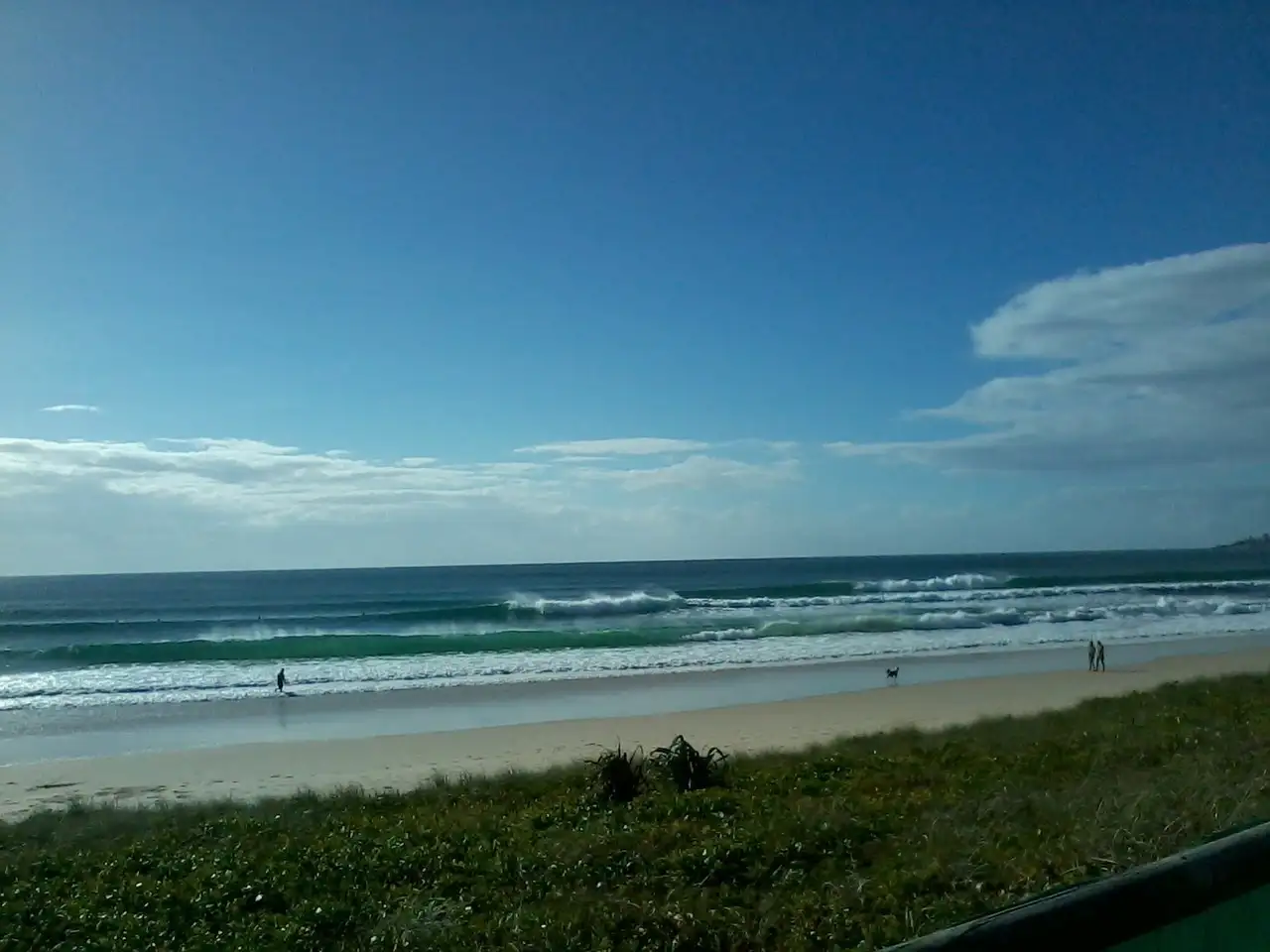 Located at the southern end of the Gold Coast is said to be one of the least crowded of other Gold Coast Beaches. It is also another one of the best beaches.
The indigenous people used to call it the "breaking waves" and for all the right reasons as the beach area is known to have good beach breaks. It is the perfect condition for surfing and to do stand-up paddle boarding.
You can sunbathe, have a stroll, or even surf here. You can set up a picnic for yourself and your family and enjoy the relaxing aura while spending time together with your family.
Tugun beach also offers toilets, BBQs, Picnic tables, a children's playground, and beach showers. The beach is patrolled daily which makes it a safe place for everyone. The beach is also close to good parks and cafes and restaurants in case you get hungry and want to eat.
Transportation
If you are traveling by car, there is enough car parking available for people to park at. You can also take the buses 700 & 777 to reach the beach. It would just be another 5-minute walk from the station.
Food Nearby
Famous for their acai bowls, Niche&co provide not only an exquisite acai bowl but also coffee and a menu packed with delicious food. If you are in town then you have to try out the Thai food at Sticky Rice. They provide Thai food with a modern twist that will make you come back again and again.
11. Broadbeach
It has often been called the little brother of the surfer's paradise as you can always see visitors and surfers on the beach. The Broadbeach is patrolled constantly and you can find family-friendly playgrounds and pristine white sand covering the shore.
You can see multiple people surfing and swimming here. A fascinating thing about Broadbeach is that it consists of multiple beaches among the gold coast beaches.
The beaches included are Surfers paradise, Miami Beach, Mermaid Beach, Kurrawa Beach, Nobby's beach, Southport, and Spit beach. Broadbeach is a suburb that provides shopping, upmarket restaurants, great apartments, and much more. There are surf clubs present at the end of the beach.
Transportation
You can reach here either by car or you can take the bus routes 700, 705 or 777. You can also take the light rail which is run regularly to reach the Broadbeach. For car parking you would have to park it at the Kurrawa surf club beach or even just a parking at the side streets can be done.
Food Nearby
If you are visiting Broadbeach then you must try Miss Moneypenny's Noosa. Offering globally-inspired Mediterranean cuisine as well as delicious cocktails. In case you are an Asian food lover then you have to try out Mamasan Kitchen & Bar, they offer pan-Asian food along with various cocktails. The seafood and dumplings are not to be missed out on.
Conclusion
And with that, we come to an end of some of our best Gold Coast Beaches. Check out Top things to do in Gold Coast to know what more you can do when you are in the gold coast area.