There are many adventurous things to do in Torquay. The Torquay is a fantastic town in Devon, UK, that offers wonderful adventures to visitors.
1. 8 Adventurous Things To Do In Torquay
However, Torquay is full of adventurous things. Given below is the list of eight most famous adventurous things to do in Torquay.
1.1.  Torquay Watersports
Torquay Watersports is a popular tour in Torquay. It is one of the adventurous things to do in Torquay. However, it offers many ways to enjoy in and on water. It includes Torquay Coastal RIB Seafari and Private Coastal Boat Tour in Torquay. These activities are offered by Torquay Watersports.
1.1.1. Torquay Coastal RIB Seafari
The Torquay Coastal RIB Seafari is a water tour on an adventurous boat. It will tour you around the entire water region for an hour. They will give you a lifejacket for one hour duration.
The stoppages it includes are Thatcher Brow IIsham Marine Drive, and Thatcher Rock. This pretty rock island is a usual haul out for sea lions. You will be stopped by for 5 minutes on each of the spot.
Terms and Conditions apply on the visitors for general purpose and visitor's safety.
1.1.2.  Private Coastal Boat Tour in Torquay
It is a private tour that is also offered by the Torquay Watersports. Here, you have to deposit for skipper and the boat. You are allowed to use this boat as per your desired duration. The lifejackets will be provided to you.
You can pass by following places:
Berry Head National Nature Reserve – It is an amazing place to stop by and look at Porpoises and Dolphins.
Babbacombe – It has splendid bays to travel around.
Thatcher Rock – An usual spot for the seals to haul out.
The Torquay Watersports also provide Speed Boat Tours, Boat Tours, Dolphin & Whale Watching, etc.
1.2. Splashdown Quaywest Waterpark
The Splashdown Quaywest Waterpark is situated in the Paignton, UK. It is just 10 minutes away from the Torquay. This park is the greatest outdoor waterpark in the United Kingdom. However, it lies in the same county as Torquay, Devon county.
Jon Lees is the general manager of this park. It is owned by Alan Richmond. In 1988, the park was opened to the public. Months from May to September are the operating months of the park. It has 9 unique water slides.
Moreover, the park is located near the beach, and it itself is a largest park. So, these factors make it one of the things to do in Torquay. The park facilitates splash pools for teenagers and large swimming pools for the adults.
This adventurous site also hosts a restaurant named "The View At Goodrington". In addition with this restaurant, it also hosts a beach shop. It offers plenty of delicious delicacies, ice creams, drinks, etc.
1.3.   The Torquay Mystery Treasure Trail
The Torquay Mystery Treasure Trail is an adventurous activity. It is among the best things to do in Torquay. This treasure trail is for all ages, and groups of families, friends, and others.
It offers so much exciting things to discover and activities to enjoy. However, it is a self-guided treasure trail. The instructions given here are thorough and will lead to exact path. You have to give your best when heading up to fantastic Torquay's seaside.
So, you have to solve the clues and hints given on the pathway. These clues will be given everywhere on the way of your secret trail. Also, it provides easy clues for children. Moreover, kids will find a few trickier people along the way for making this activity more interesting. Also, they can guide children, not exactly but in a tricky way.
This adventurous thing will help you learn many wonderful features of the trail. However, you can find your answers on structures, plaques, and on fixed objects along the way. Once you are done and solved this mystery, which is also known as 'detective a treasure look path'. They offer many treasure themed trails that can be selected from all the United Kingdom.
1.4.   Silver Halo Charters
The Silver Halo Charters is mainly organizes splendid fishing trips for visitors. It also includes dolphin watching and sightseeing.
The boat trips it specializes are for small group of people. It is a perfect planned trip for the families and friends. However, it is better to take a complete private boat charter for large groups.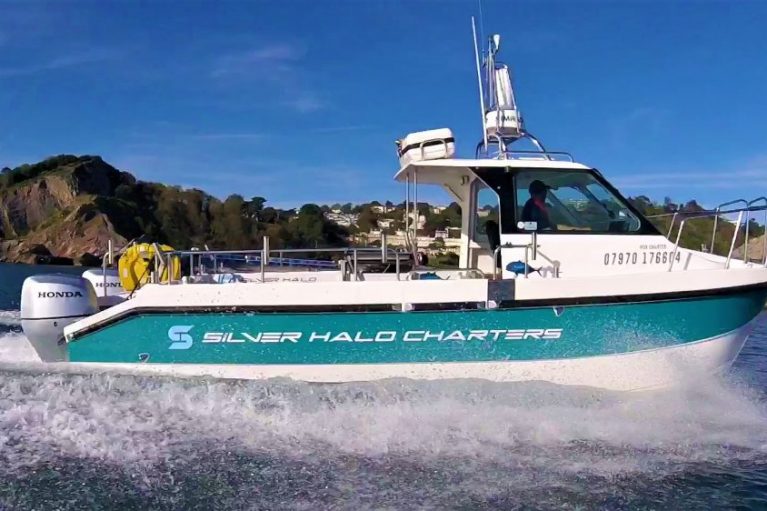 The private, complete boat makes your day. If you individually book the charter, then you'll be added in a small group. It provides you a wide range of tastes and ranges as well that will suit your budget. Further, well-equipped reels and rods are given to the visitors free of charge. In addition with, you will get expert's guide and tuition.
Boat Trips and activities include:
Full Day booking
Evening Trips
Quarter / Half Days booking
Family Trips
Corporate Trips
Slow Pitch Jigging
Bluefin Tuna
1.5. Teignmouth to Torquay Walk
Teignmouth lies in the Devon County. The walk begins at the seafront in the famous resort of Teignmouth. Further, you will cross the River Teign and later on, Shaldon. This walk will continue over the cliffs, via the Maidencombe and Babbacombe. Finally, you will reach Torquay.
Along the path, you will be able to find many interesting features. You will be passed through several steep sections. However, its stunning views of Tor bay and Lyme will fascinate you with various passing points.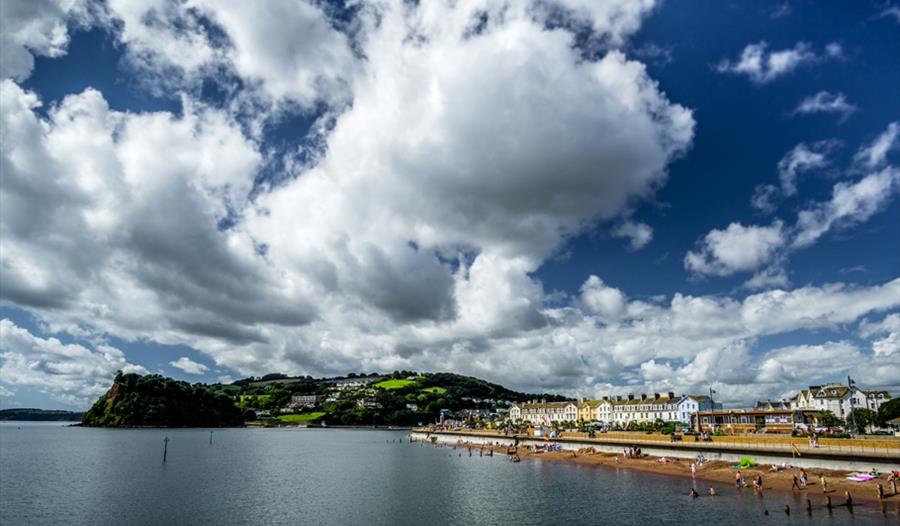 You will pass by following places starting from:
The Teignmouth Pavilions
Den Road
Post Office
Bank Street
Teign Street
Willow Street
Railway Line
Alexandra Terrace
Bitton Park
Rugby Club
Water Pumping Station
River Teign
Ness Headland
Labrador Bay
Babbacombe
Maidencombe
Watcombe
St Marychurch
Lyme Bay
Oddicombe
Babbacome Theatre
Ansteys Cove
Redgate beach
Preston, Paignton
Goodrington
Brixham
Rock End
Imperial Hotel
Torquay Harbourside
1.6. Jungle Journey Adventure Golf
The Jungle Journey Adventure Golf is a miniature golf course in Torquay. It is an eighteen holed course with a spectacular Jungle theme. Full of greenery, the theme will make you feel fantastic. However, it will be fun to play with your teammates in a lavish green jungle.
It is one of the perfect adventurous things to do in Torquay. Also, the theme is designed for all ages. Kids as well as adults over 80 years can also enjoy the golf here. This activity will engage you in a great fun. You can enjoy it with your family and have fun when you invest time.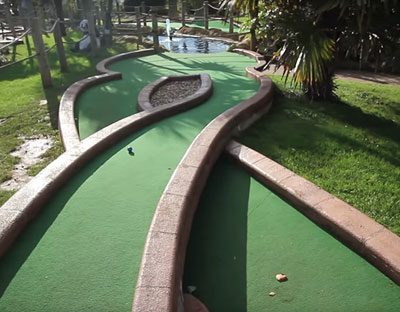 The activity is an awesome fun for the friends. The jungle theme also organizes kid's parties. However, if you are an amazing golfer, then bring your date along with you to impress. It also allows you night out golf. Hence, it is a perfect and wonderful venue for everyone.
Moreover, it organizes corporate events, adult parties, and kid's parties. In addition with, family fun activities, group offers, and Stag & Hen Do's.
1.7.  Rock Solid Coasteering
The Rock Solid Coasteering is an outdoor activity organizer in Maidencombe, Torquay. These trips are full of everything fun. It provides you free of charge photos and drinks facility.
Devon's coasteering is a perfect combination of caving, climbing, jumping, and swimming. It will kit you up like a hero completely whether you are a newbie or a professional seasonal climber.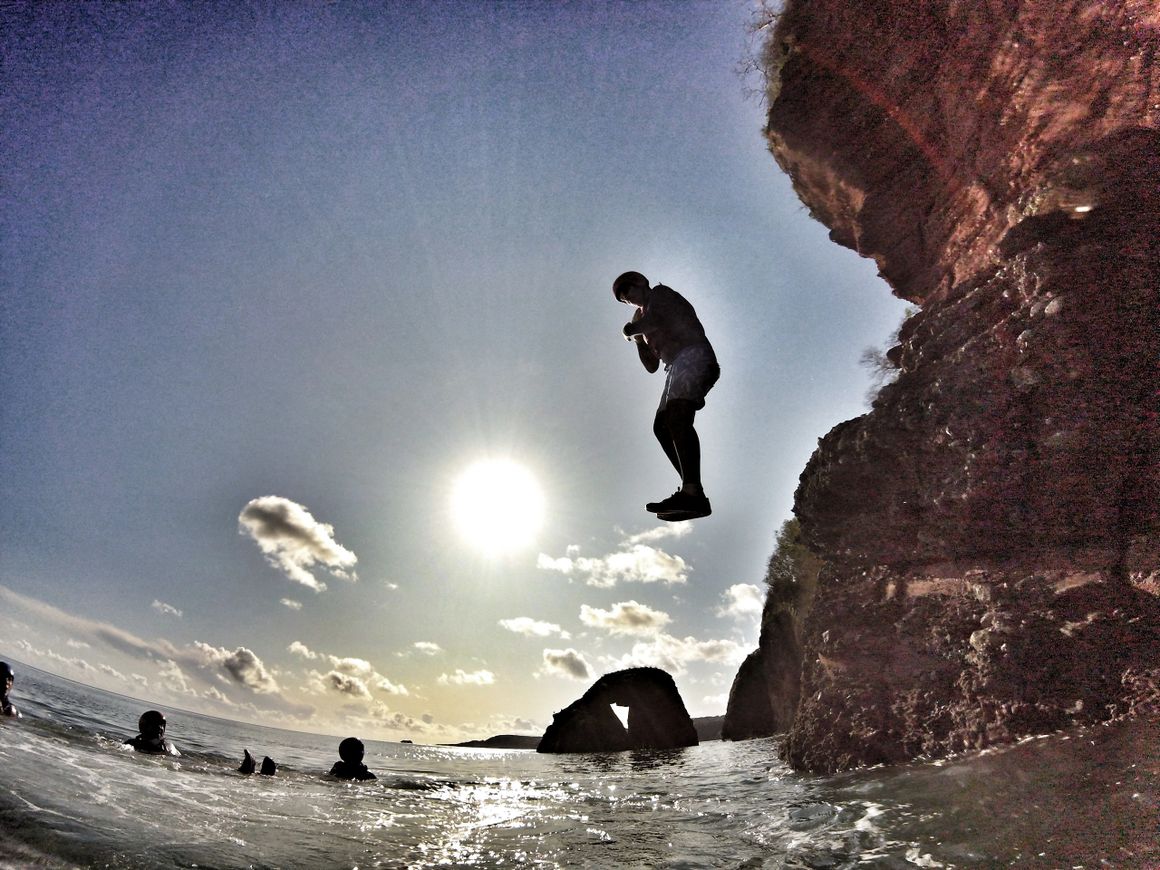 It is among the best things to do in Torquay, Devon. Further, it has the thrill climbing, highest leaps, darkest & deepest caves, impossible jumping, and a lot more.
If it is still not enough for you, they have got more. It includes cafes, pubs, and beaches. However, the coasteering includes birthdays, corporate, stags, team building, hens, family events, and couples.
It has an amazing Coasteer Safari with a high-power speed boat. However, it is a perfect adventurous package for everyone. Indulging in fun and thrill activities gives you a wonderful memories and experience as well.
1.8.  Kents Cavern Prehistoric Caves
Kents Cavern is the Torquay's cave system, lies in Devon, England. The cave is best recognized for its wonderful geological features and archaeological as well. Since 1952, it has been the part of Site of Special Scientific Interest, geologically. Also since 1957, it has been the part of Scheduled Ancient Monument.
The site is spread in the area of 183,000 sq ft. It is a significant site of Stone Age in Europe. Also, it is a must visit site for the tourists. When you visit this site, you will feel like visiting the ancient time of early humans. It is an adventurous site to explore its features.
You can enjoy every bit of early humans' days. It includes shaping the tools, fire making, hunting the animals, etc. Moving forward, you will find four hundred million years old rocks.
Moreover, all the tours are guided in the cave. Your tour guide will help you travel around the cave and have the best experience.
2.    Conclusion
The Torquay is a fantastic town in Devon, England, UK. It is famous for having fun with families and friends. People often visit this place for vacations and to enjoy some thrill. The town has a decent environment and amazing moderate temperature.
It has beautiful environment with so many beaches makes it more beautiful. However, it is an interesting and adventurous place. This allows us to have fun, and fun, and more fun.
It is packed with amazing thrills. Activities like climbing, jumping, and swimming are adventurous. In addition with calm activities, like treasure hunting, touring, and fishing trips.
This place has something for all ages. Whether, you are a kid, teenager, or adult, do not bother. Just pack your bags and take advantage of this wonderful town's adventurous activities.