The theme parks in Queensland are famous throughout Australia. These parks are blessed with spectacular beauty, and visitors from all over the world visit them. They offer thrilling rides and joyful roller coasters.
1. Theme Park in Queensland – 8 Best Parks To Visit!
There are various theme parks in Queensland. Below is the list of the eight best theme parks in Queensland:
1.1. Dreamworld
The Dreamworld is the best theme park in Queensland. It is situated on the Gold Coast, Queensland, Australia. The park is better known for being the largest park in Australia. Further, it has more than forty attractions and rides. However, the park was officially established on December 15, 1981.
In 1974, Tony Longhurst and John Longhurst put their dreams of establishing a theme park into practice. Tony Longhurst became the winner of the Bathurst 1000 twice. John Longhurst is better known as the father of the Australian water ski Champion. They bought land of 85 hectares next to the Pacific Motorway in Coomera.
However, they spent about two years making the Murrissipi River. They both work for twelve hours for two years. Nothing was spent on the designers who designed this park. These designers were working on Walt Disney World and Disneyland's designs. At that time, it was part of an Australian architect's collection to mimic the buildings.
The park's initial attractions include a Baldwin Locomotive, Captain Sturt Paddle-wheeler, and Australian Koala Theatre. Moreover, IMAX Theatre and Model T Fords were also included. The park has constantly been evolving since 1981.
In 1982, the latest theme region, Country Fair, was opened. Further, two more new themed locations were started. These were the Blue Lagoon Waterpark and Village Green. 1986 Gold Rush Country, a new themed area, was built. Later, the Music Bowl was also opened in the same year.
1.1.1.  Themed Areas in Dreamworld
Dreamworld has many themed areas. These themed areas own different amazing mid to thrill-level rides.
Given below is the list of themed locations in the Dreamworld:
Main Street – 1981
Gold Rush Country – 1986
Ocean Parade – 1993
Tiger Island – 1995
Kenny and Belinda's Dreamland – 1999
Corroboree – 2001
ABC Kids World – 2005
WhiteWater World – 2006
1.2. Warner Bros. Movie World
The Warner Bros. Movie World is situated on the Gold Coast, Queensland, Australia. It is a brilliant and famous theme park in Australia. The Village Roadshow Theme Parks do the park ownership management.
However, the park was established on June 3, 1991. The theme is based on movies, as its name suggests. It is Australia's exclusive movie-themed park.
Also, the park is Warner Bros.'s oldest park worldwide. On average, nearly 1.4 million visitors went to this park as of 2016.
At the end of the 1980s, the Village Roadshow purchased a failed film studio. It was bought along with adjacent land. They jointly ventured with Warner and Pivot Leisure to turn this land into a theme park.
The Universal Studios Hollywood inspired the layout of this new park. Also, the design was based on Disney-MGM Studios Theme Park. C. V. Wood designed the form of this unique park. Its opening attractions were built to show the guests 'behind the scenes' of filmmaking.
1.2.1.  Attractions in Movie World
The park's new attractions include properties related to DC and Warner Comics. It is one of the most famous tourist theme parks in Australia. It has various attractions, including thrill rides and exciting family attractions.
Below is the list of family rides:
Unnamed Wizard of Oz Coaster
Junior Driving School
Looney Tunes Splash Zone
Road Runner Roller Coaster
Justice League: Alien Invasion 3D
Below is the list of thrill rides:
Superman Escape
Batwing Spaceshot
Green Lantern Coaster
DC Rivals HyperCoaster
Wild West Falls Adventure Ride
Doomsday Destroyer
Scooby-Doo Spooky Coaster
Unnamed Surfrider Relocation
1.3.  WhiteWater World
The WhiteWater World is mainly a water park. It is in the Dreamworld, Coomera, Gold Coast, Queensland, Australia.
However, it is a seasonal water park. Ardent Leisure is the operator and owner of this park. After many years of building, the WhiteWater World was officially opened to the public on December 8, 2006.
It has some unique themed attractions. These are based on ten beach cultures of Australia. Constructing these attractions took about 56 million Australian dollars.
Further, these attractions include The Rip, Wiggle Bay, The Green Room, Cave of Waves, and Super Tubes Hydrocoaster. Moreover, the Pipeline Plunge, The BRO, and the Temple of Huey are also included.
1.3.1. Water Park Project
In 2004, the planning for building a water park was started by Macquarie Leisure. He wanted this park to be located beside the Dreamworld theme park of the same company. Stephen Gregg and Bob Tan visited worldwide water parks to make the best. So, it can have the most exciting water rides.
Greg Yong is the chief executive officer of Dreamworld Park.
On November 28, 2005, Leisure announced investing 56 million dollars in the water park project. Initially, the park had ten attractions. These were the water rides and combined water slides.
In September 2014, a two-person tube slide was also added to the park. It was named Triple Vortex.
1.4. SeaWorld
SeaWorld is a marine and theme park on the Gold Coast, Queensland, Australia. It offers beautiful animal exhibits and impressive rides. Also, its emphasis is on the conservation and rescue of injured and orphaned wildlife.
Meanwhile, this park is commercially connected to the Wet'n'Wild Gold Coast and Warner Bros. Movie World. The connection is based on Village Roadshow's theme park division.
Also, the park has a total of fourteen attractions. It includes three roller coasters and one water ride with several swimming pools and other rides.
Keith Williams was the founder of the SeaWorld theme park. Initially, it was the Surfers Paradise Ski Gardens. In 1971, the Ski Gardens were shifted to The Spit's land. Significant work and much effort were required to construct the latest ski lake. After a year, the Surfers Paradise Ski Gardens was renamed SeaWorld.
1.4.1.  Attractions in the SeaWorld
Many new attractions were added to the park when it became the SeaWorld. Dolphins, a swimming pool, marine displays, and many others were introduced. After a decade, several other changes were made.
It includes Marineland, a competitor marine park, and animal exhibits in SeaWorld. However, it facilitates many food outlets, restaurants, and gift shops.
In 1984, the park was sold by Keith Williams to the Pivot Leisure Property Development Group. Further, Pivot constructed the 402-room Sea World Nara Resort. It was developed in joint management with Nara Hotels Japan and SeaWorld Property Trust.
The SeaWorld train was started in 1975. Also, in 1978, the Viking's Revenge Flume Ride was started. Further, the first roller coaster in the park was added in 1981. Another roller coaster named Corkscrew was started in 1982.
Later, the SeaWorld Monorail System was begun in 1986. It was the first monorail in Australia. Moreover, the Sky High Skyway, Sea World Helicopter, and many other attractions have been introduced since then.
1.5.  Wet'n'Wild Gold Coast
The Wet'n'Wild is a water theme park in Australia. It is situated in the Oxenford, Gold Coast, Queensland, Australia. However, the park is executed under the ownership of the Village Roadshow Theme Parks.
On the record, in 2019, the park became the most visited water theme park in Australia. It received 1,120,000 visitors in that year. Also, it became the nineteenth most visited park in the world.
However, the park stays open throughout the year. Along with it, all the pools, slides, and attractions remain open. Also, it comes under the several parks executed globally by the Wet'n'Wild brand. The park was officially established on September 30, 1984.
1.5.1. Attractions in Park
Former Park was known as Cade's County. This park was an innovation of Colin Herring. Cade's County was developed after many years of exploring hundreds of water parks worldwide.
Most of the primary pools were improvements on similar famous attractions and rides. These rides were found in the parks like NaraWorld Japan, Wet'n'Wild Orlando, and more.
However, the park was formed in 1982. At the time of construction, it was the biggest water park in the entire Southern Hemisphere. Moreover, the former name Cade's County was named after the son of Colin Herring, Cade.
When the park started operating under the Village Roadshow Theme Parks, the name of the park was changed to Wet'n'Wild Water World. So, it can match with the Warner Bros. Movie World and SeaWorld theme parks.
2013 the park's name was changed again to Wet'n'Wild Gold Coast. However, this time, it was changed to make this park distinguishable from Wet'n'Wild Sydney. It has brilliant attractions and rides. The latest rides and attractions are constantly added to the park every few or a couple of years.
1.6.  Aussie World
Aussie World is a family amusement theme park. It is a medium-sized park that is situated on the Sunshine Coast, Queensland, Australia. The park is privately owned and has more than thirty attractions and rides.
In the year 2005, the park renovated its previous rides. These rides include the Rock 'n' Roll Rebel Dark Ride, Wild Mouse Roller Coaster, and the Octopus Ride.
Another renovation was held in 2007, in which the front entrance of the part was entirely redeveloped. The two shiny barber poles were manufactured. Also, a twin-peaked yellow and blue shade was developed at the door. The park announced the development of two new rides on March 7, 2011.
However, the two rides were Zamperla Disk'O and a Log Ride attraction. On May 9, 2011, it announced two more rides to be constructed. The Zamperla Disk'O was also known as Redback. It was started on April 1, 2011. In September 2011, the Giant Slide was also begun.
Further, the Plunge water ride was started on December 7, 2011. These three attractions of the year 2011 cost 2 million dollars to manufacture. Initially, it also had a landmark named Ettamogah Pub. Later, it was closed and was changed into The Pub at Aussie World in 2017.
1.6.1. Attractions in Park
The remaining work of this pub was completed in the middle of 2018. The Aussie World has many attractions. A few of them are:
A swinging chair ride is known as The Wasp.
An array of mirrors is known as Crazy Mirrors.
A wave swinger ride, known as Ballroom Blitz.
A spinning disco-themed ride known as Dark Rebel.
A motion simulator ride is known as a Voyager Simulator.
A swinging ship based on a spacecraft theme, known as Space Shaker.
1.7.  Nickelodeon Land
The Nickelodeon Land is a themed location at the Sea World Theme Park. It is mainly designed for children and is located on the Gold Coast, Queensland, Australia. This area has six rides and several other attractions. In 1981, Sea World Park started a carousel.
This themed area was officially opened in October 1999. Before the licensed theming, this land was known as Cartoon Network Cartoon Beach from 1999 to 2007.
1.7.1. Attractions in the Park
The Beach Break Bay Park was replaced again with Nickelodeon Land in 2015. Moreover, the ride's history is given below.
The Coca-Cola Carousel was from 1981 to 1999.
Woody's Beachtrucks, Air-See Rescue, Dexter's Time Machine, Toon Point Lighthouse, and Airborne Barrel Brigade from 1999 to 2007.
Oscar's Sweep the Beach, Cookie Monster Cup Carousel, Big Bird Bounce, Grover's Flight School. Also, Bert and Ernie's Big Dive, Elmo's Sea Safari, and Zoe's Sub Splash from 2007 to 2011.
Beach Ball Bounce, Air Sea Explorer, Carousel, Sea Climb, Beach Dump Trucks. Also, the Beach Break Bay Water Play Area from 2011 to 2015.
Donatello's Ninja Flyers, Bikini Bottom Crosstown Express, Boots' Banana Boogie, and Dora's Fiesta Carousel. Also, the Patrick's Jellyfish Frenzy and SpongeBob's Boating School Blast in 2015.
1.8.  Cairns Wake Park and Aqua Park
The Cairns Wake Park is a water sport-themed park. It is situated in the Cairns city of Queensland, Australia.
However, the park offers various water sports for every age. This park facilitates an artificial lake. Further, the lake offers many water sports for thrill-ride seekers.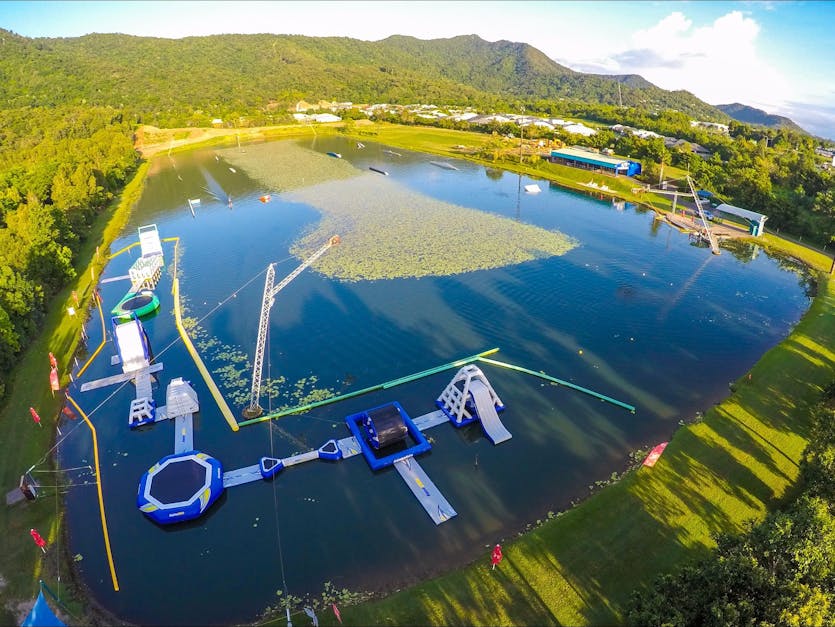 1.8.1. Attractions in the Park
These sports include knee-boarding, waterskiing, wakeboarding, and many others. Moreover, these sports are available from beginner level to advanced professional level. Also, it has an open café that provides a great view of the terrace and offers delicious food.
The Aqua Park of the Cairns has exciting rides for solo travellers and families. It also has a swimming lagoon with a peaceful atmosphere. Moreover, it is an excellent place for a day out with family and friends. Celebrating birthdays, anniversaries, and special occasions is exciting and fun.
2. Conclusion
Queensland is a famous place for its incredible theme parks. The fantastic rides and splendid attractions lure visitors from all over the world. Many of the attractions in these theme parks are established after wandering famous gardens around the world.
This place has something exciting for each age. Also, it facilitates many impressive rides and attractions. These rides and attractions are designed so that everybody can enjoy them. However, kid's sections, family rides, and interests are constructed differently. These efforts are made so you can enjoy your time with your family and friends however you want.
Most theme parks are privately or partially owned and managed by the Village Roadshow theme parks. It is an organization that runs many theme parks in Australia, either privately or in joint management. The income for the maintenance of these parks comes from tourism. If the number of visitors increases, the payment will also be higher.
However, many theme parks are jointly managed with the government, and numerous are privately owned.
Narayani Bhardwaj is a young and ambitious part-time Web Content Writer in the Icy Tales company. She completed her BCA in Computer Science. Currently, she is pursuing MCA at Chandigarh University. In addition with, she visited a several places and wants to tour the best of the world. She is passionate about travelling either it is natural phenomenal places or the downtowns across the countries. She writes with her passion and desires of travelling the beautiful places in the world. The places merely not include only travelling, the articles she writes, are strictly professional with a touch of an individual's sincerity and feelings on what they are looking for. She has upskilled herself in the field of writing for her audience, and ensures the quality of the content which is relatable in executive as well as distinctive manner. Narayani has worked with a several companies before as a Content Writer and Subject Matter Expert. She has more than a year of experience in the field of Content Writing. Looking forward for great and more opportunities to expand her skills and knowledge.