The Full-Day Bruny Island Cruises Day Tour from Hobart is widely welcoming its visitors to experience an exhilarating sightseeing cruise tour that is organized on various dates from 07:45 a.m. and departing from the Franklin Wharf in the city of Hobart.
Experience the breathtaking power of the Southern Ocean with this 3-hour magnificent coastal outback cruise around Bruny Island where you get to explore the beautiful remote coastlines, and pristine beaches, and observe the wildlife in its natural habitat.
Explore the deep sea caves and navigate along sheer cliff faces with the custom-built eco-cruiser where you also get to relish a warm morning tea along with a scrumptious lunch on the island, treating your taste buds to the best local cuisine and flavors.
Inside the Full-Day Bruny Island Cruise from Hobart
Admire the natural beauty of Tasmania's Bruny Island, on this exhilarating day tour from the city of Hobart
It's a three-hour eco-cruise that will tour you around the Bruny Island. Don't miss the chance to explore the native wildlife around the island including whales, sea birds,  dolphins, and a herd of fur seals relaxing by the shore.
You get the chance to see these creatures when the cruise moves past steep cliffs and deep sea caves, so keep your cameras ready!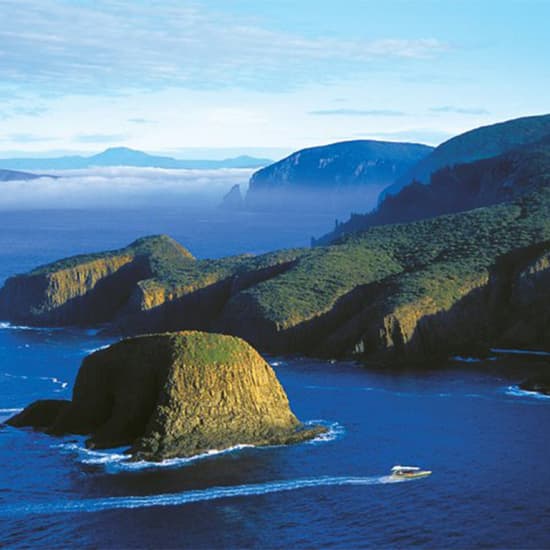 Enjoy your morning tea at 10.30 am served with freshly baked blueberry muffins while witnessing the spectacular coastal scenery and wilderness of Bruny Island.
Also, enjoy a fresh lunch at 2 pm and the best part is that vegan, vegetarian, and gluten-free meal options are available on board.
The cruise tour also includes a live commentary, giving you all an insight into the iconic attractions you are crossing, the heritage, the nature, the culture, and Bruny Island cuisine.
Additional Information
Get set to discover Tasmania's Bruny Island with a Full-Day Bruny Island Cruises Day Tour from Hobart.
This splendid day tour is taking place from Franklin Wharf in Hobart, which is arranged on various dates and the cruises will depart exactly at 07:45 a.m.
The custom-built boats hold a maximum of 43 people and feature safe and comfortable seating arrangements, making them ideal for witnessing the picturesque coastline of Bruny Island.
Where to Buy Tickets?
Get the tickets to this wonderful full-day tour on Fever and experience watching the panoramic views of Bruny Island.
To book your slots, you can simply visit the official website Feverup.com, or click here to check the available dates and buy the tickets directly from the ticket selector.
Tickets to this day tour are available for adults between 17-99 and a single ticket is priced @ $251.43; further, all ticket sales are finalized for this tour and no ticket will be refunded, modified, or changed.
Get Ready for a Sightseeing Day Cruise at the Bruny Island from Hobart!
What:

Bruny Island Full Day Sightseeing Cruise Tour from Hobart.

When:

Numerous dates are available to choose from Fever.

Where:

Departing from Franklin Wharf, Hobart, 7000.

Time:

07:45 a.m.

Tickets:

Available on Fever.
Narayani Bhardwaj is a young and ambitious part-time Web Content Writer in the Icy Tales company. She completed her BCA in Computer Science. Currently, she is pursuing MCA at Chandigarh University. In addition with, she visited a several places and wants to tour the best of the world. She is passionate about travelling either it is natural phenomenal places or the downtowns across the countries. She writes with her passion and desires of travelling the beautiful places in the world. The places merely not include only travelling, the articles she writes, are strictly professional with a touch of an individual's sincerity and feelings on what they are looking for. She has upskilled herself in the field of writing for her audience, and ensures the quality of the content which is relatable in executive as well as distinctive manner. Narayani has worked with a several companies before as a Content Writer and Subject Matter Expert. She has more than a year of experience in the field of Content Writing. Looking forward for great and more opportunities to expand her skills and knowledge.