Embark on a unique adventure with the Melbourne City Sights Kayak Tour in the dynamic city of Melbourne. This tour departs from the Richmond Rowing Club, 7 Boathouse Dr, and offers various dates starting from November 29th, which you can select during the purchase on Fever. The tour sets off at 2:00 p.m.; lasting for 1 hour and 45 minutes, 
This kayak tour promises a captivating experience as you paddle through Melbourne's waterways, taking in the urban scenery.
Don't miss this opportunity to discover Melbourne's city sights from the water.
The Melbourne City Sights Kayak Tour
The Melbourne City Sights Kayak Tour provides a fresh perspective of the city, combining exercise, sightseeing, and a dash of adventure.
With the Yarra River as your guide, you'll be treated to remarkable views of Melbourne's iconic skyline. 
Paddling along the river, you'll gain a unique vantage point to admire the city's historic landmarks, leaving you in awe of the stunning scenery.
The tour also caters to beginners with a kayak lesson from a skilled instructor, ensuring safety and helping you grasp the basics of kayaking.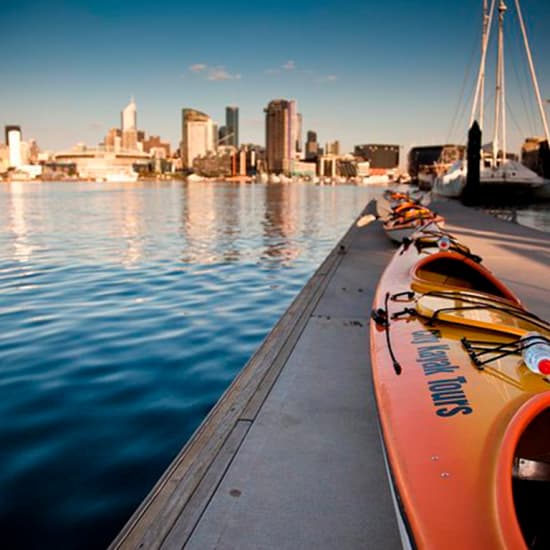 Whether you're an experienced paddler or a first-timer, this 1 hour and 45 minutes adventure guarantees a tranquil experience on the Yarra River and a short break at a beautiful marina in Docklands.
You will be provided with kayaking gear, and bottled water, and a friendly guide will be there to accompany you
Additional Information
Please note that this tour is not wheelchair accessible due to the nature of kayaking and the water-based activities involved. The age requirement for this tour is 10 years and above. 
The Melbourne City Sights Kayak Tour runs on various dates starting from November 29th, so you can choose a date that suits your schedule during the purchase process on Fever with the tour departing at 2:00 p.m. 
Keep in mind that this experience is weather-dependent and if the tour has to be canceled due to poor weather conditions, you will be offered the option to reschedule for a different date or receive a full refund. 
Pregnant women, individuals over 260 lbs (118 kg), and those over 75 years of age are not recommended for this tour due to safety considerations.
Tickets
To secure your spot for the Melbourne City Sights Kayak Tour, you can purchase tickets on Fever and the cost for the Melbourne City Sights Kayak Tour for one person is $83.52, which includes kayaking gear, bottled water, a short lesson, and guidance from a friendly guide. 
Be sure to book your tickets well in advance, as this unique experience tends to be popular and spots may fill up quickly.
Tickets for this journey are available on Fever, making it easy to secure your spot for a fantastic kayak adventure in the city. 
Are You Ready for the Melbourne City Sights Kayak Tour? 
What: City Sights Kayak Tour in Melbourne.
When: Various dates starting November 29th and you may select a date during ticket purchase.
Where:  Meet at the Richmond Rowing Club, 7 Boathouse Dr, and this is the same place where you will return after the tour.
Timings: Departure at 2:00 p.m.
Tickets: Purchase on Fever.
Sarah is a literature enthusiast and an aspiring psychologist. Currently pursuing her master's degree in Clinical Psychology after completing her undergraduate studies in Psychology, she is deeply fascinated about the human mind and behaviour . Sarah finds solace in the pages of "This is How you Lose the Time War," her favorite book, and enjoys immersing herself in the realms of pop culture and Kpop music. She appreciates nature that surrounds her and seeks out opportunities to connect with it. Sarah's passion for learning about people's emotions, thoughts and behaviors, combined with her love for seeking and exploring the dynamic nature of life, allows her to provide unique perspectives on various topics, including travel secrets and current events.