Prepare yourself to join the immersive Turkish Mosaic Mini Table Lamp Workshop in Melbourne, which is taking place at the Art Masterclass on Wednesdays to Mondays at different time schedules.
Experience Anatolia's rich cultural heritage at the Mosaic Lamp Workshop in Melbourne where you learn traditional Turkish art with a contemporary twist; the tickets are available at an exclusive price on Fever.
What to Expect at the Turkish Mini Table Lamp Workshop?
Indulge in this 2 hours and 30 minutes fun-filled workshop where you explore the wonders of Turkish mosaic art at one of the finest art classes along with professional art and craft experts.
Discover the 500-year-old craft techniques and put them to your creation which includes designing and layering the tiles; an ideal activity to enjoy with family and friends or you can even gift your loved ones a self-made beautiful Turkish lamp.
Unleash your inner artist and creatively decorate your dazzling mosaic lamp by designing it with colored and cut mosaic glass tiles, with beautiful Islamic geometric patterns.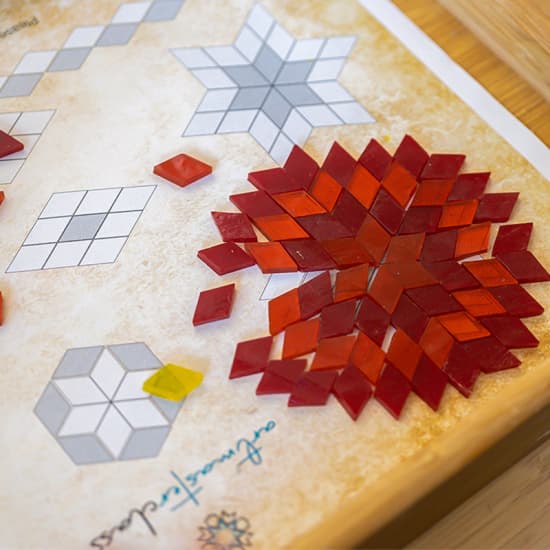 Once you are done creating your lamp, you will get all the instructions and necessary materials to complete the final product and plaster your lamp at home. Yes, you can take home your hand-made mosaic lamp!
Nibble on delicious homemade Turkish shortbread while sipping on refreshing Turkish tea and let your imagination flow wild.
Additional Information
Mark your calendar to participate in the Turkish Mosaic Mini Table Lamp Workshop, which is taking place at the Art Masterclass in Melbourne.
The unique workshop is organized on various dates and multiple time slots are available to join the workshop at your convenience.
This workshop is a suitable event for people above 8 years and children must be accompanied by an adult.
The workshop is perfect for beginners and all you have to bring to the workshop is your creative self.
Immerse yourself in the Turkish culture and get to know the significance and beauty of the stunning Turkish mosaic lamps.
Different Time Slots for this Workshop are as follows:
Monday & Wednesday: 1:00 pm.

Thursday & Friday: 1:00 pm & 5:00 pm.

Saturday & Sunday: 10:00 am, 2:00 pm, and 6:00 pm.
Where to Buy Tickets?
Join this spectacular Turkish-inspired Mosaic Mini Table Lamp Workshop with the professionals at Art Masterclass in Melbourne where you will learn some amazing techniques to prepare your miniature Turkish mosaic table lamp.
To be a part of this event, buy your tickets now at an exclusive price on Fever, and you can simply visit the official website Feverup.com and reserve your slots now.
The general admission ticket for the workshop includes one person and is priced at $89.
Take a Look at the Quick Details about the Turkish Mosaic Lamp Workshop in Melbourne!
What:

Mosaic Mini Table Lamp Workshop in Melbourne.

When:

Numerous dates are available for the workshop.

Where:

Art Masterclass, located at Melbourne's 92/94 Elizabeth Street.

Time:

Different time slots are available.

Tickets:

 Available on Fever.
Narayani Bhardwaj is a young and ambitious part-time Web Content Writer in the Icy Tales company. She completed her BCA in Computer Science. Currently, she is pursuing MCA at Chandigarh University. In addition with, she visited a several places and wants to tour the best of the world. She is passionate about travelling either it is natural phenomenal places or the downtowns across the countries. She writes with her passion and desires of travelling the beautiful places in the world. The places merely not include only travelling, the articles she writes, are strictly professional with a touch of an individual's sincerity and feelings on what they are looking for. She has upskilled herself in the field of writing for her audience, and ensures the quality of the content which is relatable in executive as well as distinctive manner. Narayani has worked with a several companies before as a Content Writer and Subject Matter Expert. She has more than a year of experience in the field of Content Writing. Looking forward for great and more opportunities to expand her skills and knowledge.