The tourist attractions in Cairns provide you with an exhilarating experience. Cairns is one of the most famous places in Australia for traveling. It has around the world's best heritages and phenomenal nature experiences. Cairns is also famous for its Night Markets. It gives an amazing, exciting view to the visitors.
In addition to its renowned natural beauty, this city is dazzling itself. You will find beautiful beaches, relaxing parks, and luxurious resorts.
In provides many more exceptional tourist attractions in Cairns. However, it has many famous tourist attractions and things to do. It's a must-visit place for exploring its tropical beauty.
1. Tourist Attractions in Cairns- Famous Places to Visit
There are many places to visit, and one of the best tourist attractions in the world. The list of 10 famous tourist attractions in Cairns is given below:
1.1. Green Island
The Green Island is one of the renowned islands in the Cairns region. It was originally known as Dabuukji. The place is mainly famous for its clean and pure blue water that awaits you to enjoy swimming and diving in. The semi-submarine ride is also a popular activity to do here. It also includes a Glass Bottom Boat ride.
This island is known to have been founded about six thousand years ago. The local language speakers suggested that the island is linked with the Gungganyji language. For these people, this island is known as Dabuukji. Previously, it was said that the island was 4 times greater than it is now.
This island is located twenty-seven kilometers offshore of Cairns in Queensland, Australia. Green Island is one of the most renowned places in the Great Barrier Reef. It is packed with water sports, and a few adventurous activities. You will find here various corals, rainforests, and white beaches on this Green Island.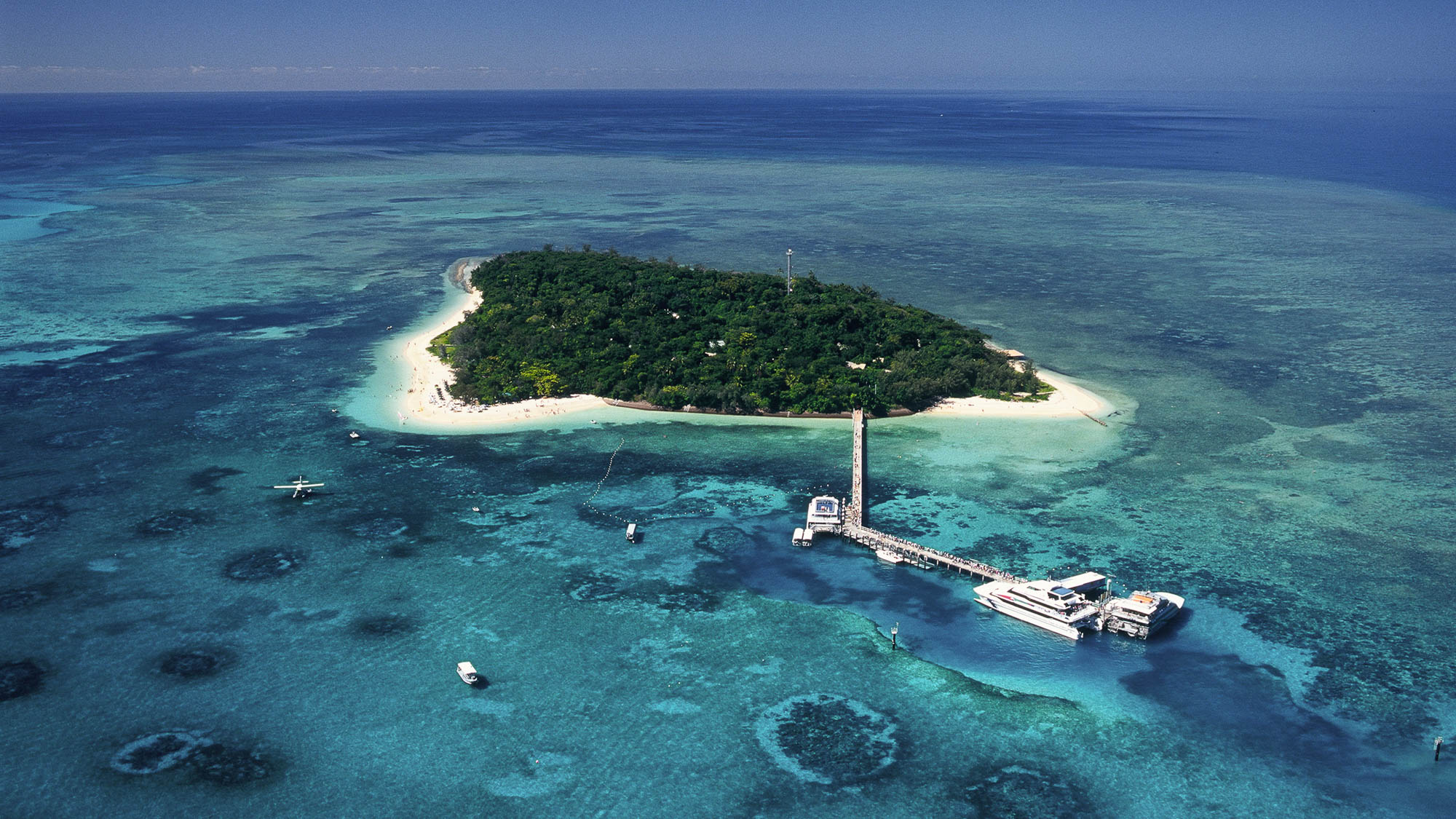 It is an amazing place to indulge yourself in snorkelling, diving, swimming, and many other water activities. You can enjoy the underwater life.
Experience the beauty inside the water with the semi-submarine ride. It facilitates live commentary. Here, you can explore the knowledge of corals provided by the hosts.
You can explore your time while indulging in live fish feeding. The transport for travelling here includes helicopters, charter boats, and seaplane services. The island is protected in the Green Island National Park. It is surrounded by a coral reef.
1.2. Palm Cove
The Palm Cove is an outskirt in the Cairns. This place is named after a beach that is packed with palm trees. It is spread over an area of 6.8 square kilometres. According to the 2016 census, 2,059 was the population here. Schools are not available in Palm Cove.
Trinity Beach State School is the closest public primary school in Trinity Beach. The closest public secondary school is located in Smithfield, named Smithfield State High School. The adjacent shopping centre here is located at Clifton Beach. It is spread in a small area, so it has many spectacular restaurants and two general stores.
It is also a popular tourist attraction in Cairns. It is accessible from the Daintree Rainforest and the Great Barrier Reef. It is a fantastic location for various luxurious apartments and resorts. It is mainly famous for its lined palm tree paths on primitive beaches. It gives joyful vibes to cyclists, joggers, and walkers.
Palm Cove place is also called the Spa Capital of Australia. It is fun to wander around this place with family and friends. It is a peaceful little village that is better known for its relaxing atmosphere and beautiful ambience. You can explore the native culture here at Palm Cove.
You can enjoy many adventurous sports, which include fishing and kayaking. The Esplanade is a beautiful place in Palm Cove. It is lined with the paper bark of ancient Melaleuca Trees. It facilitates world-class luxurious hotels with great ambience to have a wonderful vacation experience.
1.3. Great Barrier Reef
The Great Barrier Reef is one of the famous tourist attractions in Cairns. It is the most significant configuration of living organisms all around the world.
It is among the most appreciated tourist attractions in Cairns for its unfaltering sea, reclined peninsula, and sterling underwater coral reefs.
It is an excellent place to visit in the Cairns region of Australia. It is a decent place for vacationing with family and friends. The beautiful landscape here is appreciable. It allows you to cruise through the Great Barrier Reef's Islands. You can see the world passing away in front of your eyes.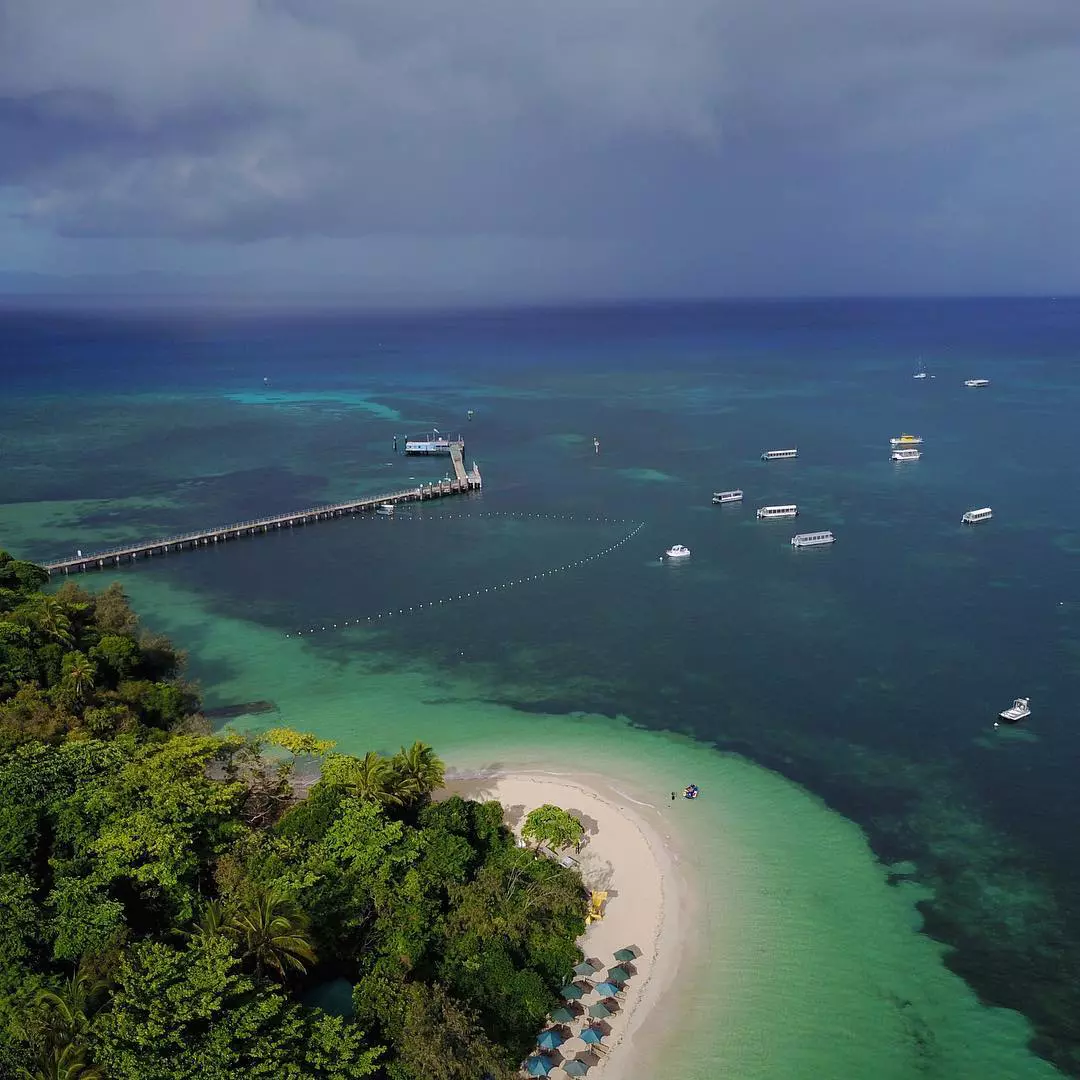 It is an alluring spot to celebrate natural beauty in Cairns, Queensland, Australia. You can enjoy the underwater views via a semi-submersible boat ride. It will be fun to pamper yourself in activities like snorkelling, diving, and swimming. You can also watch a large variety of coral reefs, namely Saxon, Hastings, and Norman.
It will be great to visit the Great Barrier Reef from the month of May to October. The temperature remains warm for swimming in this period of the year. Also, the rainfall is minimal at this time, and water ranges are high. For spending holidays, you may find the months favourable from November to May.
It allows you to have an excellent experience of taking a private tour of impressive coral reefs. It offers stunning marine life. Bushwalking is also an awesome activity on Haymans Island. It provides the best experience of skydiving in the world over the astonishing Heart Reef.
1.4. Fitzroy Island
Fitzroy Island is one of the most famous tourist attractions in Cairns. It is a continental island. It is located 29 km to the southeast of Cairns, Queensland, Australia.
According to the 2016 census, the population on this island was 44 people. This island is spread over an area of 339 hectares.
It is a vast tropical island that has a rainforest covering the area. A coral reef system surrounds it. It forms a segment of the Great Barrier Reef Marine Park. The island is packed with tropical rainforest, and the four walking tracks have been constructed here.
You will get the beautiful feeling of the peaceful breeze of the oceans almost throughout the year. It is better known to be a tropical paradise, which has many attractions itself. The attractions include two grand restaurants and a famous 100-room resort. Along with a National Park to indulge yourself in the beauty of the island.
It will be peaceful to select a resort room with a sea view. So you can enjoy the impressive natural beauty. Boat rental or taking a sea kayak to wander around the island will be a fun activity. Underwater activities like snorkelling and diving are the popular things to do here.
It offers several excellent walking trails. It is a brilliant place for nature lovers and outside players. The island was formed about 8000 years ago. It was the time of the last ice age when it got separated from its mainland. It was originally named Gabar or Koba, whereas Gabar means "lower arm."
1.5. Yorkey Knob
The Yorkeys Knob is a coastal outskirt in the region of Cairns, Queensland. It is an epic beach destination for spending your holidays joyfully. This destination will influence you to find your own nirvana on the golden fortune that lies here.
There are many picnic spots to enjoy with family. Especially the luxurious resorts that will make you feel like paradise. Lying on the beach side and spending time on a palm-frilled mattress is so much more relaxing.
Swimming in beach waters with minimum prohibitions. You can have freedom blemishing across the clean and blue water. Do adventurous activities like Sailing, Windsurfing, and many more sports activities in the Yorkeys Knob.
One of the top attractions in Cairns – the Great Barrier Reef, is closer to the Yorkeys Knob. It provides an appetizing bistro meal at Yorkeys Knob Boating Club. It is one of the finest open-air restaurants in Yorkeys Knob. It is also a famous kite surfing destination.
It offers many city tours, car rentals, and pick-ups. To explore this beautiful spot without many concerns about travelling.
A Cairns-based fisherman George Lawson gave the Yorkeys Knob its name. According to the 2011 census, the population of the island was 2,766 people. It was changed in the year 2016 from 2,766 to 2,759 people.
Trinity Park, Barron, Coral Sea, Caravonica, Smithfield, and Holloway Beach are some popular suburbs located around Yorkeys Knob. This place facilitates a bottle shop, bakery, supermarket, post office, and many other useful shops.
1.6. Barron Falls
The Barron Falls is a vertical league cascade waterfall. It is situated on the Barron River in the Cairns region. This waterfall is located in the Barron Gorge National Park. It is closer to the beautiful green rainforest. It gives an amazing view when the waterfalls among the greenery of the rainforest.
It is fixed among the rocky curves and a shade of eucalyptus trees. It is a spectacular waterfall to watch that lures the visitors. Especially nature lovers from all around the world. It looks more beautiful and attractive during the rainy season and gives phenomenal vibes. It is an excellent spot for capturing the grand beauty of nature by photography enthusiasts.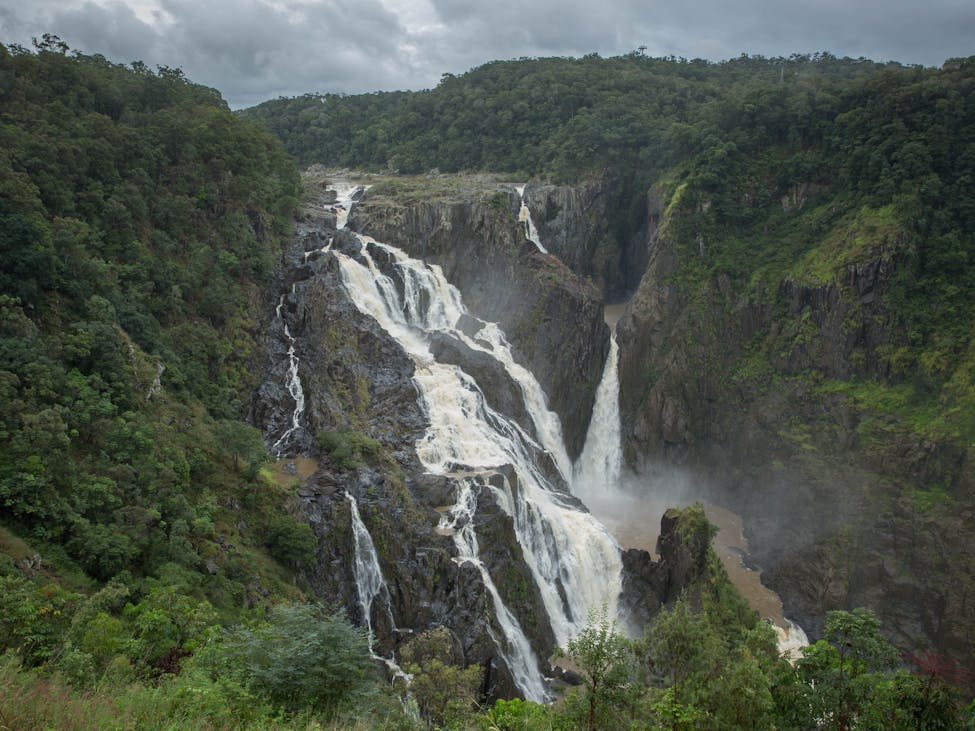 You can view the entire waterfall while taking a lookout above the forest floor. You can do the broad walking through the canopy of eucalyptus trees. It allows you to indulge yourself in activities like rafting at the foot of waterfalls. It will give you a wonderful lifetime experience.
Barron Falls was named after a chief clerk of Police in Brisbane. He was named Thomas Henry Bowman Barron. These waterfalls are among the best tourist attractions in Cairns, Queensland, since the 1890s. The rainy season will be the best if you want to look at the best water levels in the falls.
During monsoons, the water level increases in the waterfalls and gives gorgeous views. It can be accessed via the Kennedy Highway. It crosses the River Barron over the falls. The famous Skyrail stops at two stations, Barron Falls and Red Peak.
1.7.Barron Gorge National Park
The Barron Gorge National Park is one of the famous national parks in Cairns. The park is located in the Barron Gorge locality. It is a segment of the Wet Tropics World Heritage Area. It extends from Placid Lake to the Wet Tropics World Heritage Area's Atherton Tableland.
It is believed that the Barron Gorge was formed around four hundred years ago. The Barron Gorge National Park was a segment of the Gondwana Supercontinent land.
This national park fascinates people to visit this place due to its natural beauty. Its elegant beauty includes attractions like cascading Barron waterfalls, tropical wildlife, and majestic green mountains.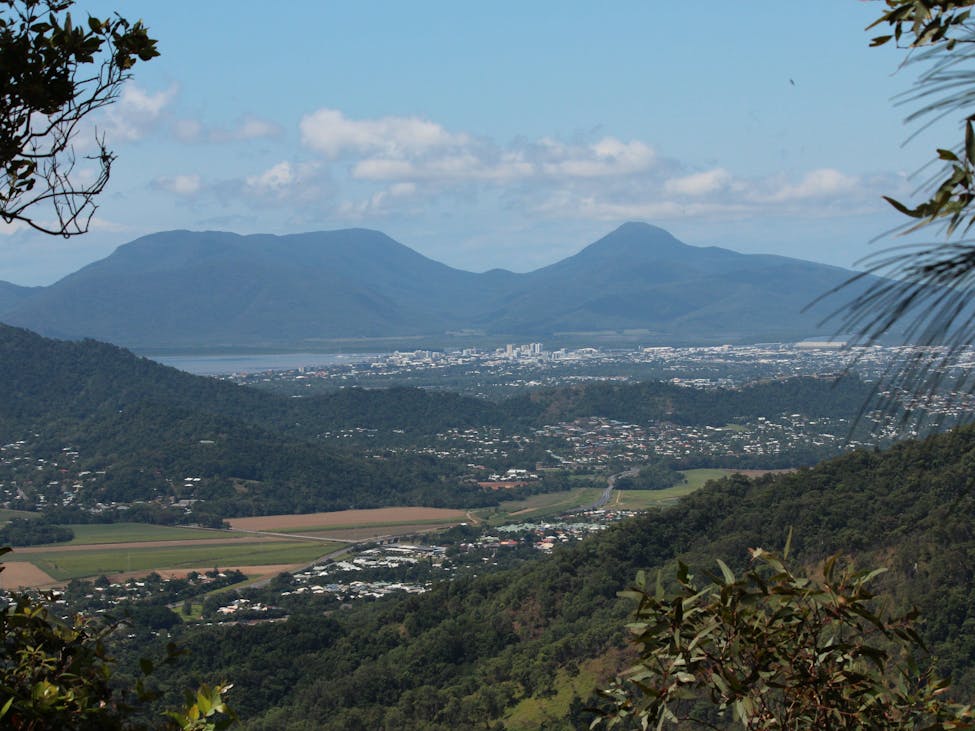 The combination of Barron River and the tropical rainforest together form attractive Barron Falls. This national park is famous as one of the ancient lands. It is an old land, so it is said the Djabagandi Bama, the aboriginal people used to live here.
Most of the walking trails are a piece of the Bama Trails. These trails were constructed earlier. This park is also renowned for its evolutionary history, natural beauty, and extraordinary tropical rainforests. The park is accessible throughout the year. You can visit it anytime. It facilitates picnic areas as well as camping sites.
This beautiful park is surrounded by tumbling, exceptional fauna, fascinating waterfalls, and dense green mountains. It is better known as a traditional site. It is a top-notch place for history enthusiasts.
It includes various old hiking paths related to the Bama Trails. It has a Skyrail cableway for visitors that crosses over the Rainforest.
1.8. Cairns Aquarium
The Cairns Aquarium is among the top tourist attractions in Cairns. It is the first public aquarium in Australia, constructed in the last eighteen years.
It was established on September 18, 2017. The Aquarium is located at 5 Florence Street in Cairns City. It has a vast range of animals that is about sixteen thousand and ten ecosystems.
This aquarium is comprised of 71 displays that showcase a variety of rare specimens. These are found in North Queensland's marine ecosystem and the Great Barrier Reef's underwater ecosystem. This wonderful aquarium represents top habitat talks, animal presentations, and activities like daily shark feeds.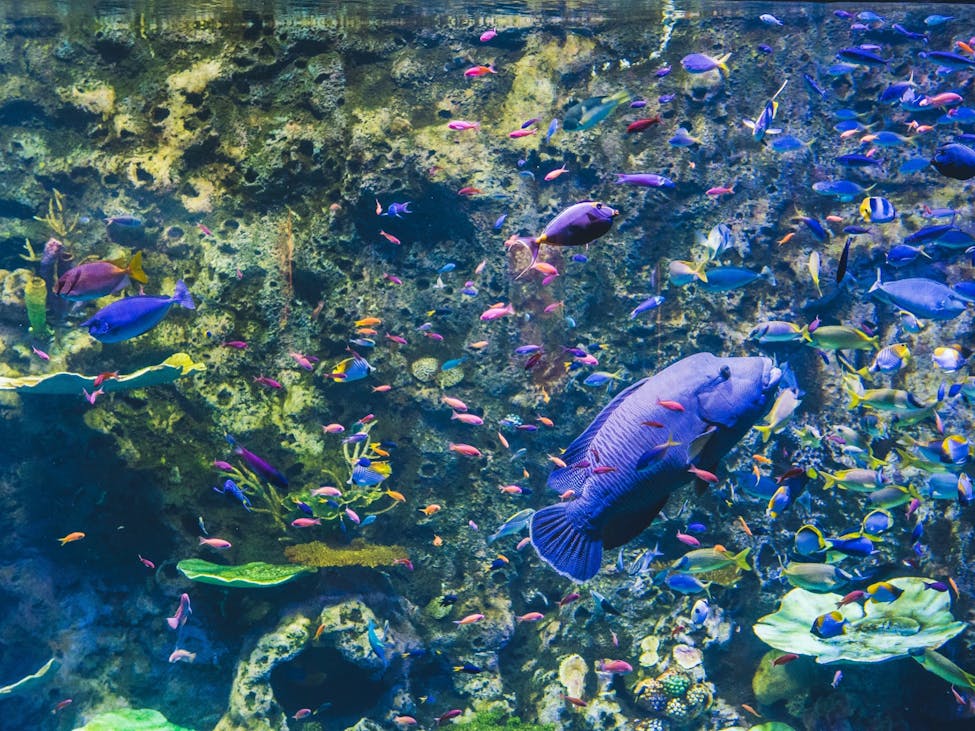 You can also participate in daily shark feed activities. It has a glorious museum that holds development programs and in-house research. Here, you can explore your knowledge of how these animals are reproduced. Accessing luxurious hotels and resorts is convenient from this place.
You can also enjoy the holiday apartments in Cairns. It is renowned for being the World's only aquarium that is dedicated to the habitat.
Students or anyone that would like can take the educational tours of this aquarium. The rare endemic species it shows are ribboned pipefish, jade tree monitors, and scalloped hammerhead sharks. Moreover, Jardine River Painted Turtles, etc.
For the Project of the Year, the Cairns Aquarium won the Master Builder Queensland Award in 2018. Another award for Leisure Facilities of more than $10 million. It offers an on-site restaurant. You can grab a meal after the aquarium tours. One must take a dark experience of visiting the Cairns Aquarium after-hours.
1.9. Daintree Rainforest
The Daintree Rainforest has located 105 km to the North of Cairns, in Queensland. The Daintree Rainforest is one of the most travelled tourist attractions in Cairns.
The rainforest is surrounded by beautiful greenery from every side. It is an amazing place to explore rare plant species and a few varieties of native animals.
A guided night walk is one of the best-recommended activities to do here. It provides you with a glance at the Australian wildlife wandering gallantly in the forest. You can go watch the saltwater crocodiles by joining the river cruise across the Daintree River.
Ziplining across the lush green rainforest is another fun activity to do here. The Daintree is a colossal recline of Australia's tropical rainforest. It allows for various adventurous activities. The best time to visit this rainforest starts in the month of May. It lasts till the month of September.
It is an appealing place for all adventure lovers. It offers fascinating views of the natural greenery of the rainforest. It is home to many unusual creatures and plants. The Daintree region is comprised of white sandy beaches, tropical rainforests, and fringing reefs.
In 1988, UNESCO listed a large part of the Daintree Rainforest as the Wet Tropics of Queensland World Heritage Site. This rainforest is named after the regional Daintree River. The name Daintree was raised in honor of an Australian photographer and geologist named Richard Daintree.
The Daintree Forest is composed of several State Forest areas. The popular Daintree National Park and a few privately owned lands.
1.10. Kuranda Koala Gardens
The Kuranda Koala Gardens is one of the famous tourist attractions in Cairns to visit. It is located in the prominent village of Kuranda rainforest. It's a brilliant spot to explore the wildlife. This place is home to various Australian native animals. It includes freshwater crocodiles, quokkas, wallabies, gliders, and wombats.
It tenders a significant educational and recreational experience. You will get a chance to learn significantly about the primary creatures of Australia. This Koala Garden is an exclusive wildlife attraction. It allows you to pick up a great python or hold a Koala to get yourself clicked in the photos.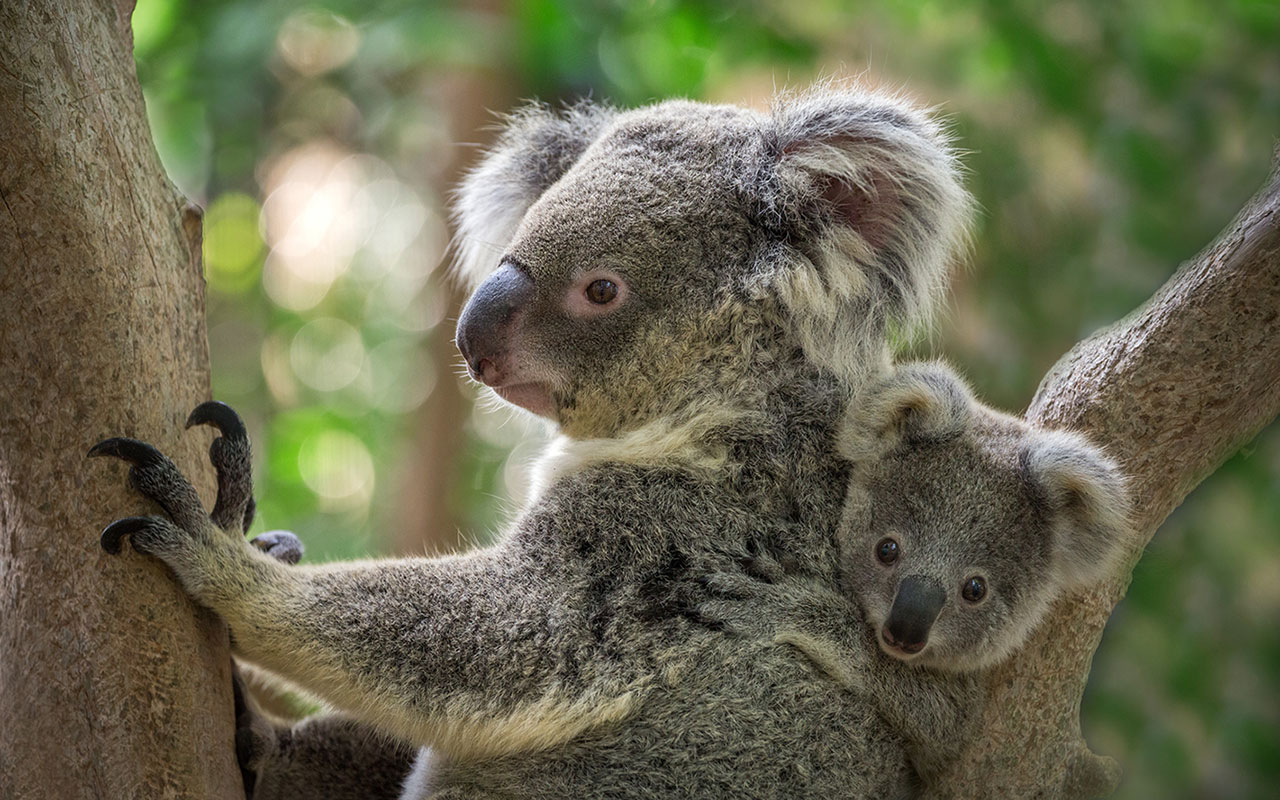 It offers guided tours to explore the animals. You can also have a self-guided tour to discover adorable animals like koalas. It allows you to have a friendly interaction with the Koalas. It could be the reason to call it Koala Gardens, and you can do cuddles with Koalas.
As the name suggests, Koala Gardens, this place is made for the people who ever wish to cuddle these cute creatures. You can see them eating, sleeping, playing, and even you are allowed to play with them. This specialty of this park attracts animal lovers from all over Australia and the rest of the world.
If you wish to take a souvenir photo with Koalas. Then you need to pay extra costs, time availability, and a few conditions apply. Under a significant criterion, you can click a picture of a giant python.
The Aussie Bush Collection showcases an attractive combination of reptiles and marsupials. All these creatures live in peace together.
2. Best Places to Visit in Cairns
Given below is the list of all famous tourist attractions in Cairns:
The Cairns Botanic Gardens
Josephine Falls
Cairns Aquarium
Atherton Tablelands
Copperlode Dam
Reef Hotel Casino
Michaelmas Cay
Anzac Park
Yorkeys Knob
Palm Dove
Kuranda Koala Gardens
Doongal Aboriginal Art Gallery Cairns
Munro Martin Parklands
NorthSite Contemporary Arts
Cairns Wake Park
Fitzroy Island
Barron Falls
Daintree Rainforest
The Australian Armor and Artillery Museum
Muddy's Playground
Wolf Lane Distillery
Savannah Way
Barron Gorge National Park
Uncle Distillery
Night Markets
Behana Gorge Waterfall
Samurai Gallery Australia
Green Island
Captain Cook Highway Rock Stacks
Nudey Beach
Monica's Cathedral
Cairns Library
The Great Barrier Reef
Figtree Playground
Esplanade Boardwalk
Freshwater Station
3. Conclusion
Cairns is a beautiful city in Queensland, Australia. Wildlife and nature lovers from all around the world visit this place to enjoy the charming beauty of nature.
It allows to engage yourself with many fun and educational activities for the explorers. It has various kinds of tourist attractions that lure people to visit each place in Cairns.
The tourist attractions in Cairns are impressive, and one must visit this place. It is a brilliant place to spend holidays with friends and family. This place is an excellent spot to indulge yourself in the various exciting activities. Australian animals are world-famous. Cairns is packed with awesome things to do here.
Cairns is a place that is also renowned for its Night Markets. These are luxurious, exciting, and attractive as well. People would love to indulge themselves in shopping in the market. You can also have delicious continental cuisines. If you are planning to travel around Australia, then don't forget to visit this beautiful city, Cairns.