Get your hands on the Candlelight Gift Card – Melbourne from Fever and get a chance to join and witness the magical Candlelight concert in Melbourne or around any city in Australia, on any available date and time slot.
These gift cards are worth purchasing to experience a live, multi-sensory musical experience, organized by Candlelight, that will take place in different awe-inspiring locations in Australia.
What is the Candlelight Gift Card About?
Candlelight concerts always bring you a different level of musical experience, where you can enjoy mesmerizing music in an unimaginable environment.
They are mostly popular for organizing classical, jazz, pop, rock, movie soundtracks, and modern music in a beautiful ambiance, which is illuminated by thousands of LED candles.
Further, the Candlelight gift cards are for those who want to enjoy any of their desired Candlelight concerts on any available dates in the city of Melbourne or across any Australian city. How cool is that?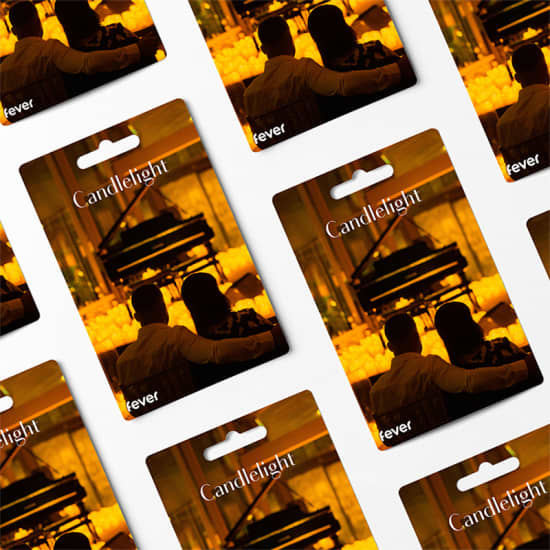 What's Included in the Gift Card?
A Candlelight Gift Card is valid for any Fever Original Candlelight concert in Melbourne or any other city in Australia and additionally, the gift card can be redeemed for any Candlelight event as many times as you want until the total value of the admission to the concerts has been used up.
To learn how to use your Candlelight Gift card, visit here.
Additional Information
Candlelight concerts have always been an exceptional experience for visitors. Now you can get a chance to enjoy these concerts, which are organized in several spectacular locations in Melbourne and other Australian cities with this exclusive Candlelight Gift Card available on Fever.
Many top Candlelight concerts will take place in Melbourne on various dates and time slots. Candlelight: A Tribute to Coldplay, Candlelight: A Tribute to Lauryn Hill, Candlelight: A Tribute to Juan Gabriel, and Candlelight: The Best of Joe Hisaishi in Melbourne are the top picks that are popular among visitors.
To know more about the other Candlelight concerts and their dates that will be held in the city of Melbourne, click here.
Where to Buy Tickets?
The authentic Candlelight Gift Card is exclusively available on Fever and the gift card will be valid for any Candlelight concert in Australia.
Don't miss this golden opportunity to experience the music of Candlelight concerts in your city now and grab your gift cards for the Candlelight on Fever.
You can simply visit Feverup.com and secure your gift cards now. Further, the Candlelight gift card is available on Fever at $80, which is a steal deal.
Grab as many gift cards as you want because these gift cards make a great present for your friends and family too.
Experience the Best Musical Night with Candlelight in Melbourne
What:

Candlelight Gift Card – Melbourne.

When:

The Gift cards can be used for any Candlelight concerts available on any date and time slot.

Where:

The city of

Melbourne or across any city in Australia.

Tickets:

Candlelight

Gift Cards can be secured

 on Fever.
Narayani Bhardwaj is a young and ambitious part-time Web Content Writer in the Icy Tales company. She completed her BCA in Computer Science. Currently, she is pursuing MCA at Chandigarh University. In addition with, she visited a several places and wants to tour the best of the world. She is passionate about travelling either it is natural phenomenal places or the downtowns across the countries. She writes with her passion and desires of travelling the beautiful places in the world. The places merely not include only travelling, the articles she writes, are strictly professional with a touch of an individual's sincerity and feelings on what they are looking for. She has upskilled herself in the field of writing for her audience, and ensures the quality of the content which is relatable in executive as well as distinctive manner. Narayani has worked with a several companies before as a Content Writer and Subject Matter Expert. She has more than a year of experience in the field of Content Writing. Looking forward for great and more opportunities to expand her skills and knowledge.