A day full of adventure and thrill awaits at Kuranda, Cairns Marina with the Grand Kuranda Day Tour & Transfer from Cairns, organized on various dates and with the tour starting at 8:50 a.m.
Explore Kuranda, a renowned World Heritage Rainforest housing thousands of butterflies and a plethora of native flora and fauna.
Experience feeding the kangaroos, explore the indigenous culture and scenic Kuranda railway, soar through the cableway rides, and visit the beautiful Koala and Wildlife Park.
Further, a delicious lunch awaits you to refuel yourself. Brace yourself for an adventurous 10-hour day tour and get splendid views of the awe-striking Kuranda wonders.     
What to Expect at the Tour?
Find yourself surrounded by over 1500 pretty butterflies at the Australian Butterfly Sanctuary which also includes the stunning Cairns Birdwing. Meet and greet the adorable Australian kangaroos and the majestic cassowary.
Hop aboard the famous Skyrail Rainforest Cableway and the renowned Kuranda Scenic Railway. Soar high above the sky on the adventurous Skyrail Cableway and enjoy the wondrous jaw-dropping scenic views of the Kuranda railway line. 
Explore the Rainforestation Nature Park, offering a delightful tour on a WWII Army Duck through the lush rainforests, showcasing native wildlife and indigenous culture, and treating you to a mouth-watering hot lunch.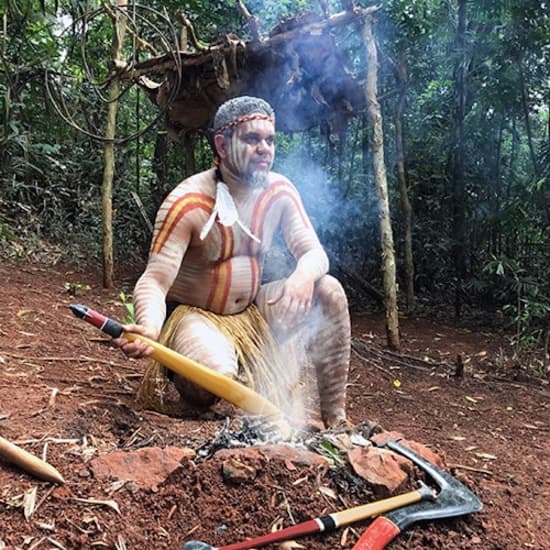 Additional Information
Explore the rich wonders of Kuranda with the Grand Kuranda Day Tour & Transfer from Cairns, which is taking place at Kuranda, Cairns Marina on various organized dates.
This ten-hour day tour of Kuranda will start at 8:50 am with the hotel pick up in Cairns, arriving at the Kuranda Railway Station at 10.25 am, exploring the Australian Butterfly Sanctuary at 11 am, departing from the Australian Butterfly Sanctuary to Rainforestation Nature Park at 11.45 am, transporting to Kuranda Skyrail Rainforest Cableway at 3 pm and dropping-off at hotels in Cairns at 4.30 pm.
What's more? The tour is wheelchair accessible making it flexible for the physically-challenged guests.
Further, tickets are required for children under 4 years and you can get a detailed itinerary of the tour after booking your tickets. Show your digital ticket on your phone to the driver during the pick-up and guests will be informed about the pick-up locations who live at private residences.
Pick-up and drop-off services are available in the hotels in Cairns and the tour manager will confirm the pick-up details at least 24 hours before the tour's date.
Where to Buy Tickets?
Buy your tickets to experience this exhilarating day tour on Fever. Head to the official website Feverup.com to reserve slots on your desired date from the ticket selector and learn more details about the Kuranda Day Tour.
Two types of tickets are arranged for this adventurous tour, child tickets for children between 4 and 14 years and adult tickets for people above 15 years old.
Tickets:
A Child Ticket is priced @ 

$147.95

.

An Adult Ticket is priced @ 

$269.95

.
Details to Remember about the Grand Kuranda Day Tour
What:

Grand Kuranda Day Tour & Transfer from Cairns.

When:

Select the date according to your preference.

Where:

Kuranda, in Cairns Marina, located at Marlin Marina, Wharf Street, Cairns City, 4870.

Time:

8:50 am(Start time of the tour).

Tickets:

Available on Fever.
Narayani Bhardwaj is a young and ambitious part-time Web Content Writer in the Icy Tales company. She completed her BCA in Computer Science. Currently, she is pursuing MCA at Chandigarh University. In addition with, she visited a several places and wants to tour the best of the world. She is passionate about travelling either it is natural phenomenal places or the downtowns across the countries. She writes with her passion and desires of travelling the beautiful places in the world. The places merely not include only travelling, the articles she writes, are strictly professional with a touch of an individual's sincerity and feelings on what they are looking for. She has upskilled herself in the field of writing for her audience, and ensures the quality of the content which is relatable in executive as well as distinctive manner. Narayani has worked with a several companies before as a Content Writer and Subject Matter Expert. She has more than a year of experience in the field of Content Writing. Looking forward for great and more opportunities to expand her skills and knowledge.