Get ready to explore the Sydney Fish Market with Behind-the-Scenes Auction Floor Tour, which is conducted at Sydney Fish Market on various dates.
An exclusive and unique tour of the world's third-largest seafood market is waiting to welcome its visitors, whose tickets are available on Fever at an exclusive price. 
Why Join the Sydney Fish Market Auction Floor Tour?
Gear up to experience the unforgettable auction floor tour around the Sydney Fish Market, and discover the secrets of the third-largest seafood market in the world with the VIP tour.
Get a chance to witness the delicious oysters shucking in action and hunt through the site's rich history. This tour allows you to get exclusive access to several off-limit areas for the public.
Learn about how the Dutch auction system and the buying structure work with a trained SFM guide, where around 50-55 tonnes of the freshest seafood is auctioned every day.
This fresh and brilliant variety of seafood is provided by individual fishermen, and fishing farms in Australia, Asia-Pacific, and New Zealand region with more than a hundred buyers each day.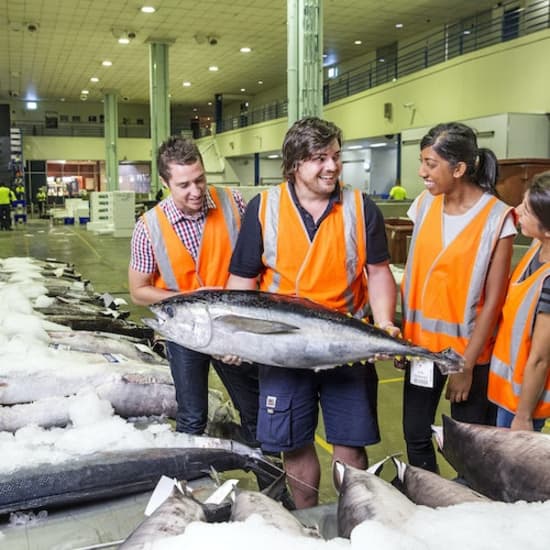 Further, view more than a hundred species and find out about the live seafood products, sashimi, and the specialist seafood retailers of the Sydney Fish Market. 
Additional Information
The Sydney Fish Market: Behind-the-Scenes Auction Floor Tour is an exclusive tour allowing its visitors to traverse the majestic Sydney Fish Market for two hours.
This event is taking place at Sydney Fish Market and is organized on multiple dates. Retailers open their shops at 7:00 a.m., visitors can indulge themselves with the tour at their convenient time.
Further, the tour is arranged for people with a minimum age of 10 years, including newborn babies in carriers.
Visitors are asked to wear enclosed shoes due to safety and occupational health concerns and no guest without enclosed shoes will be permitted to the auction tour.
Avoid the leather pants as the floor can be wet and rolling up the long pants or jeans is recommended to save yourself from discomfort.
The venue is not wheelchair accessible and taking photographs or making videos is strictly forbidden during the auction floor tour, and the tour can have a maximum of fifteen travelers.
Where to Buy Tickets?
The Sydney Fish Market is one of the largest markets of its kind in the southern hemisphere and holds the third position as the largest seafood market boasting a variety of fishes.
Tickets to explore this informative and delightful tour are available on Fever, you just need to head to the official website Feverup.com and book your slots on your desired date that are available in the ticket selector.
There are two types of tickets available for this event that include Child tickets (4-12) and Adult tickets for people 13 years and above, where the general admission Adult tickets (14+) are priced at $49.95.
Quick Information to Remember about the Sydney Fish Market
What: 

Sydney Fish Market: Behind-the-Scenes Auction Floor Tour.

When: 

Numerous dates are available.

Where:

 Sydney Fish Market, Corner Pyrmont Bridge Rd &, Bank Street, Pyrmont, 2009.

Time: 

Retailers open at 7 am.

Tickets: 

Available on Fever.
Narayani Bhardwaj is a young and ambitious part-time Web Content Writer in the Icy Tales company. She completed her BCA in Computer Science. Currently, she is pursuing MCA at Chandigarh University. In addition with, she visited a several places and wants to tour the best of the world. She is passionate about travelling either it is natural phenomenal places or the downtowns across the countries. She writes with her passion and desires of travelling the beautiful places in the world. The places merely not include only travelling, the articles she writes, are strictly professional with a touch of an individual's sincerity and feelings on what they are looking for. She has upskilled herself in the field of writing for her audience, and ensures the quality of the content which is relatable in executive as well as distinctive manner. Narayani has worked with a several companies before as a Content Writer and Subject Matter Expert. She has more than a year of experience in the field of Content Writing. Looking forward for great and more opportunities to expand her skills and knowledge.