This is exciting news for all the art and history lovers out there as we present you with a once-in-a-lifetime opportunity to learn about the ancient stories of Aboriginal tradition. So fasten your seatbelt as you set on this artistic and cultural journey with Daintree Dreaming – Aboriginal Art and Culture.
The event shall be held at the Mossman Gorge Cultural Centre, situated in the historic Daintree rainforest, where you get a chance to paint your heart out on a canvas, which you can take home and display on your achievement wall.  
Date, Time, and Additional Info
This event is not limited to a single day; you can choose from various dates. Furthermore, kindly note the different pick-up and drop times as listed below:
The pick-up from hotels in Cairns starts at 07:30 a.m., and the estimated return time is around 17:30.
The pick-up from hotels in Port Douglas starts at 09:00 a.m., and the estimated return time is around 16:30.
In addition, the stroll at Mossman is one kilometer long, and the painting session at Janbal Gallery will be for over 90 minutes.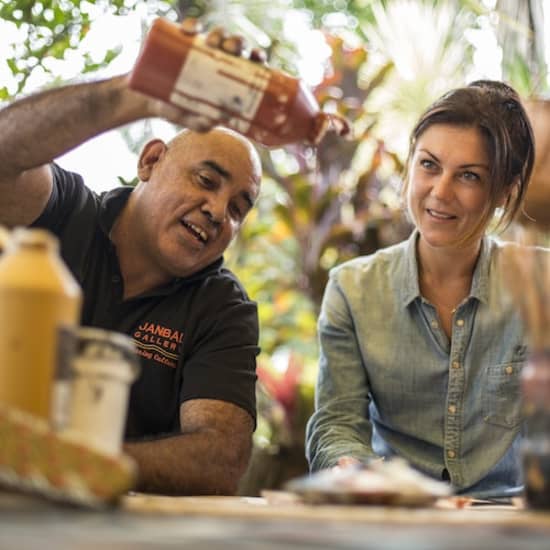 Highlights of the Tour
Get an incredible opportunity to learn from the best – artist, Brian 'Binna' Swindley, at Janbal Gallery for a 90-minute art class who will guide you in creating a marvelous masterpiece that you can bring home as a memory. 
The tour starts at Mossman Gorge Centre with a unique traditional 'welcome to country' smoking ceremony and you can take a walk in the ancient Daintree rainforest where you can explore the historic and stunning rainforest with a knowledgeable guide, who will tell you the old stories. 
Inside the Aboriginal Art and Culture of Daintree Forest
Get ready for a mesmerizing experience as you unleash your inner artist and create your masterpiece under the guidance of the talented Aboriginal artist Brian Swindley. 
Also, this tour is for art lovers and anyone who enjoys learning about new traditions, customs, and cultures as you witness the mystical traditional smoking ceremony, which will undoubtedly transport you into the spiritual realm. 
That is not all; you get to indulge in some mouth-watering delicacies in lunch that will leave your taste buds craving more.
Furthermore, get lost in the gigantic rainforest and unfold many untold historical stories, which your knowledgeable guide shall elaborate on.  
Key Information to Remember
Several entrance steps and embarkation/disembarkation during the journey.
Six-language commentary is available for your convenience, and GPS activates them.
You shall be responsible for bringing your own water, clothes, hat, sunscreen, insect repellent, and any other necessities that you require
The tour operator will set up a hotel pickup via email.
Visitors are expected to arrive ten minutes early for the pick-up.
Tickets 
Don't hold yourself back and grab your tickets on FEVER before this rare opportunity is lost. Charges are bifurcated into three categories as under:
Child (Aged 4 to 14 years) for $191.95
Adult (Aged 15+ years ) for $248.95
Family (two adults + two children) – Regular for $839.95
You can purchase your tickets by clicking on this link or FEVER.
Experience the Aboriginal Art, Stories, and Culture in Cairns
What: Daintree Dreaming – Aboriginal Art and Culture.
When: Various dates available.
Where: At the Mossman Gorge Cultural Centre, settled in the historic Daintree Rainforest at 2333 Cape Tribulation Road.
Timings: Starting time from Cairns is 7.30 am and Port Douglas is 9 am.
Tickets: Purchase from FEVER.
Nazish is a member of ICSI (Institute of Company Secretaries of India) and also double graduate in Commerce and Law. Currently a full time mother and a homemaker trying to mark a difference through the power of pen. She is a voracious reader and has passion for writing. She has positive outlook towards life. She enjoys travelling and discovering new places.