The Metartworld – Art Space of Melbourne is offering a unique and impressive experience to explore the beauty of metal arts on multiple dates and various time slots. With the Metartworld Melbourne Tickets, get a unique chance to discover the 2,500-square-meter space that serves a plethora of interesting arts.
Get access to the unique art exhibition in Melbourne showcasing a fantasy atmosphere and housing varied artistic-themed art exhibitions and spaces. 
Inside the Metartworld – Art Space
Metartworld is the largest metal art gallery in Australia, displaying distinct artworks from international artists and it is now providing an authentic experience for visitors to wander around the 2500 sq. meters huge space, consisting of a wide range of artistic interests.
The starry sky exhibition is being held on the second floor of the art gallery, which showcases an amazing combination of advanced technology with the world of shadows and lights. 
Buckle up for a delightful adventure in a fantasy ambiance at the starry sky exhibition while strolling through a lush green field.
The art space is packed with spectacular metal art statues and each statue is handmade from scrap metal along with recycled material. Get awed with the one-of-a-kind amazing textured, crafted, and polished pieces and statutes that look mesmerizing.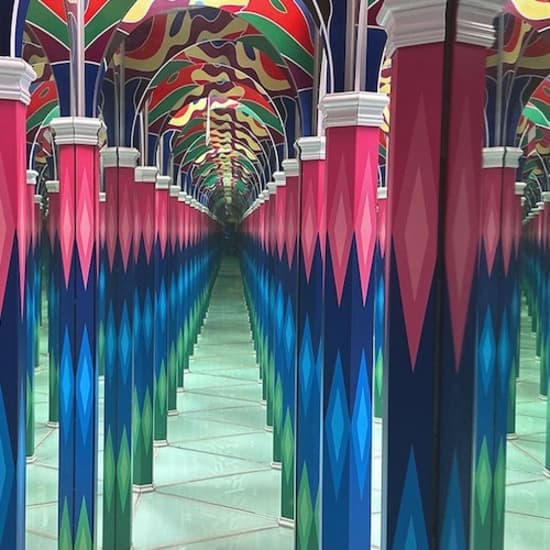 This massive art space is an excellent choice for animals, motorcycles, anime, movies, princesses, military, and cars, fanatics as the varied art displays are based on these themes.
Further, you can touch and feel each of the interactive pieces that you like, click photos, and capture memories of this overwhelming experience to cherish for lifelong.
The experience is also informative for the kids and the teenagers, especially for those who are into metal art or any kind of art. 
Additional Information
This is your chance to observe the beautiful and creative metal art at the Metartworld – Art Space in Melbourne.
All ages are welcome at the Melbourne art space and all kids under 14 years of age, must accompany their parents or guardians.
The event is conducted on multiple dates, and you can experience this on weekdays, weekends, or any desired dates.
Also, many time slots are available every hour straight from 10:00 a.m. to 4:00 p.m. Indulge yourself with magnificent and spectacular metal art.
Where to Buy Tickets?
To delve into the beauty of the Metartworld exhibition, secure the tickets on your desired date through Fever.
Regular tickets for adults above 13 years are available at just $39.95, meanwhile, an incredible package is available for the ones with families that include 2 adults and 2 children, priced at $119.95.
To make it convenient for the majority of people, the time slots are arranged in such a way that visitors can access the venue at each hour from 10:00 a.m. to 4:00 p.m.So, don't let this incredible opportunity slip away, and book your slots now!
Tickets to the Metartworld  Art Exhibition
What:

Metartworld Art Space.

When:

The Metaworld is open on various dates.

Where:

Located at Melbourne's 155 Boundary Street, Port Melbourne, 3207.

Time:

The art space is open from 10 am to 4 pm.

Tickets:

Book your tickets from Fever.
Narayani Bhardwaj is a young and ambitious part-time Web Content Writer in the Icy Tales company. She completed her BCA in Computer Science. Currently, she is pursuing MCA at Chandigarh University. In addition with, she visited a several places and wants to tour the best of the world. She is passionate about travelling either it is natural phenomenal places or the downtowns across the countries. She writes with her passion and desires of travelling the beautiful places in the world. The places merely not include only travelling, the articles she writes, are strictly professional with a touch of an individual's sincerity and feelings on what they are looking for. She has upskilled herself in the field of writing for her audience, and ensures the quality of the content which is relatable in executive as well as distinctive manner. Narayani has worked with a several companies before as a Content Writer and Subject Matter Expert. She has more than a year of experience in the field of Content Writing. Looking forward for great and more opportunities to expand her skills and knowledge.