If you are in Hobart, plan a Port Arthur and Lavender Active Day Tour with the departure time being 7:30 a.m., where the tour will cover many well-renowned locations on the way to the Port Arthur Historic Site. The tour will embark from 20 Davey Street, Hobart, 7000, and additionally, various dates are available, which can be selected while purchasing tickets on FEVER.
Do you want a day free from stress and worries, away from the commotion of your hectic schedule? Are you a nature lover and do you like visiting historic places?
If your answer is yes to questions, then the Port Arthur and Lavender Active Day Tour in Hobart is your ultimate spot.
Duly note that tickets will not be refunded, changed, or modified once sold once purchased from Fever.
Highlights of the Tour
Historians will surely love this trip since it will educate them about the rich history of Port Arthur, a World Heritage Historic Site.

This trip is considered heaven for Photophiles as there are ample picturesque views to capture in one of the stops, named Waterfall Bay Cliff Top Walk.

Furthermore, you will also get to discover the breathtaking lavender fields and distillery from the stunning Port Arthur Lavender. In addition, you can also enjoy delectable morning tea at the cafe. These cafes specialize in dishes and beverages that are inspired by lavender. How cool is that?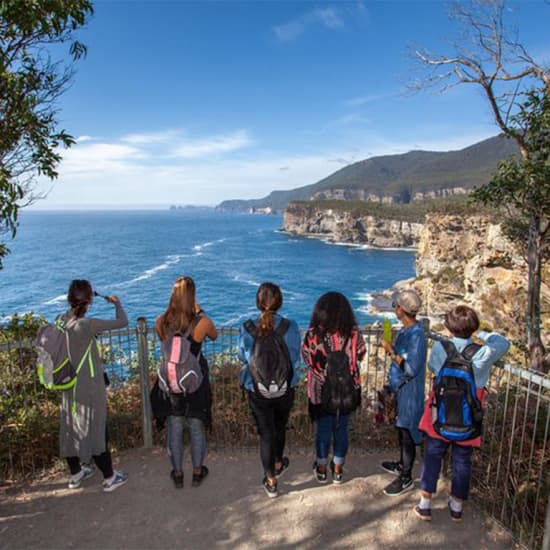 Have you heard of Tasman National Park's natural treasures, such as Devil's Kitchen and Tasman Arch? Well, you get to explore that as well. How exciting does that sound?

That's not all. We also have more under our belt with a visit to Richmond's quaint years-old village.

Furthermore, you will also get an insight into Pirates Bay Lookout, Eaglehawk Neck, and The "Dogline" through their enchanting tales. 
General Information about the Tour
This full-day trip has no age limit constraints, so everyone is welcome. This trip is not limited to a single location, but rather, on the way to Port Arthur, we make stops at several sites that are famous and have great scenic views.
These locations are indeed to remain in your memories forever. 
Furthermore, you can have a peaceful time in the fields of lavender or enjoy shopping in the gift and souvenir shops as we make a stop at Port Arthur Lavender.
Not to miss the unique lavender-based foods and beverages that are served in these cafes. Please take note that shopping and eating are not included in the ticket.
So, pals, grab this once-in-a-lifetime opportunity and book your tickets today only on FEVER. 
Tickets
Port Arthur and Lavender Active Day Tour Tickets for one Adult (Aged 8-90) amount to $142.23 only; grab your tickets by clicking on the following link or FEVER. 
Plan an Amazing Day Out in Hobart with the Port Arthur and Lavender

Active Day Tour
What:

 Port Arthur and Lavender Active Day Tour in Hobart.

When:

Various dates are available (can be selected while purchasing tickets)

Where:

Wineglass Bay Discovery Tours, embarking from 20 Davey Street, Hobart, 7000

Timings:

Departing at 7:30 a.m.
Nazish is a member of ICSI (Institute of Company Secretaries of India) and also double graduate in Commerce and Law. Currently a full time mother and a homemaker trying to mark a difference through the power of pen. She is a voracious reader and has passion for writing. She has positive outlook towards life. She enjoys travelling and discovering new places.