If you are looking for the best amusement parks in Brisbane then you are in the right place!
Brisbane is a bustling city in Australia, which brings a lot of joy and waves of laughter. This place has the power to create unforgettable memories in your mind with its rich realm of amusement parks.
If you are a person who seeks to spend the adrenaline and seek a day off from the stress, this will be a perfect holiday destination. It could leave you with a lifetime of cherished memories. So here we will discover some of the top amusement parks in Brisbane.
List Of Top 5 Amusement Parks In Brisbane
Brisbane is a great choice if you wish to explore the delight and joy of a holiday. So, here are the 5 top-reviewed amusement parks in Brisbane. These parks have been a great experience for millions of travelers around the world.
1. Dreamworld Amusement Park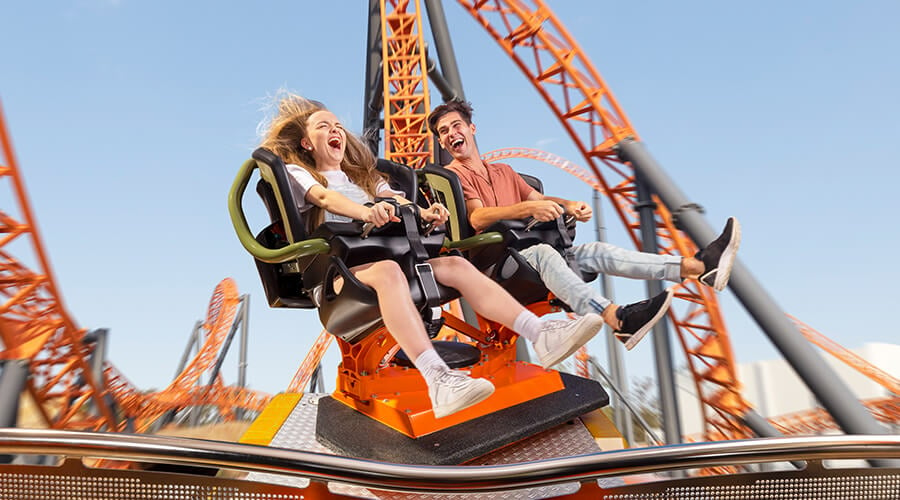 Dreamworld amusement park is one of the best theme parks which is a great fun spot choice. Located on the Gold Coast of Queensland, which is just a drive of an hour away from the city of Brisbane. It is a perfect holiday spot for family and friends. It has various features that make the spot attractive. The features of the park include exhilarating kids' rides, family rides, Animal exhibits, and many more. These features make it Australia's largest theme park.
Dreamworld came into existence in 1981, as a result of the dream of John Longhurst, an Australian Ski champion. The architecture of Dreamworld has many key areas like ABC Kids World, Corroboree, Gold Rush Country, Dreamland of Belinda and Kenny, etc. These rides attract family tourists irrespective of their ages.
Dreamworld is also a place for adrenaline-pumping rides like roller coasters like Buzzsaw, Claw, Tower of Terror, etc. It also offers an interactive experience with famous animation characters like Kung Fu Panda, Shrek, etc. It also hosts many cultural events like the Spring County Fair, park after Night, Halloween, etc. which makes it attractive to world tourists.
2. Sea World Marine Theme Park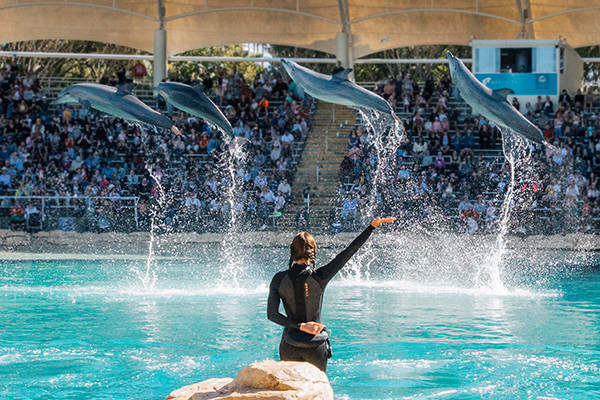 Situated on the Gold Coast, Queensland, Sea World theme park is a great tourist spot. It blends entertainment with knowledge about marine exhibits to tourists. It is a renowned amusement park in Brisbane which is just half an hour's drive from the city.
Sea World Marine Park was founded by Keith Williams along with Surfers Paradise Ski Gardens in the year 1971. In the beginning, it was meant for water ski displays, which was later on transformed into the current Sea World Park. They introduce many marine exhibits like dolphins, sharks, etc to the park.
Along with the educational value of the park, it also offers a lot of captivating experiences for visitors. It has a large marine exhibit along with entertaining rides and displays for the family audience in the park. Along with this it also has a lot of thrill rides and games for tourist attractions like Jet Rescue, Storm Coaster, etc. to make the park age-friendly.
The park also hosts many aquatic shows and adventures that showcase the abilities of the marine creatures in the park like dolphins, sea horses, etc. Also, the tourists have an opportunity to experience the aquatic exhibits. Also, people are allowed to interact with them through large aquariums, reefs, and water tunnels.
Sea World Park is a perfect spot for tourists who wish to visit an amusement park in Brisbane. Tourists can explore the diversity of marine life and fun packed together in a single spot.
3. Warner Bros Movie World
Warner Bros Movie World is another theme park situated at Gold Coast in Queensland which is just an hour's drive from the city of Brisbane. As the name suggests it is an amusement park in Brisbane that themes the movies and shows that are brought to real life.
Warner Bros movie world is a Hollywood-themed park that displays many thrill rides like the Green Lantern roller coaster ride etc. They also offer opportunities to interact with famous television characters to visitors. It was built by the Warner Roadshow studios (now Village Roadshow studios) which was partnered with Warner Bros Studios in the year 1991.
The Movie world had themed Warner Bros. comics along with DC comics. This park is considered to be the oldest park by Warner Bros. that is still operated and the only Movie-themed park in Australia.
The park displays different cinematic universes and meets iconic superheroes and villains like Batman, Wonder Woman, etc. Also, there are vintage characters like Looney Tunes, Bugs Bunny, etc. which can bring up nostalgia in people's minds.
Along with these, the park also consists of many live performances and exciting rides that boost the entertainment and overall experience of the visitor. Overall the park is an amazing experience for people of any age, to embark on a great adventure through the movie world.
4. Wet'n'Wild Gold Coast
Wet 'n' Wild Gold Coast is an amusement park that is located in Oxenford near Brisbane. It is considered to be one of the popular water-based amusement parks in Brisbane. It is a great holiday spot that has a wide range of aquatic rides and activities that are suitable for tourists of all ages.
Wet 'n' Wild Park started operations in 1984 and was previously known as Cade's County Water Park initially. It is owned by Village Roadshow Theme Parks and is one of the most visited water theme parks in Australia.
This water park has a great range of water slides and other aquatic activities that are designed to enjoy and experience the landscape of the park. It also has numerous swimming pools and a giant wave pool for adults. They even have kid-friendly play areas such as shallow pools, mini slides, etc. that are specially structured for little ones.
One of the unique features of the park is that it has a lazy river that enables the visitors to float through the gentle current and have a serene swim. It also has a relaxing area known as Calypso beach where people can relax under the soothing sun. They also host many concerts, parties, and events that add to the entertainment value of the park.
The best time to travel to the Wet 'n' wild park is in the summer season. Before planning the trip, it is important to check the ticket prices and park timings.
5. Whitewater World Theme Park
Whitewater World Theme Park located in Helensvale is a sister park of Dreamworld Amusement Park in Queensland. It is a great picnic spot for family and friends for refreshing and exciting adventures.
With many unique rides like Green Room, BRO, Temple of Huey, etc. this amusement park in Brisbane was opened in the year 2006 to the public. It was built by Macquarie Leisure of Ardent Leisure adjacent to the Dreamworld Amusement Park. It is renowned for its safe and thrilling slides and pools for families along with exciting and scary rides.
Another feature of the park is the lazy river named ' Sunset River'. Here people can enjoy the cool tropical sunset by basking in the meandering landscape.
While planning the trip to Whitewater Park, make sure it is the right season. This theme park is meant to be closed during the Christmas season and on Anzac Day. The ideal time to visit the theme park is the September to April season.
Summary
In summary, Brisbane is an exciting city in Australia that provides a plethora of theme parks, that could help in refreshing stressful lives and have a fun day.
From Dreamworld Park to Whitewater World Theme Park, it offers tropical and adventurous trips with family and friends, cherishing unforgettable memories. So why wait; Pack your bags to Brisbane and embark on the heart of Brisbane's amusing wonderland.