Good news for all the creative people in Sydney. We are bringing you a unique event- the Turkish Mosaic Lamp Class, where you can discover the beauty of Anatolia's rich culture. 
Embark on this creative journey to explore Turkish lamp-making art on any day, as various dates are available, and head towards Atolya, 1, 114 Norton Street, Leichhardt, NSW, Australia, 2040, to experience this interesting art workshop.
Furthermore, the class will last about 120 minutes, there are multiple time slots available that can be selected while purchasing tickets and charges per person are AUD 55.00, which can be bought from FEVER.     
Highlights of the Tour
Create your masterpiece- a Mosaic Lamp in our workshop under our guidance, which can be taken home as well. 
Discover the techniques of creating Islamic geometric designs using mosaic glass tiles that have been precisely cut and tinted.
Indulge in some Turkish delicacies as a part of our complimentary afternoon tea service during your class.
Our highly skilled instructor shall guide you through creating a unique mosaic lamp.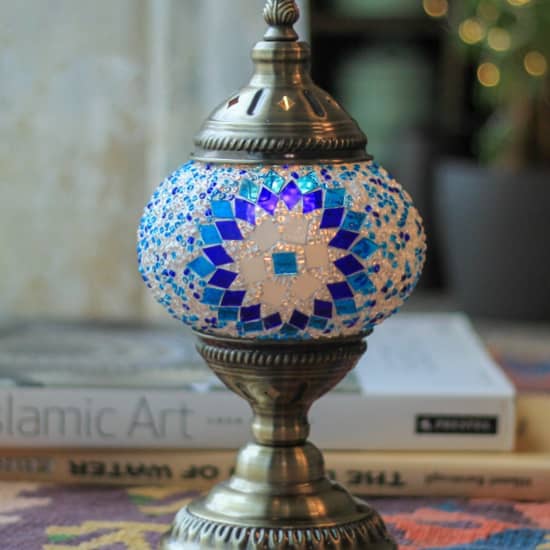 Additional Information About the Tour
Make the most of your weekends as you dive into Anatolia's rich cultural heritage and join their mosaic lamp workshop to create your very own mosaic lamp!
You get to experience the Turkish tradition with a touch of modernity in our Leichhardt, Sydney studio, as you embark on your journey to the ancient lands of Anatolia.
Furthermore, as soon as you step into our workshop, you'll feel the enchantment of Istanbul's Grand Bazaar as you craft your dazzling mosaic lamp.
The class will last about 2 hours, wherein you will be introduced to the technique of Islamic geometric patterns using specially cut and stained mosaic glass tiles, which can be incorporated into creating your mosaic lamp.
In addition, our experts shall guide you through crafting these radiant light ornaments, which once were a hallmark of Ottoman palaces.
That's not all; we also have some treats for food lovers and while crafting your lamp, you can taste some mouthwatering authentic Turkish sweets served with traditional Turkish tea.
Also, the venue is wheelchair accessible. So do not lose this opportunity to unleash your inner artist as you explore Turkish art and taste the authentic flavors of Turkey.
Tickets 
Charges per person for this tour will amount to 55.00 AUD only (General Admission), which you can purchase by clicking on this link or FEVER. 
Key Information to Remember
What: Turkish Mosaic Lamp Class in Sydney.
When: The dates can be selected while purchasing tickets.
Where: Atolya Art Studio, settled at 1,114 Norton Street, Leichhardt, NSW.
Timings: Different time slots are available and the workshop runs for 2 hours.
Tickets: Purchase from FEVER.
Nazish is a member of ICSI (Institute of Company Secretaries of India) and also double graduate in Commerce and Law. Currently a full time mother and a homemaker trying to mark a difference through the power of pen. She is a voracious reader and has passion for writing. She has positive outlook towards life. She enjoys travelling and discovering new places.