Step into the Myer Centre Rundle Mall in Adelaide and admire the great artworks with The Art of Banksy: "Without Limits" Exhibition,  arranged on multiple dates and time slots, making access convenient for visitors.
All About the Art of Banksy
The Art of Banksy is one-of-its-kind and one of the most famous art exhibitions in the world, featuring a street art exhibition that includes more than 150 artworks, composed of photos, sculptures, certified art, murals, digital installations, mapping shows, and prints on different kinds of materials.
This stunning exhibition is finally all set to hit the city of Adelaide after seeking great success in the US, other Australian cities, South America, Asia, and Europe, where more than 1,500,000 visitors explored it.
Banksy has successfully kept his identity secret and is known for his most remarkable artwork which has conquered the streets and auction houses.
Highlights of the

Exhibition
Explore the first-ever major museum-quality showcase exhibition of Banksy in Adelaide and walk through the stunning and dedicated artistic works.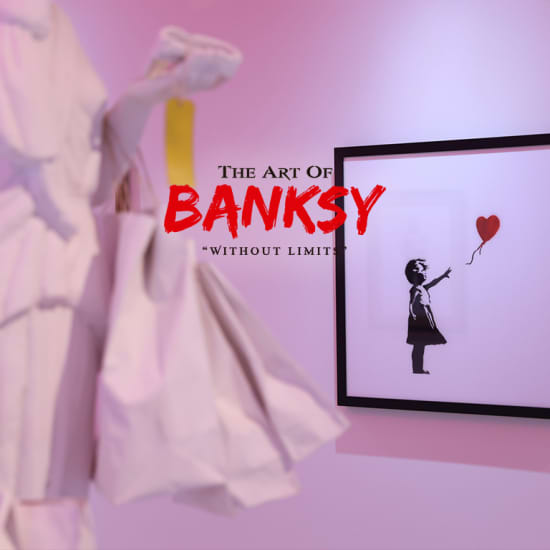 Get a chance to see more than 150 artworks of the artist including authentic art, sculptures, photos, and more.
Discover various installations in the Infinity Room, which includes Dismaland Bemusement Park, and admire several remarkable arts of Banksy that are reproduced with stencil technique, exclusively in this exhibition.  
The exhibition is the perfect place to celebrate and appreciate Banksy's artwork and carry it forward to the outside world.
Additional Information
The Art of Banksy: "Without Limits" Exhibition showcases the best quality street art of one of the most renowned artists, Banksy at the Myer Centre Rundle Mall in Adelaide.
This spectacular event is organized on various dates and different time slots are available for the visitors to choose from the ticket selector on Fever.
Enjoy the uninterrupted "without limits" exhibition for 60 minutes. Further, the venue is wheelchair accessible so that you don't need to limit yourself to experience the artistic vibes.
Where to Buy Tickets?
To enjoy the mesmerizing street art exhibition, head to Fever or you can simply visit the official website Feverup.com to book your slots on your desired date.
Type of

Tickets
There are 3 types of ticket admissions available for this exhibition
Standard Admission includes a general entry to the experience.
Adults

above 13 years can get their tickets for

$43.00 per person

.

Children

tickets from 4 to 12 years are available at

$29.00 per child

.

Senior (65+)

and

Student

tickets are available at

$34.00 per person

.

A 

Family Bundle

 consisting of two adults and two kids is priced at 

$33.00

.
The Gold Admission includes a memento pack that is worth 27 AUD, comprising a lanyard, bookmark, wristband, and pass along with an exclusive Banksy timeline booklet.
Gold Ticket for an

Adult (13+)

is priced at

$52.00

.

Gold Ticket for a

Child (4-12)

is priced at

$35.00

.
The Premium Admission includes a memento pack that is worth 65 AUD, comprising a limited edition bookmark, pass, wristband, and a white t-shirt with spray paint, which is available from 10:00 a.m. to 2:00 p.m.
Premium Ticket for an

Adult (13+)

is priced at

$76.00

.

Premium Ticket for a

Child (4-12)

is priced at

$53.00

.
You can also book private sessions for which a minimum of 50 guests are required.
Buy Your Tickets to Explore Adelaide's Stunning Art Exhibition
What:

The Art of Banksy: "Without Limits" Exhibition.

When:

Numerous available dates.

Where:

 Myer Centre located at Adelaide's 14/38 Rundle Mall, upper ground floor.

Time:

Different time slots.

Tickets:

Available on Fever.
Narayani Bhardwaj is a young and ambitious part-time Web Content Writer in the Icy Tales company. She completed her BCA in Computer Science. Currently, she is pursuing MCA at Chandigarh University. In addition with, she visited a several places and wants to tour the best of the world. She is passionate about travelling either it is natural phenomenal places or the downtowns across the countries. She writes with her passion and desires of travelling the beautiful places in the world. The places merely not include only travelling, the articles she writes, are strictly professional with a touch of an individual's sincerity and feelings on what they are looking for. She has upskilled herself in the field of writing for her audience, and ensures the quality of the content which is relatable in executive as well as distinctive manner. Narayani has worked with a several companies before as a Content Writer and Subject Matter Expert. She has more than a year of experience in the field of Content Writing. Looking forward for great and more opportunities to expand her skills and knowledge.