Indulge in the breathtaking views of Melbourne with the Melbourne Skydeck Experiences Package. Melbourne Skydeck, the highest vantage point of Melbourne and located at the Riverside Quay, this place is a must for those seeking a cityscape adventure. The Skydeck is open from 12 p.m. to 10 pm with the last entry at 9:30 pm, and for your convenience, tickets are readily available on Fever. 
Whether you're traveling solo, with a partner, or as a family, there's something for everyone; don't miss the chance to capture incredible memories in Melbourne, Australia.
Don't miss the chance to elevate your Melbourne journey with the Melbourne Skydeck Experiences Package.
What to Expect with the Melbourne Skydeck Experiences Package?
If you are planning to visit Melbourne, Australia, there's one experience you absolutely cannot miss – the Melbourne Skydeck Experiences Package.
  This adventure takes you to the highest public viewing platform, offering spectacular 360° views and awe-inspiring views of the vistas of the Southern Hemisphere.
With a range of ticket options, there's something for everyone, making it the perfect destination for solo travelers, couples, and families alike.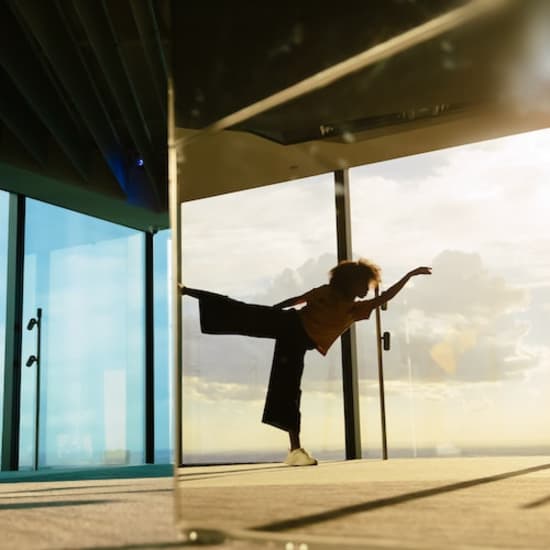 You can immerse yourself in the sensational Edge, Voyager Theatre, and VR Plank experiences and can also indulge in a variety of cocktails while you enjoy the view. 
Additional Information
Melbourne Skydeck prioritizes accessibility, with wheelchair-friendly facilities to accommodate all visitors.
The Melbourne Skydeck is open daily from 12 p.m. to 10 p.m..Visitors should keep in mind that the last entry is at 9:30 p.m. and children aged 0-3 can join for free, making it a perfect family outing.
Your smartphone ticket ensures a smooth entry process, eliminating unnecessary delays and enabling you to begin your Skydeck adventure promptly.
The Edge experience at Melbourne Skydeck operates on a first-come-first-serve basis with an approximate 30-minute wait time. It's important to be aware that the activity may be temporarily suspended during extreme wind or severe weather conditions.
While you're welcome to take photographs to capture the breathtaking views, dedicated photo sessions are not provided or included in the package; so, plan your visit accordingly and make the most of your time at the Skydeck, keeping weather conditions and photography expectations in mind.
Tickets
Fever offers a variety of ticket types to cater to your preferences. For adults aged 17 and above, options include the 1-Hour MAX Super VR Experience priced at $48.95 and the 2-Hour Ultimate Skydeck available for $64.95.
If you're looking for a unique experience for two adults, consider the Cocktails in the Clouds package for $93.95. Families consisting of 2 adults and 2 children can opt for the 2-Hour Ultimate Skydeck package for $189.95. 
Select the ticket type that aligns with your preferences conveniently on Fever and be sure to book your tickets in advance to secure your spot for this tour.
Are You Ready to Enjoy the Melbourne Skydeck Experience?
What: Melbourne Skydeck Experiences Package.
When: Available on various dates.
Time: Open daily from 12 p.m. to 10 p.m., last entry at 9:30 p.m.
Where: Melbourne Skydeck, Riverside Quay, Southbank Melbourne 3006.
Tickets: Purchase on Fever.
Sarah is a literature enthusiast and an aspiring psychologist. Currently pursuing her master's degree in Clinical Psychology after completing her undergraduate studies in Psychology, she is deeply fascinated about the human mind and behaviour . Sarah finds solace in the pages of "This is How you Lose the Time War," her favorite book, and enjoys immersing herself in the realms of pop culture and Kpop music. She appreciates nature that surrounds her and seeks out opportunities to connect with it. Sarah's passion for learning about people's emotions, thoughts and behaviors, combined with her love for seeking and exploring the dynamic nature of life, allows her to provide unique perspectives on various topics, including travel secrets and current events.